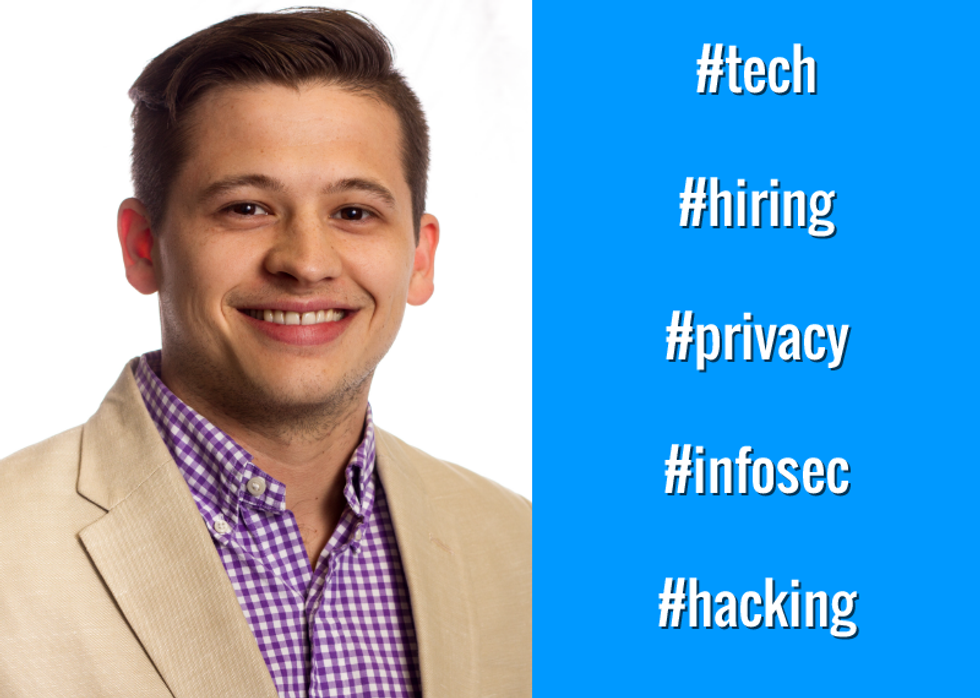 Recruiter Info
Name:
Brad Yaun
Title:
Talent Ambassador
Email:
brad.yaun@sdgblue.com
LinkedIn:
www.linkedin.com/in/bradyaun
Phone:
859-685-3477
Company Info
Company:
SDGblue, LLC.
Location:
Lexington, KY
Website:
www.sdgblue.com
Careers Page:
www.sdgblue.applicantstack.com/x/openings
LinkedIn:
Company Page
For Job Candidates
Preferred Method To Be Contacted By A Candidate:
Email
Preferred Process For Following Up On Application:
Every applicant will receive at minimum 2 correspondences from me. The first to confirm I've received their application. The second to let them know that we would like to set up a phone screen or that we aren't interested (and usually I give a why). From there, we have our phone screen and will usually confirm that we want to move forward or that we do not within 48 hours. This is followed by an Assessment that we provide to all candidates, an in person interview, a proctored version of our assessment, and potentially second round or third round interviews depending on the level of position and how many candidates are still remaining that we want to give attention to. After an official offer for hire, we also have new team members take the Gallup Strengths Finder 2.0 Assessment and walk them through how to best utilize their talents and develop them into strengths to succeed.
Things That Impress You In A Candidate:
Job candidates that can take the technical talk and communicate it simply show me that they fully understand what they are experts in, and even more, understand that not everyone they speak with is an expert. This is a person who can stand in front of a board of directors and provide the details in a way that helps everyone understand. Full disclosure. Candidates who are confident enough that they don't feel the need to hide information that may look bad or may be perceived in a certain way. They're self-assured and they are willing to talk about mistakes and how they've grown from them. I'm more interested in how a person has failed, recovered and grown then someone who has never made a mistake.
Things Candidates Must Include To Be Considered For Job:
For job seekers who are actively looking for work, including an up-to-date resume as well as a cover letter that clearly details how they have used their skillsets (pentesting, python, linux, etc.) and specific technology experience (Nmap, Wireshark, Metasploit, Nessus, etc.) in their previous work is key. For job seekers who are passive and wanting to learn more about our organization before jumping into the deep end, connecting with me on LinkedIn and starting a conversation about the organization is a great way to let me know you are interested and want to know more information.
Things That Will Disqualify A Candidate From Getting Considered:
The #1 thing that will disqualify a candidate is dishonesty. Trust is key for me and my team. We have to know that the people we are working with are not going to withhold things from their teammates, regardless of the situation. It ensures that we are all on the same page and can collectively approach situations together without being concerned about missing information.
Can Candidates Apply For Multiple Positions And Not Get Penalized?:
Yes
Recruiter's Perspective
What's your favorite quote?
"In any moment of decision, the best thing you can do is the right thing, the next best thing you can do is the wrong thing, and the worst thing you can do is nothing." Theodore Roosevelt
What do you like to do in your free time?
I'm a bit of a history buff. I really enjoy reading presidential biographies. Other than that, I try to wind down by running and then following it up by making sure I eat a lot. Chipotle is my life.
In a sentence, why do you enjoy working at your company?
The variation in work, the relationship building opportunity and the chance to build teams is what makes everyday fun and exciting.
In a sentence, how does your company have fun on a regular basis?
Daily, it has to be nerf guns. Many of the team have them in the office and will take 5 min and let loose to unwind. Ping Pong is another outlet that gets used quite frequently.
In a sentence, how would you describe the employees at your company?
A place where everybody knows your name and they're glad you came in today (Probably the greatest line from Cheers). It really is not a joke, there is a great amount of collaboration and comradery on the team.