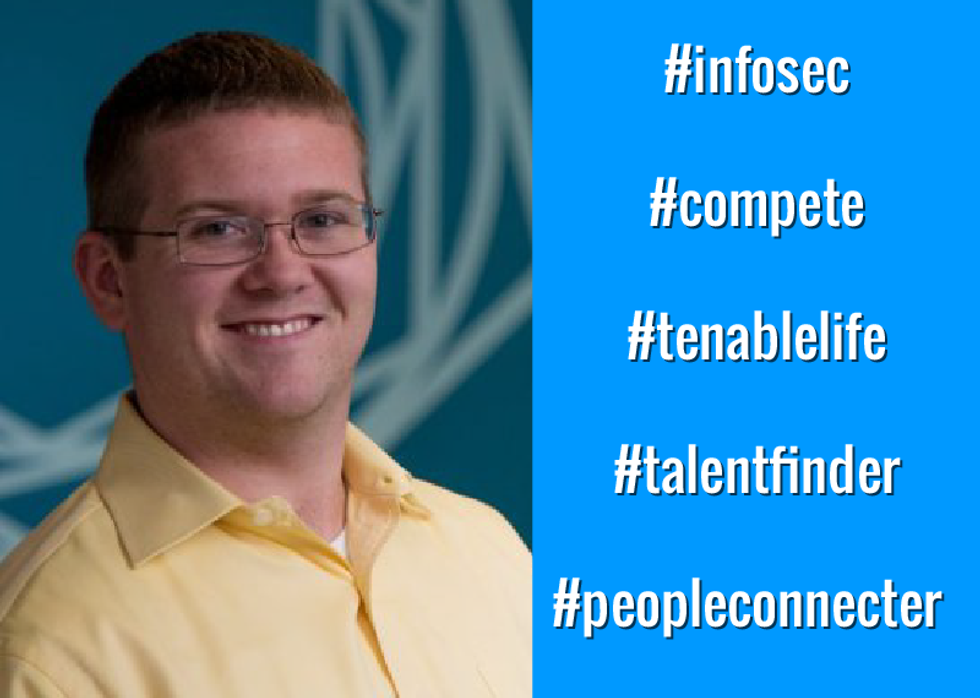 Recruiter Info
Name:
Brian Sheridan
Title:
Corporate Recruiter
Email:
bsheridan@tenable.com
LinkedIn:
www.linkedin.com/in/brian-sheridan-mba-16664218
Phone:
443-472-9336
Twitter:
@TenableBrian
Company Info

Company:
Tenable Network Security
Location:
7021 Columbia Gateway Drive, Suite 500, Columbia MD 21046
Website:
www.tenable.com
Careers Page:
www.tenable.com/careers
LinkedIn:
www.linkedin.com/company/tenable-network-security
Twitter:
@TenableSecurity
For Job Candidates
Preferred Method To Be Contacted By A Candidate:
Phone
Preferred Process For Following Up On Application:
I recommend a phone call or e-mail after 48 hours of your application, if you haven't heard from a recruiter. I can easily be found on LinkedIn or Twitter.
Things That Impress You In A Candidate:
Candidates that can quantify results on their resume. Examples - Contacted 100 potential customers per day to discuss XYZ vs. Made cold calls. Reduced month end close process from 7 business days to 3 business days vs. Month end close responsibilities. Many job seekers have similar responsibilities but by quantifying your results you can show that you are stronger than your peers. As an interviewer, I can ask "how did you accomplish this." It will allow me to identify transferable skills which can relate to a position you might not have been responsible for yet. This is often overlooked.
Things Candidates Must Include To Be Considered For Job:
The basics are a resume, phone number and e-mail address. Tenable does not require a cover letter but when I present at career events, I make sure the group knows that if a company asks for a cover letter include it our you will be passed over. Some positions require writing samples, portfolios, assessments, etc. If an application asks for it then consider it a requirement without exception.
Things That Will Disqualify A Candidate From Getting Considered:
Unprofessional e-mail address, unprofessional voicemail, major spelling/grammatical errors, no knowledge of the company (if you applied directly), incomplete application. Most of these items are basics. Generally, I won't disqualify a candidate without some sort of interaction and those disqualification will be based on ability to complete the required tasks.
Can Candidates Apply For Multiple Positions And Not Get Penalized?:
Yes
Recruiter's Perspective
What's your favorite quote?
"Winning is not a sometime thing, it is an all the time thing. You don't do things right once in a while…you do them right all the time." - Vince Lombardi
What do you like to do in your free time?
I enjoy cooking with my wife, working on my house, Brazilian jiu jitsu, judo and playing with my dog.
In a sentence, why do you enjoy working at your company?
It is the most employee appreciative organization I've ever worked for and we do work that matters.
In a sentence, how does your company have fun on a regular basis?
We celebrate the small achievements and major wins by recognizing the people that helped get us there.
In a sentence, how would you describe the employees at your company?
Passionate individuals that work towards a team goal by doing work that matters.