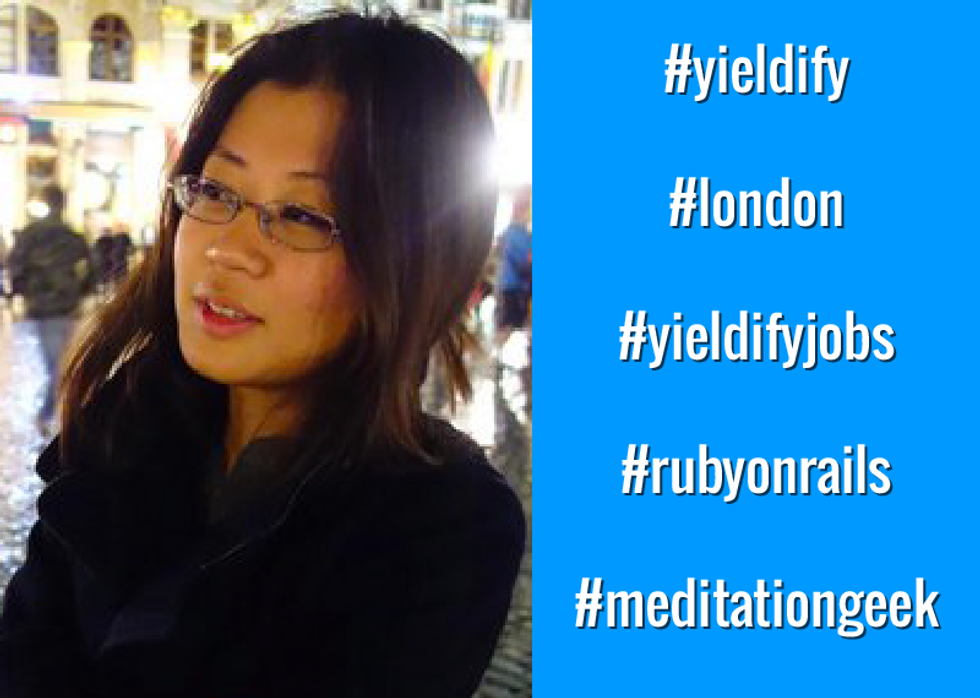 Recruiter Info
Name:
Christine Ng
Title:
Technical Recruiter
Email:
christine@yieldify.com
LinkedIn:
uk.linkedin.com/in/christinengkinyee
Phone:
0208-123-9918
Twitter:
@xtine08
Company Info

Company:
Yieldify
Location:
London
Website:
www.yieldify.com
Careers Page:
careers.yieldify.com
LinkedIn:
www.linkedin.com/company/yieldify
Twitter:
@yieldify
Facebook:
www.facebook.com/Yieldify-427516487337763/
For Job Candidates
Preferred Method To Be Contacted By A Candidate:
Email
Preferred Process For Following Up On Application:
I'm pretty flexible - either via Email or Phone! Although given the number of calls we get every single day, I would prefer the former.
Things That Impress You In A Candidate:
We have very high standards and education is one of the key factors we look at in an application, so someone who is able to demonstrate the ability to think commercially and communicate effectively is always impressive. You can't fake passion as well, and it is so rare to come across a candidate that is genuinely interested and love what they do.
Things Candidates Must Include To Be Considered For Job:
One of our core values is #LearnandAdapt, sure on paper you may look good but in a start-up environment you never know what is going to be thrown your way.
Things That Will Disqualify A Candidate From Getting Considered:
The inability to communicate! Teamwork and collaboration is the key to our success.
Can Candidates Apply For Multiple Positions And Not Get Penalized?:
Yes
Recruiter's Perspective
What's your favorite quote?
Never let success get to your head, and never let failure get to your heart
What do you like to do in your free time?
Start-up and community events, hanging with friends, parks and hikes (if permitted), meditate
In a sentence, why do you enjoy working at your company?
It is very humbling to speak to very smart people, and rewarding to be on the front lines to shape and grow Yieldify.
In a sentence, how does your company have fun on a regular basis?
Team outings, quarterly Yieldify parties (Halloween, Christmas, Winter Blues.. to name a few), Lunch+Learn Sessions
In a sentence, how would you describe the employees at your company?
Always dreaming big, and making things happen!