Learn how to land a career you love
If the stress of juggling school, work, and family is making life difficult, you are not alone. According to a recent study on college employment, 43% of the nation's full-time college undergraduates and 81% of part-time undergraduates worked while getting a degree. Not surprisingly, time shortage is one of the biggest reasons for students dropping out before completing their degree. So how do you make sure that you stay the course?
Here are five tips for managing your time for academic—and professional—success.
In your job search, you've probably come across companies you've heard of, and companies you have not. Chances are, the companies you've heard of have employer branding strategies to help them attract top talent and boost employee morale. If employer branding benefits companies, why should job seekers care about it, too?
The short answer: employer branding can actually help job seekers find the right job (and company) for them.
If you're looking for a job, here are three specific reasons why you should pay attention to employer branding in your job search.
Whether you're new to LinkedIn or you're a seasoned user, connecting with new people can be a challenge, especially when you're not sure what to write in your LinkedIn invitation. You might be tempted to use the generic "I'd like to add you to my professional network on LinkedIn" template, but beware! By not personalizing your message, you could lose a precious opportunity to network.
Here are seven great tips on writing LinkedIn invitations from our approved career experts:
TikTok, the popular social media platform that allows users to make and share short-form videos, is not just for individuals looking for funny and entertaining content. It's also an amazing opportunity for employers to step up their employer branding efforts and engage with job seekers in a new and exciting way.
If your company hasn't considered using TikTok for employer branding, or you're on the fence about it, here are three reasons why you should incorporate TikTok into your employer branding efforts today.
In this article, I'll provide you with an analysis user guide, complete with templates and examples and, most importantly, how to leverage this analysis during your strategic plans.
What Analysis Tools Should I Use?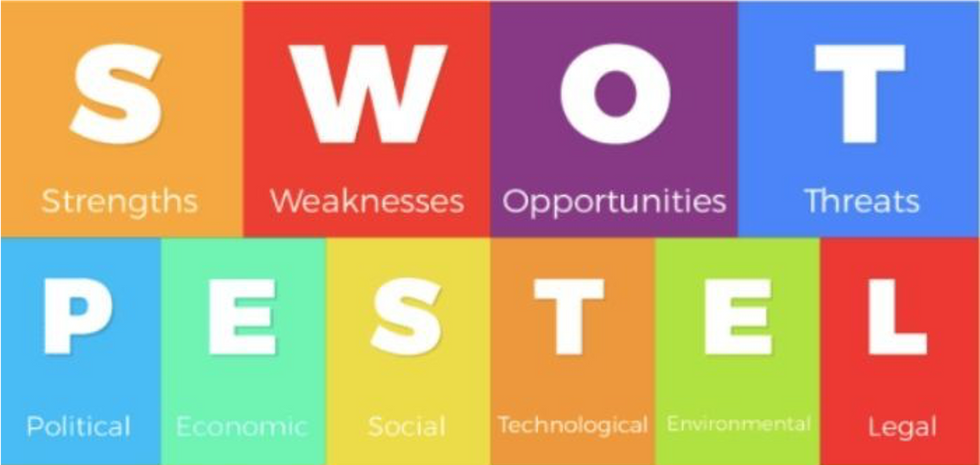 There are tons of business analysis models that can help you better understand your business, but some of the most effective ones are the SWOT and PESTLE strategic analysis models.

SWOT stands for:
INTERNAL FACTORS
Strengths and weaknesses represent your company's internal environment—things that are happening now. They represent things that you have control over and can change.
EXTERNAL FACTORS
Opportunities and threats represent your company's external environment—things that are happening in the future. They are things going on outside of your company and are not something you can control or change.
A PESTLE analysis can be done in conjunction with a SWOT to more deeply analyze the external section in the SWOT. It is more valuable than SWOT for longer term strategic plans. PESTLE stands for Political, Economic, Social, Technological, Legal, and Environmental.

POLITICAL: Government policy, corruption levels, trade controls, import and export restrictions, taxation changes
ECONOMIC: Exchange rates, disposable income levels, interest rates, unemployment rates, wealth distribution
SOCIAL: Education levels, population growth rate, religious harmony, attitude towards health, social welfare programs, generational shifts
TECHNOLOGICAL: New technology considerations, internet penetration, access to basic infrastructure, software privacy, technology competency of workforce
LEGAL: Tax laws and regulations, labor laws and firing policies, copyright and anti-piracy laws
ENVIRONMENTAL: Weather patterns, attitude towards recycling, attitude towards organic and green products
SWOT and PESTLE are simple tools that, when combined, provide a complete picture of your business environment for an effective strategic planning process.
SWOT ANALYSIS TEMPLATE