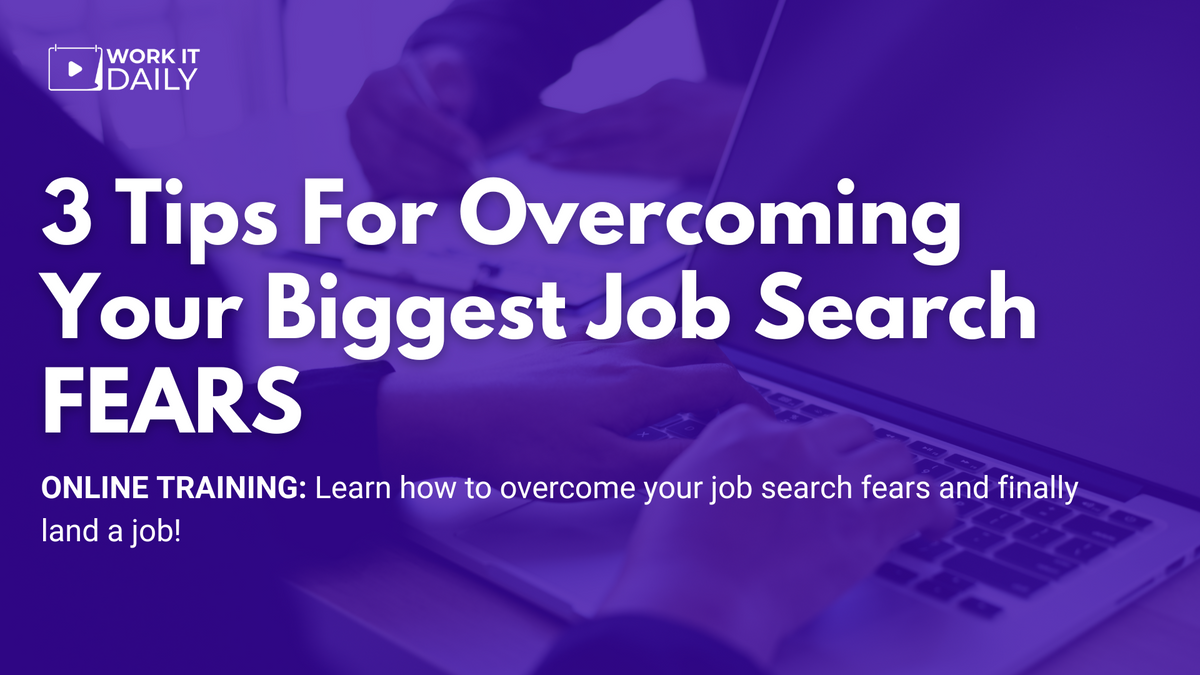 Are you terrified of screwing up a job interview? Does the thought of writing a cover letter horrify you? Are you scared to network with others? What do you even say, anyway? If you're struggling to overcome your job search fears, this live event is for you.
We get it. Looking for work can be scary, especially if you've been at it for a long time and haven't gotten any results.
Understanding which fears are getting in the way and how to overcome them will make all the difference. Sometimes you might not be aware of which obstacle is getting in the way of your goals. If you want to overcome these fears once and for all, we invite you to join us!
In this training, you'll learn how to:
Utilize strategies for coping with your job search fears
Be confident in your job search—from writing your resume to networking
Face your fears and move forward
Join our CEO, J.T. O'Donnell, and Director of Training Development & Coaching, Christina Burgio, for this live event on Wednesday, October 5th at 12 pm ET.

CAN'T ATTEND LIVE? That's okay. You'll have access to the recording and the workbook after the session!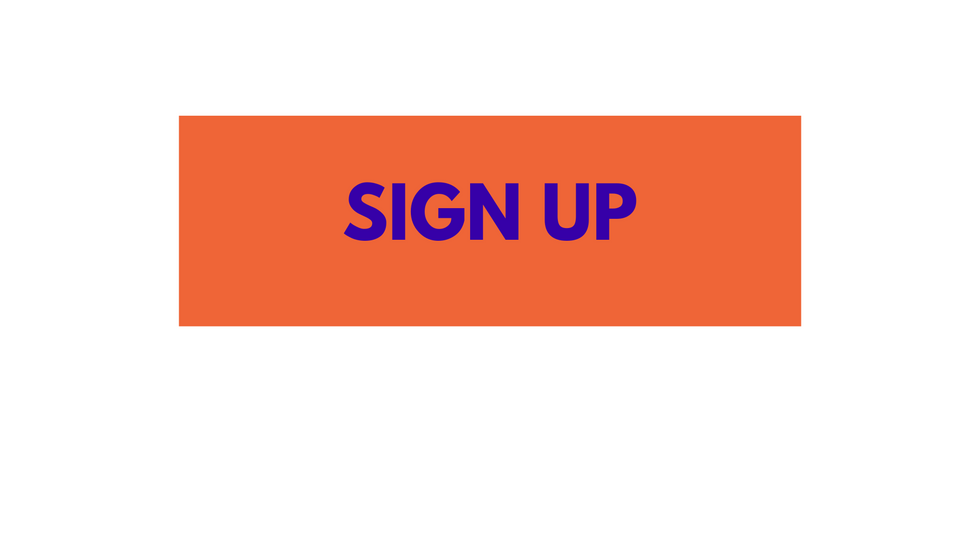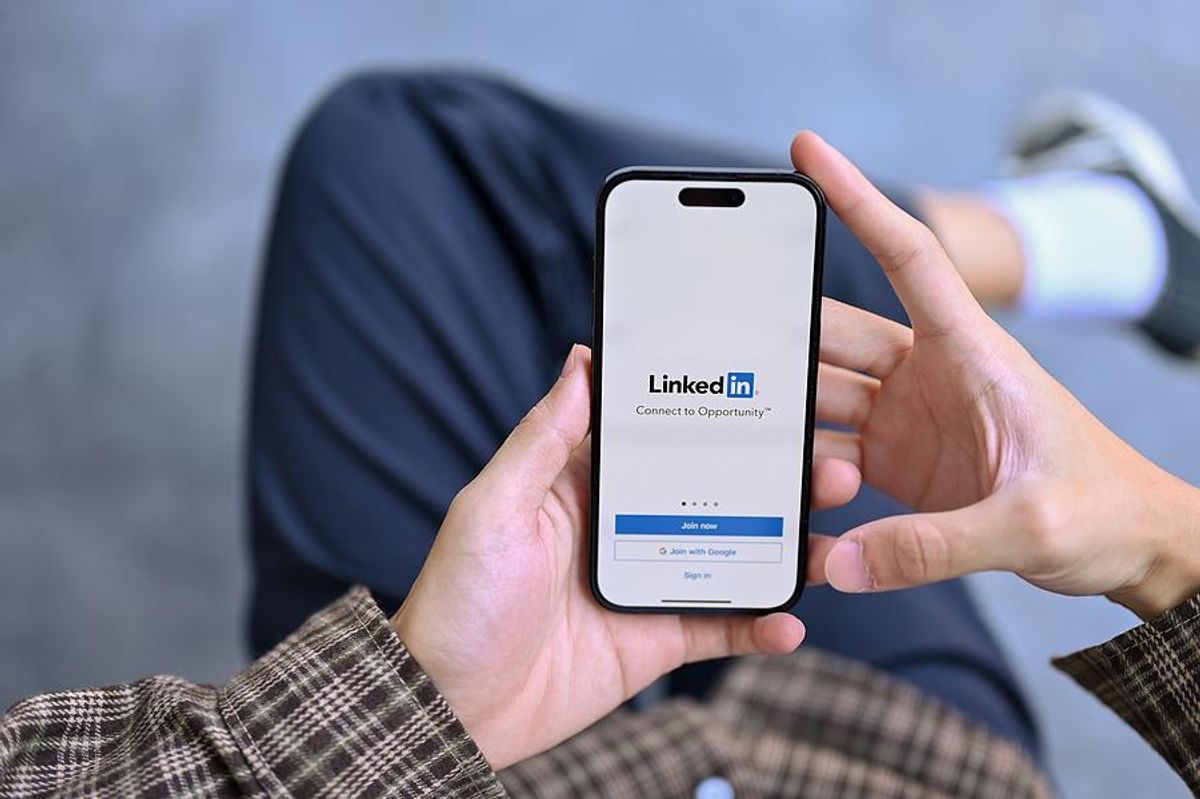 Bigstock
Do you have a LinkedIn account just for the sake of having a LinkedIn account? If so, you're not alone. Many people create a LinkedIn profile, fill out the basic information, and never touch their profile again. That's a BAD strategy!
The problem with this approach is that you don't take the time to learn how to navigate or leverage LinkedIn to your advantage.
LinkedIn can be a valuable resource for those looking for new career opportunities. There's an option in the platform's security settings that allows the user to let recruiters know they are open to new opportunities.
Even if you're happy in your career, you never want to close yourself off to new and exciting possibilities. In addition to career opportunities, LinkedIn is beneficial for networking and meeting new contacts to exchange ideas, which will help you build your personal brand and stay relevant in your industry.
Here are a few ways to make better use of your LinkedIn profile:
Use Content To Your Advantage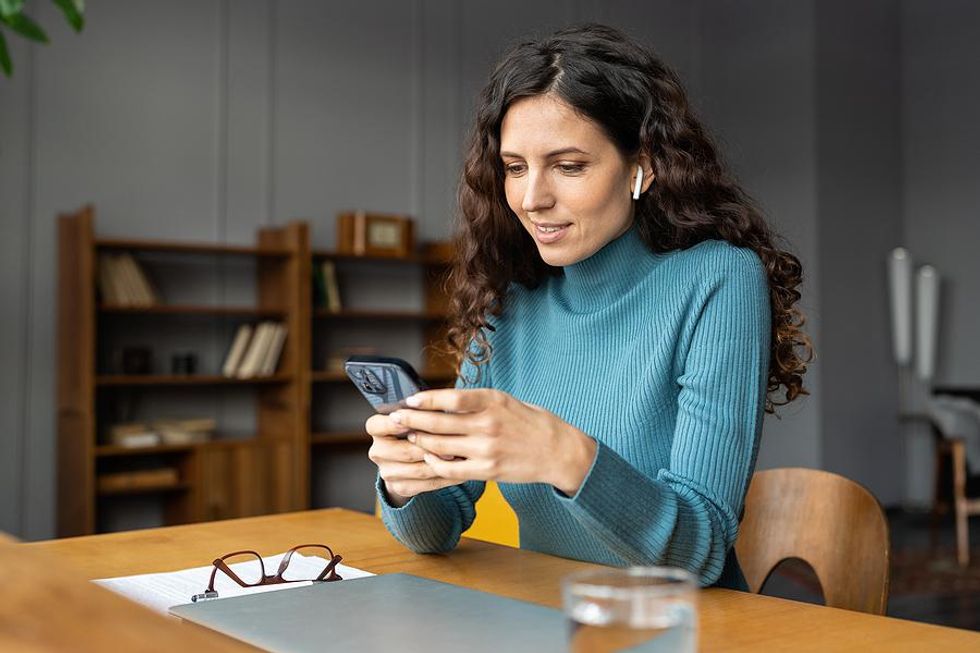 Bigstock
It's hard to get noticed on LinkedIn if you don't stand out, and one easy way to stand out is by using content to your advantage. Content is king!
Remain active on LinkedIn by consistently posting content about your industry and company. You can do this by creating your own content (if you're an authority on a subject) or by sharing relevant and engaging articles. Posting relevant information about your profession helps to reinforce who you are as a professional and shows that you are engaged in your career.
To get better organized with posting content, create a content calendar for your page that reminds you to post so you don't fall behind.
Another way to stand out is by creating graphics for your content to make it more visual. Free online tools like Canva can assist you with graphics and images for your posts.
Update Your Profile Regularly
Bigstock
As your career goes on, your job responsibilities will change, and you may even get promoted. It's important to put these changes on your LinkedIn profile because it shows a pattern of career growth. In addition, as your job responsibilities change, it may impact the skill sets and keywords that you want to feature in your headline and "About" section.
It's also important to highlight accomplishments when the opportunity presents itself. If you or your company win an award or recognition for work in the field, that information should be shared on your LinkedIn profile for personal branding purposes.
Build Your Professional Network
LinkedIn is a good way to stay in touch with former colleagues, mentors, and other significant professionals in your industry. Having a large network that you're in contact with is important because these connections could potentially vouch for you when you're looking for a new career opportunity, or even refer you for a job.
Networking via LinkedIn is also a good way to get past the applicant tracking system (ATS). You can track down and potentially connect with a recruiter on LinkedIn to get your information directly into their hands.
Recruiters use platforms like LinkedIn to find top talent. It's not uncommon for those who are successful in their careers to get job offers before even knowing that a job is available. That's why it's important to put your LinkedIn profile to use.

By remaining active, you can easily make your LinkedIn profile work to your advantage. It shouldn't sit idly by wasting away!
Need more help with your LinkedIn profile?

Sign up for our FREE Resume & LinkedIn Bootcamp today to learn how to update your resume and LinkedIn profile the way recruiters want!
This article was originally published at an earlier date.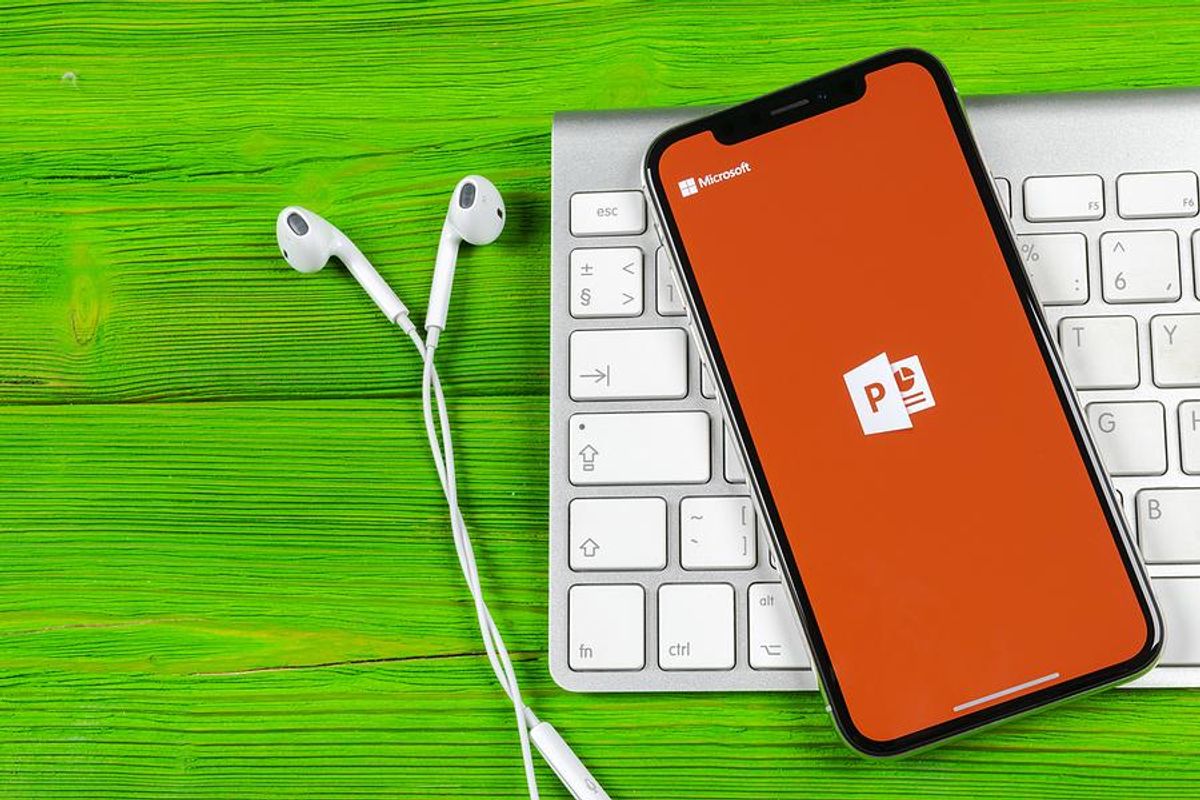 Bigstock
PowerPoint – the "stirrups" of presentations
Some people say that stirrups took the skill out of horse riding. Stirrups made it too easy for riders to stay on their horses.
PowerPoint is thought to have done the same for presentations. By organizing your ideas, thoughts, and information in a series of slides, meetings start to look the same.
PowerPoint is so ubiquitous that a meeting is almost not a meeting without some slides. Is there another way to communicate, or are we all doomed to experience "death by PowerPoint"?
There Are Alternatives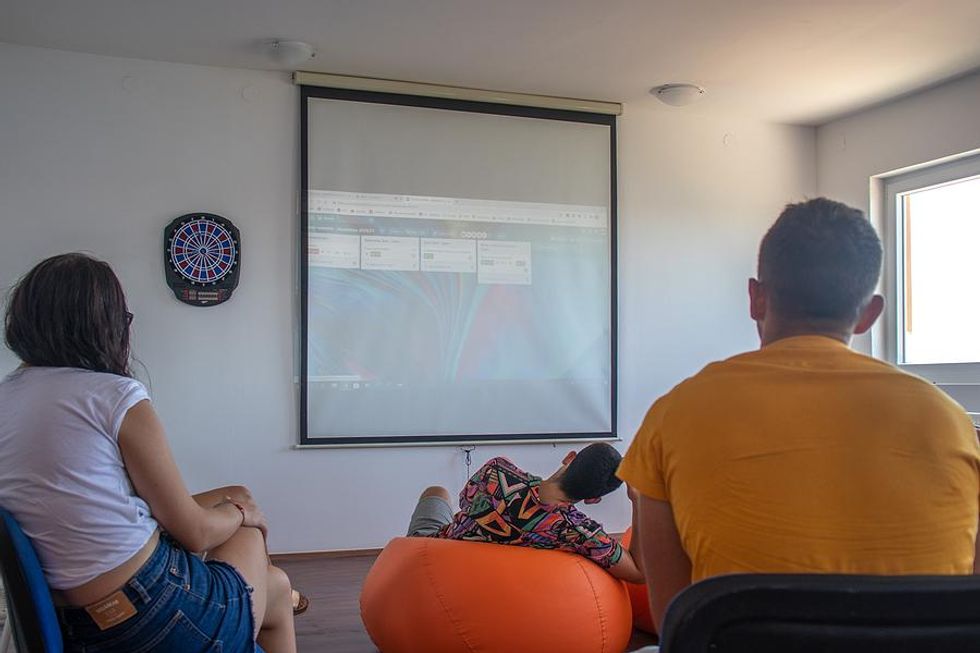 Bigstock
PowerPoint was invented less than a hundred years ago. Socrates, Marcus Aurelius, Martin Luther, and Einstein didn't let their lack of PowerPoint stop them! Perhaps it's worth looking at some alternatives.
"Live & unplugged"
If your message is straightforward and doesn't involve too many facts and figures, why not just stand up and say it?
This was how Cicero, Demosthenes, and Churchill spoke most of the time.
To make it work, you will need to prepare your message carefully. It will force you to boil it down to the basics and concentrate on what really matters.
If you're going to answer questions, you'll need to know your subject well enough to be able to think on your feet. You may want to "red team" possible questions and prepare your answers to them. See "further reading" for more details!
If someone asks you to share your content electronically, you can either have a document ready with speaker's notes or get someone to film your conversation and share the recording.
Flipcharts
Flipcharts are an effective way to share "low-density" information visually.
They are also very useful for "co-creation," where your presentation is more of a discussion and the output is something that you have created with your audience.
Paul Ardern, the Saatchi and Saatchi advertising legend, recommended making pitches for advertising campaign stories in this way. It allows customers to get involved in the creation process right from the start. It also demonstrates how willing you are to listen to your customers.
Sharing the results electronically is fairly easy. Simply take pictures of each completed page by phone and share them by email.
Word documents
Many people present PowerPoint slides with densely written text and diagrams.
Data projectors display whatever is on the screen, so if you have already written a Word document and you know which pages you want to show, why duplicate effort by copying text onto a PowerPoint file?
If the document is a draft, it's also possible to get peoples' input and edit it on the fly.
It adds a touch of authenticity to the meeting. You are showing the actual document. It makes sharing the information easier and more credible since what your audience sees during the presentation is what they get.
Spreadsheets
If you're presenting numbers, such as an ROI or a set of cost estimates or accounts, you could just show your audience the spreadsheet with the calculations on it.
The advantage of this is, once again, you can discuss with the customer how accurate your estimations are and then make adjustments on the fly. This involves the customer in the creative process which will build trust.
Some salespeople have been known to deliberately make estimated costs that might be saved, such as salaries, lower than they really are. They then let their customers correct their figures, and so the final ROI figure goes up, and it looks like the customer discovered this for themselves.
Make a video
You may expect your audience to passively consume your message, or to ask questions later.
Why not just make a video, share it electronically, and give your audience a deadline by which they must submit questions?
Video editing software is readily available and not too difficult to learn. You can use it to mix media of different formats including audio, written text, and moving images.
Once the video is complete, it's not too difficult to share it electronically.
Do you need a presentation at all?
If you are planning to read what is on the PowerPoint to your audience and then follow up with a question-and-answer session, why not just send them the text to read before the meeting?
This will give your audience more time to "digest" the information and they can prepare questions independently without worrying about the social aspect of asking questions in front of the group.
Let's get in touch!
Are you planning a presentation? Would you like to brainstorm alternative delivery methods? Let's talk and see what we can put together!
Further reading...
Here are some more articles on the topic of presentations:
Red Teaming – Defining Objection Handling Strategies & More
Sell The Hole, Not The Drill! How To Make A Successful Sales Presentation