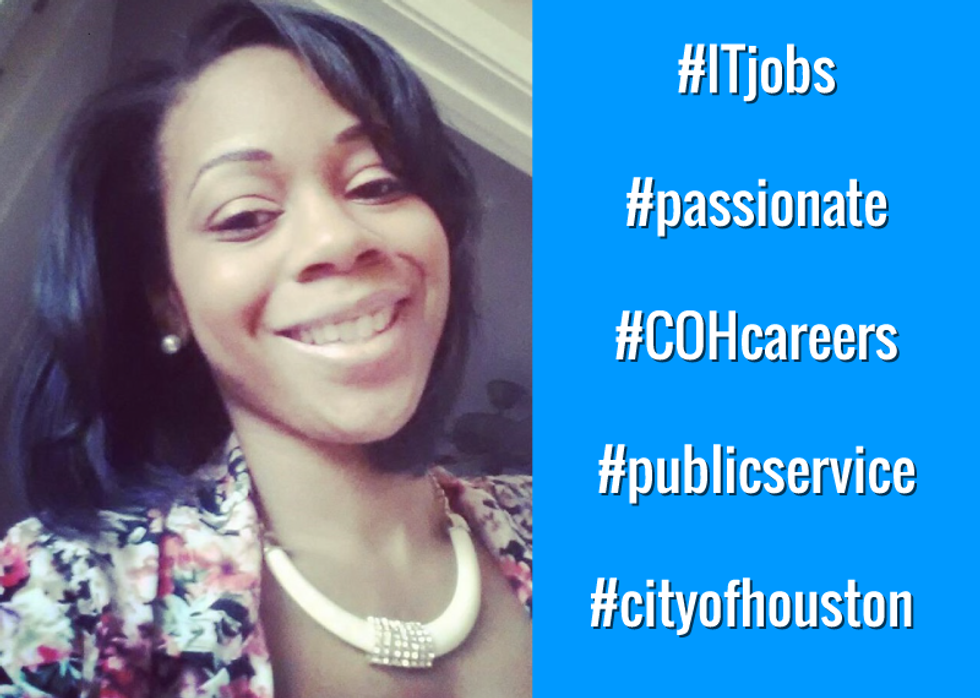 Name:
Jamaica Booker
Title:
Social Media Recruiter
Email:
jamaica.booker@houstontx.gov
LinkedIn:
www.linkedin.com/in/jamaicabooker
Phone:
832-393-6724
Twitter:
@jamaica_518
Company Info
Company:
City of Houston
Location:
Houston, TX
Website:
www.houstontx.gov
Careers Page:
www.houstontx.gov/jobs
LinkedIn:
www.linkedin.com/company/city-of-houston
Twitter:
@COHCareers
Facebook:
www.facebook.com/COHCareers
For Job Candidates
Preferred Method To Be Contacted By A Candidate:
LinkedIn
Preferred Process For Following Up On Application:
A job applicant can always check on the the status of their application by visiting:
https://www.governmentjobs.com/Applications/Index/houston
. Or they can reach me directly via LinkedIn where I am more than happy to look into the status of an application directly for them.
Things That Impress You In A Candidate:
When someone reaches out to me directly and shows a true interest in learning more about the opportunity outside of the job posting.
Things Candidates Must Include To Be Considered For Job:
Must complete application in its entirety...Also helps to include a
resume
or samples of your work if applicable.
Things That Will Disqualify A Candidate From Getting Considered:
Not meeting the minimum qualifications
Can Candidates Apply For Multiple Positions And Not Get Penalized?:
Yes
Recruiter's Perspective
What's your favorite quote?
"The future belongs to those who believe in the beauty of their dreams." - Eleanor Roosevelt
In a sentence, why do you enjoy working at your company?
I love working for the City of Houston because it allows me to help and serve the citizens of Houston
In a sentence, how would you describe the employees at your company?
The employees here have an open-door policy and are always ready and willing to assist each other.