Stephanie Shiroma Bohannan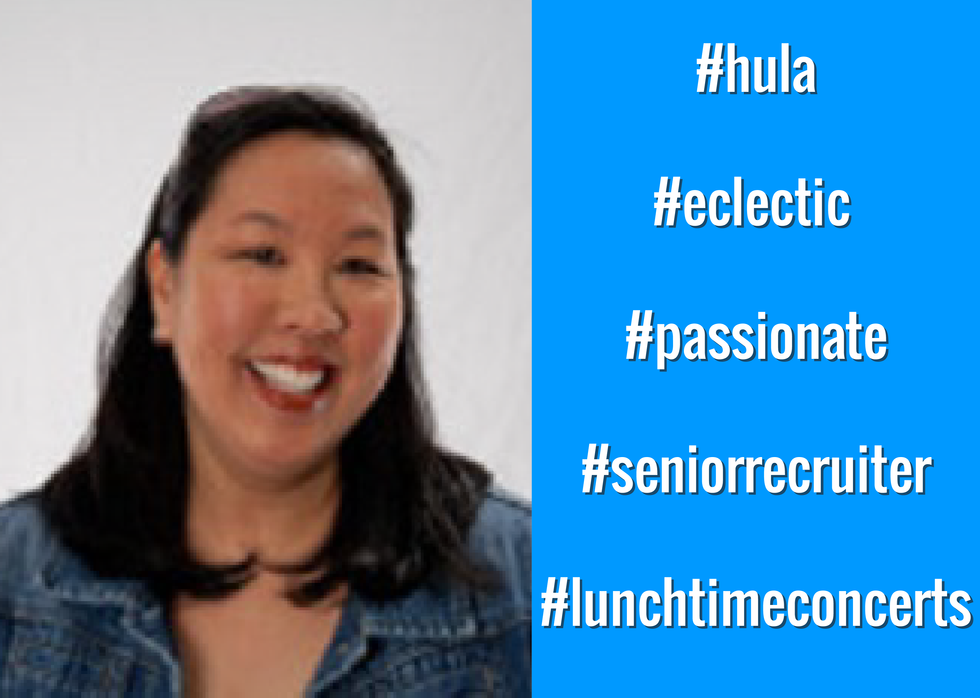 Recruiter Info
Name:
Stephanie Shiroma Bohannan
Title:
Sr. Recruiter
Email:
sbohannan@kloveair1.com
LinkedIn:
https://www.linkedin.com/in/stephanieshiromabohannan
Company Info

Company:
K-LOVE & Air1 Christian Radio
Location:
Rocklin, CA
Website:
http://www.klove.com
Careers Page:
http://www.klove.com/jobs
LinkedIn:
https://www.linkedin.com/company/kloveair1?trk=biz-companies-cym
For Job Candidates
Preferred Method To Be Contacted By A Candidate:
Email
Preferred Process For Following Up On Application:
Once you've applied through our website, you'll receive a confirmation email with contact information should you want to follow up with us.
Things That Impress You In A Candidate:
I love it when candidates don't just know who we are, but are passionate about what we do & want to be here. It's ok if you've never listened to K-LOVE or Air1 before (not every town has a K-LOVE or Air1 signal). But wanting to be a part of our mission is always great.
Things Candidates Must Include To Be Considered For Job:
A resume that shows your employment history. A demo/air-check, if you're applying for any on-air or production position.
Things That Will Disqualify A Candidate From Getting Considered:
Because we are a ministry our screening criteria is different from most businesses. When we are interviewing candidates, we look for three things.
Technical Fit
- Do you have the experience, skills, qualifications, education for the job?
Ministry Fit
- Do your values align with ours & can you wholeheartedly support our mission?
Cultural Fit
- Can you thrive within & enhance our unique culture? All of these 3 criteria must be met if we are to hire that person.
Can Candidates Apply For Multiple Positions And Not Get Penalized?:
Yes
Recruiter's Perspective
What's your favorite quote?
It's not about us. It's all about Him. (K-LOVE & Air1 Value #5)
What do you like to do in your free time?
I dance hula. And even teach a hula class for kids.
In a sentence, why do you enjoy working at your company?
I hear listener stories about how K-LOVE & Air1 has impacted their life. It's so rewarding knowing that I'm a part of that.
In a sentence, how does your company have fun on a regular basis?
We have food & fun days, lunchtime concerts when artists visit & monthly staff meetings that are awesome!
In a sentence, how would you describe the employees at your company?
We are an eclectic blend of personality types working together for one purpose. To further God's kingdom.