3 Reasons to Learn to Twitter Chat for Your Career
May 23, 2012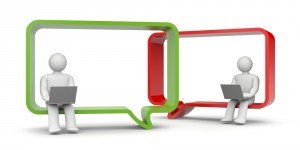 Tomorrow (May 24) at 1:00 PM ET, I'll be hosting a career conversation on Twitter with a partner of mine, DeVry University. Many people have never participated in a Twitter chat before. If you haven't, then tomorrow is the day to get started. Here's why... We'll be taking questions from participants and answering them in real-time. In particular, I'll be talking about The G.L.O.W. Method, a four-step methodology I built to help people find greater career satisfaction.
3 Reasons You Should Learn to Twitter Chat
Learning to Twitter chat is a great way to:
Get answers to career questions and learn something new while at work.
Meet new people to network with online.
Identify though leaders and resources you should follow.
Steps to Join in Tomorrow at 1:00 PM ET
Then, join me at 1:00 PM ET by searching on the hashtag #DeVryChat via Twitter.
Post a question using the same hashtag and I'll do my best to answer it.
It's that simple. Hope to see you there!
Twitter chat image from Shutterstock