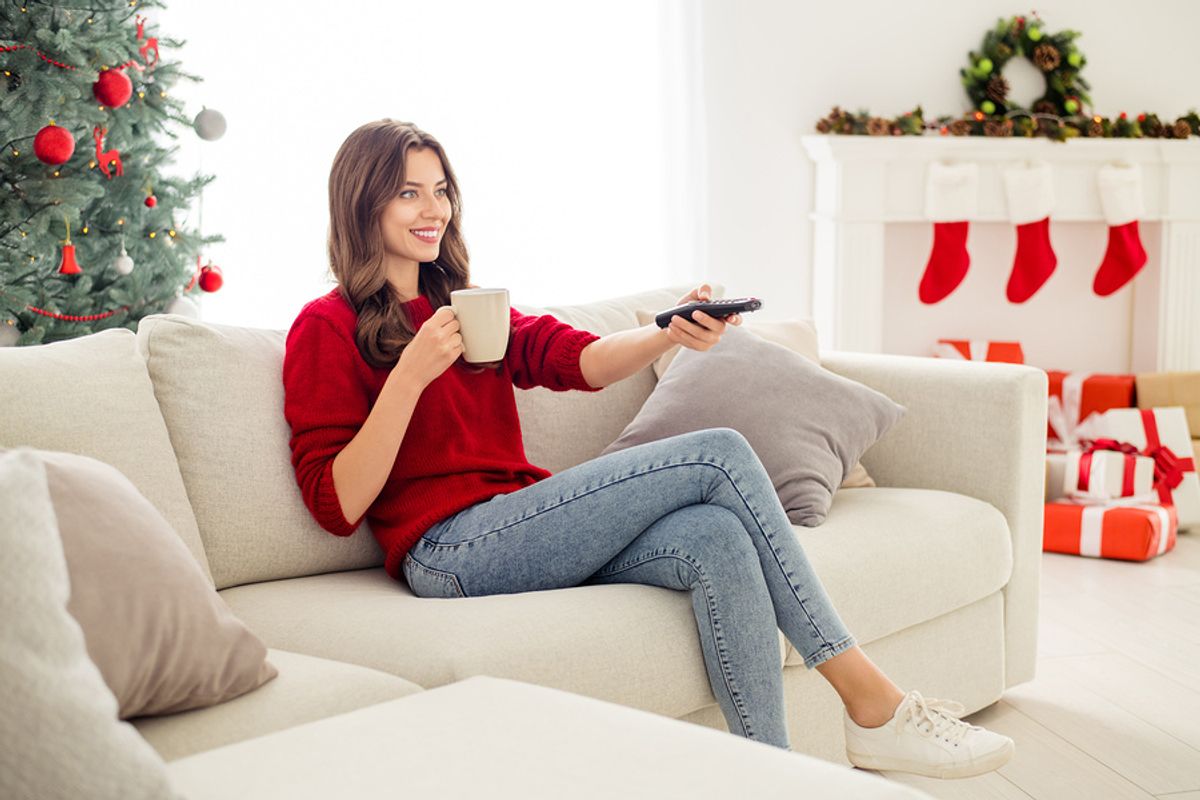 Bigstock
We're going to take a quick break from career advice (although don't give up your job search entirely during the holidays) to take a breather, and kick back and watch some tube.
The holidays can get pretty hectic sometimes, so whenever you do get some downtime, it should be filled with entertainment that you enjoy.
With cable and streaming services such as Netflix, Hulu, Amazon, Apple TV, and Disney +, the options are endless. So, grab some leftovers, put your feet up, and check out some of these great binge-worthy options. (Disclaimer: We're not entertainment experts and there are MANY great programming options beyond this list.)
Movies Worth Checking Out During The Holiday Break
How The Grinch Stole Christmas
Dr. Suess' How the Grinch Stole Christmas is a holiday tale that captured many of our imaginations when we were young. The story about how Christmas can melt even the iciest of hearts is timeless and Suess' words and imagery are second to none.
The live-action version with Jim Carrey does a great job of bringing Whoville to life, and Carrey steals the show as the Grinch. This is a great film to watch with family, or by yourself with a giant bowl of popcorn.
Elf
Will Ferrell as an elf...need we say more?
Yes, this movie is silly, but sometimes silly is just what you need in a movie. And, underneath the silliness there's a relatable story about an individual trying to find his way in the world and how it's never too late to reconnect with family, even in the most unusual of circumstances.
Hallmark Christmas Movies
We're not going to pick one, but there's a bunch of them. If you love Christmas and are looking to waste hours binging Christmas content, then you're in luck! Pick a movie, and get lost in a Christmas wonderland. Hallmark movies qualify as guilty pleasures, so you don't have to admit that you actually watch them.
Home Alone
Home Alone is filled with a ton of laugh out loud moments that continue to stand the test of time. Eight-year-old Kevin McCallister hilariously takes down a pair of home burglars while learning that even though his family is annoying, he loves them anyways (which many people can probably relate to). The movie spurred a few sequels, but nothing beats the original.
Star Wars

It doesn't have to all be about the holidays. Sometimes you just want to get lost in another world—perhaps even a galaxy far, far away!
A majority of the Star Wars movies are now streaming on Disney+, so you could easily lose an entire day getting caught up in the battle between "good" and "evil." May the force be with you!
Television Shows Worth A Holiday Binge-Watch
The Office
Of course The Office was going to be on this list! The Office is probably on every list.
It's the quintessential, go-to show for streaming year round and is also probably one of the most quotable shows in history (even if you've never seen it, you've probably been exposed to a quote from the show at least once a week in your own office, without even knowing it).
So if you want a good laugh, and to keep up with good workplace/pop culture, you'll probably enjoy the cast of characters at Dunder Mifflin Paper Company. Just be sure to stay out of Dwight's way!
Stranger Things

This hit Netflix science fiction show about the strange happenings in the fictional town of Hawkins, Indiana brilliantly pays homage to horror classics of the 1980s (the whole decade really) and has a cast of characters that you'll instantly enjoy.
The show has been on for three seasons (25 episodes), so there's a lot of ground to cover if you're new to it. But, it will be time well spent. Hope you like monsters!
Bob Burgers/SpongeBob SquarePants
Full disclosure: The author of this post has never seen an episode of these two shows in his life. However, I have co-workers that swear by them and wanted to make this list a true representation of the entire Work It Daily staff.
By most accounts, these two shows use witty, and extremely silly, humor to relate to everyday life, and sometimes even drop wisdom. It doesn't matter what age you are, a well-done cartoon is entertaining.
Schitt's Creek
Another Work It Daily favorite, Schitt's Creek chronicles the fall and rise of the Rose family as they're forced to start over in a small town after losing their fortune. Watching the family try to find their way through the new surroundings, particular the culture classes better small-town America and a stuck-up rich family, is hilarious. The show even contains some cool career lessons.
Friends
A true American classic!
Friends was always one of the most relatable shows on television, from its storylines to its characters (are you a Ross, Chandler, Joey, Monica, Rachel, or a Phoebe?). Friends currently streams on Netflix and there are 10 seasons and 236 episodes to choose from. You could actually have a solid binge just by watching the show's holiday episodes.
Bonus Picks
The Mandalorian
This new Disney+ show is based in the Star Wars universe five years after Return of the Jedi and chronicles the travels of a bounty hunter. While this author admits to having a Star Wars bias, I have two words for you that makes this show worth a watch: Baby Yoda!
I, Tonya

This dark comedy that kind of gives former figure skater Tonya Harding's version of the 1992 Olympics scandal that saw her rival Nancy Kerrigan get attacked. As long as you go into the movie with a healthy dose of skepticism, the ridiculousness of the entire situation will give you some good laughs. The movie is currently streaming on Hulu and features a really strong performance from lead actress Margot Robbie as Tonya Harding.
Sports
If you're a sports fan, the holiday break is the perfect time for you.
There are plenty of college and pro games on typically from Thursday to Monday, while both the hockey and basketball seasons are in full swing and feature many of their marquee matchups for this time of year. Enjoy!
When you've emerged from your holiday leisure, Work It Daily will be there to help you with your career goals. Whether it's growing your career or changing careers entirely, Work It Daily has the coaching and networking opportunities to get you ahead of the game! Treat yourself to a career gift and join today!