If you're still dressing like you did in the 80's, it's time to retire that hair, makeup, or outfit… and instead embrace some new style inspiration. Fashion Challenge: Older professionals who don't realize when it's definitely time to update their look and have a major style makeover. Example: someone who is clinging to a hairstyle or fashion trend that was fashionable fifteen years ago, thinking it still looks good.
SharpHeels Style Guideline
Don't make an office fashion flub - know when it's time to update your look. Anything older than 10 years, unless it's a gorgeous, classic Chanel suit, is outdated -- and it's absolutely time to refresh your look. Good example: The classic comedy
Nine to Five,
released in 1980
,
starred Jane Fonda, Lily Tomlin, and Dolly Parton, and tells the tale of three working women, with diverse skills and personalities, who rally together to change a dysfunctional business. While the hilarious subject matter will never get old, and this is an entertaining film that should be watched over and over again, the styles these actresses wore in this 1980's classic are definitely outmoded, and should not be replicated today. Instead, gain inspiration from how these big stars are dressing now:
Jane Fonda (age 76)
– an amazingly beautiful woman, she always looks chic and sophisticated. We'll share some coat and jacket dresses that cinched at the waste for a flattering silhouette.
Lily Tomlin (age 74)
– an Emmy- and Tony-winner, as well as being an Oscar-nominated actress, she always looks both professional and absolutely appropriate for the event she's attending – while doing it with a casual ease. We'll also look at some of our favorite television characters for added style inspiration: TV Inspiration:
Coastal Chic - Andie McDowell (age 54) plays Olivia Lockhart, a municipal court judge in Cedar Cove (Hallmark Channel).
Executive Leadership - Julia Louis-Dreyus (age 48) as Vice President Selina Meyer in HBO's Veep.
Courtroom Power - Julianna Margulies (age 46) as Alicia Florrick in CBS's The Good Wife.
Bold Sophistication - Dana Delany (56) stars as Megan Hunt in ABC's Body of Proof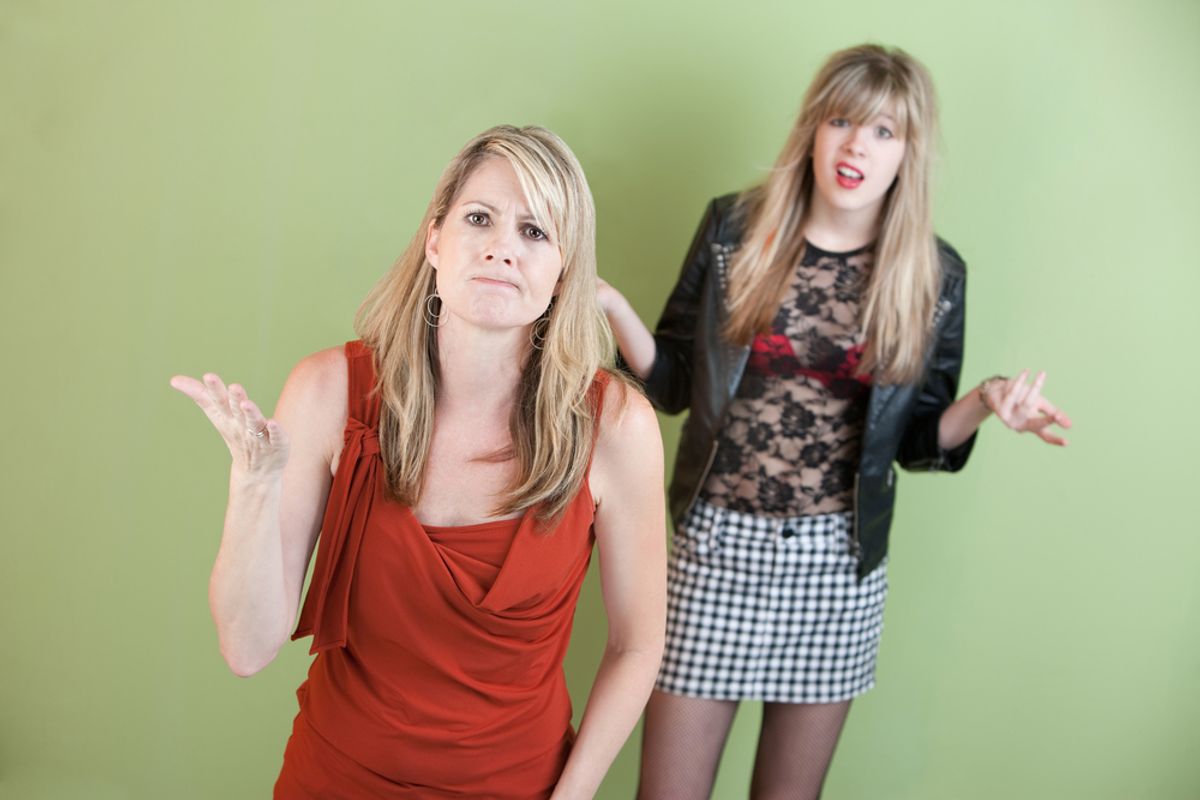 Do you (or someone you know) have a hard time judging what's appropriate office fashion? You're not alone. Ashley Poulin of SharpHeels.com clears up the confusion as to what's dressy and what's inappropriate for the office. Fashion Challenge: Professionals who confuse "dressy" and "inappropriate." Not thinking through the business-appropriate nature of what you are wearing (for example, thinking a dress you wore out to a club is acceptable to wear to an interview, or wearing a top that shows too much cleavage).
Office Prohibited
Knowing what's appropriate for the office can be difficult and will take some time and investment to learn, but knowing what should never cross the threshold of your office lobby is imperative.
SharpHeels Style Guideline
Learn what is never appropriate at the office. Check out the quick tips below or watch the video!
Cleavage tops – It is never appropriate to show too much cleavage at the office. Fortunately, adding a camisole and a blazer or black cardigan can make an "evening" blouse workplace appropriate, but don't force an evening look for the day. If the top has too much cleavage or is see through, then keep it out of the office.
Mini Skirts – The name says it all – "mini" is just too short for the office. Instead buy a pencil or an A-line skirt that hits just above the knee. Add a great pair of heels to add some sass, but keep those pumps under 4 inches in heel height.
Platform Heels – also known as (a.k.a) - Hooker Shoes – Let's be honest: 4-inches is as high as you should ever go at the office. Typically, most heels should be 3-4 inches, max. You can add some flair with color pumps – burgundy or cobalt blue pumps look great with an A-line black flare dress
Too Clingy – Your office apparel should be flattering – form-fitting is fine, but too tight and you look like a stuffed sausage or a "woman of the night" – i.e. it's definitely no longer appropriate or flattering. Instead wear a figure flattering A-line dress that you will look great in and still be appropriate for the office. Add some accessories to add some color and flare.
Remember: Never, ever wear something too tight, too short, or show any cleavage tops.
Click here to see all of the style guides in this office fashion series
.