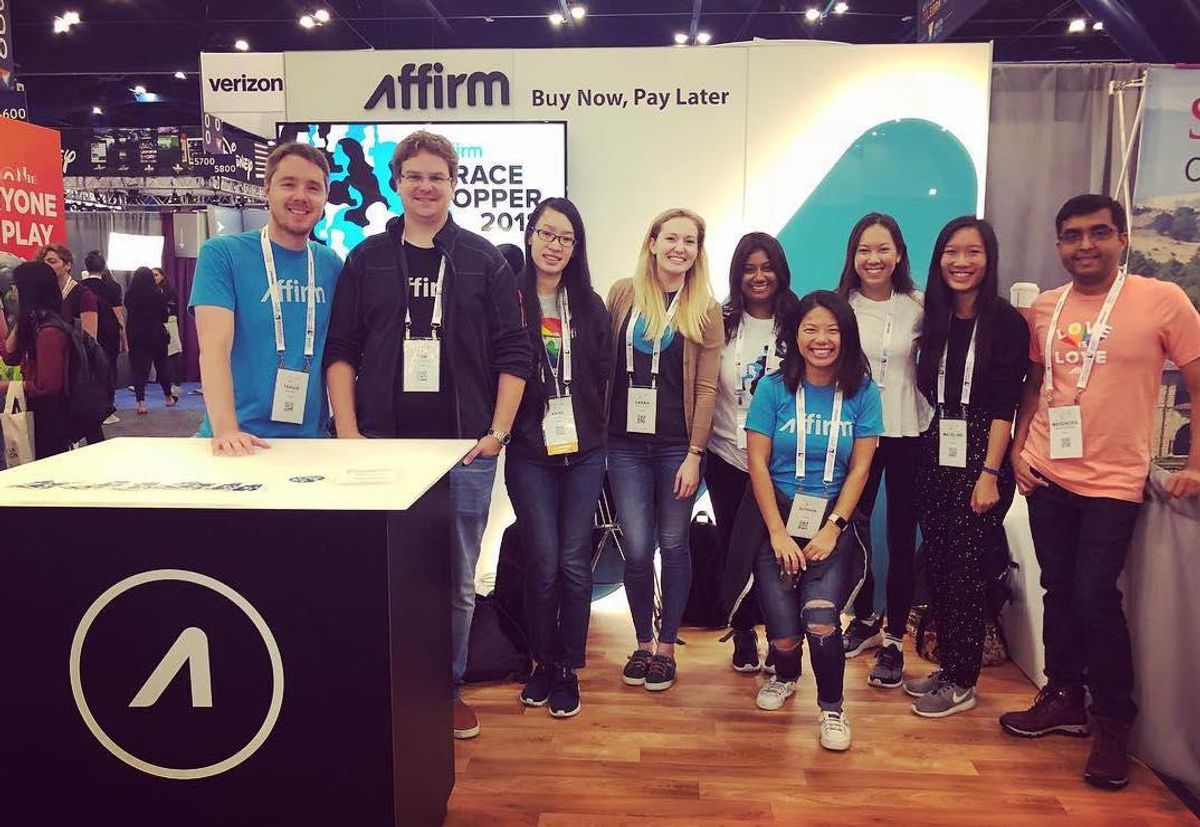 (Photo from Affirm's Instagram)
Affirm is a growing company that has fully embraced the remote-first work environment. Job seekers looking to be a part of building a remote-first culture may find working at Affirm to be an intriguing option.
Here is some information about Affirm's mission and available opportunities.
How Affirm Accomplishes Its Mission
Affirm is a financial technology company that operates as a financial lender of installment loans for consumers to use at the point of sale to finance a purchase.
Those that have an Affirm account can shop online and then use their Affirm accounts at checkout to pay instead of a credit card. From there, the customer works out a payment schedule with Affirm and then pays off the purchase with monthly payments. Annual percentage rates (APR) can range from 0-30% based on an individual's credit.
Affirm's promise to customers is that the company is always transparent with no late fees, compounding interest, or hidden fees, and the customer will always know exactly what they owe. Affirm also works with multiple businesses and has partnerships with Walmart, Delta Vacations, and Peloton, to name a few.
Affirm currently has over 6.2M consumers in the U.S. and is available at checkout at over 6,500 merchants.
How To Determine If Working At Affirm Is Right For You
@workitdaily

Reply to @itssangmarie 170+ work from home jobs hiring! #career #learnontiktok #jobtips #hiring #remote
Affirm switched to a remote-first workplace as a way to attract a wider scope of talent. The company also allows for office work at its headquarters in San Francisco and offices in Chicago, New York City, Pittsburgh, Salt Lake City, and Toronto.
Affirm could be a great opportunity for job seekers who share the company's values of simplifying finance, or for anyone who just loves finding creative ways to improve people's lives.
Affirm has career opportunities available in the following departments:
Applied Machine Learning
Capital Markets
Client Success
Commercial
Compliance
Design & User Experience
Engineering
Finance
Growth Analytics
Legal
Marketing
Operations
People
Product
Sales
3 Things To Know About Working At Affirm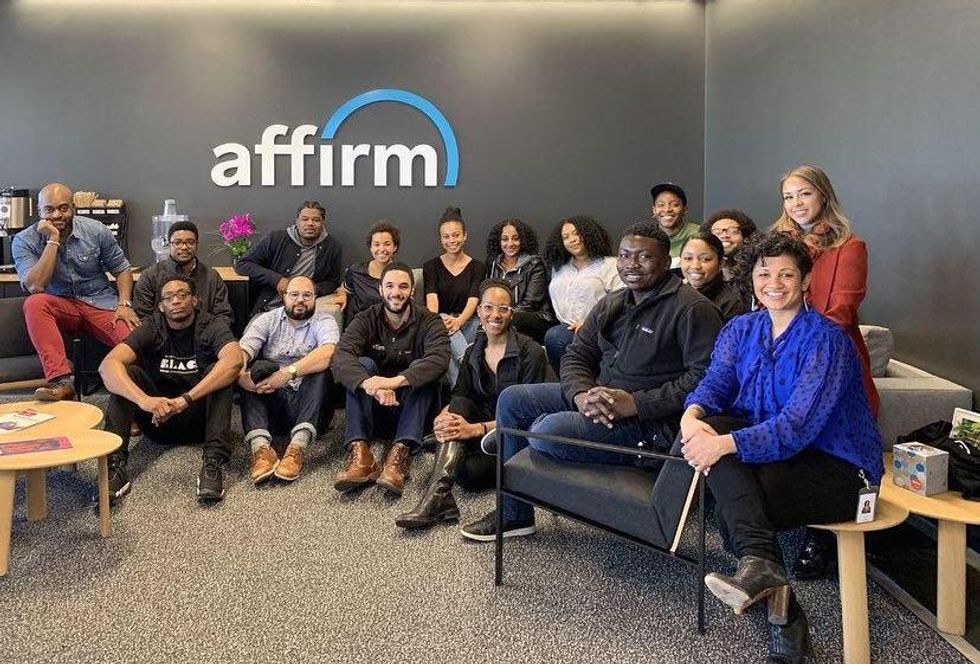 (Photo from Affirm's Instagram)
Incredible Fact: Affirm Offers Modern Benefits For A Modern Workforce
Making the change to a remote-first workforce was more than just simply allowing employees to work from anywhere. Affirm went all in on this change, which included a drastic shift in the benefits the company offers to employees.
Affirm's Chief People Officer Jude Komuves outlined these changes in a December 2020 LinkedIn article.
First, Affirm created a flexible and transparent remote-first compensation structure to ensure that employees have the ability to make the best decisions for themselves and their families. The new compensation structure aligns to a state's highest-paid major city, metro, or state average, determined by using cost of labor data. A salary adjustment is made based on how much lower labor costs are compared to San Francisco.
Healthcare - Affirm offers three generous health plans, two of which are fully covered by Affirm with no additional out-of-pocket premium costs. The company also expanded access to mental healthcare to include dependents. Affirmers and their dependents receive six complimentary virtual visits per year, and the option to purchase additional sessions thereafter.
Paternity leave - The company extended its paternity leave policy to include an 18-week leave for birth and non-birth parents, and the company has a dedicated Parents@ community group that offers support to parents and caregivers at Affirm through community, education, and advocacy.
Spending wallets - Employees get a series of digital stipends that are appropriate for the remote work life, including:
Technology wallet: $200/month to offset some of the monthly costs associated with home office expenses
Food wallet: $220/month to ensure access to favorite meal and snack options throughout the day
Lifestyle wallet: $250/month to support holistic wellness and growth
S.A.F.E. Journey wallet: $20,000 lifetime wallet to support Affirmers in family planning needs including surrogacy, adoption, fertility, and egg freezing.
Holidays & paid time off - Affirm increased the number of holidays from 7 to 24 paid days when offices will be closed and Affirmers will not be required to log on for work. This guarantees at least one three-day weekend per month. This is in addition to the company's flexible time-off policy.
What Others Are Saying About Affirm

Affirm has a 3.8/5 culture score on employee review website Comparably, while company leadership earned an A+ grade.
"Opportunities to have impact in my role and autonomy to take on projects that are outside the scope of my day-to-day. I feel empowered to show up and contribute towards projects that make work fulfilling to me," one employee wrote in a Glassdoor review.
Affirm was recognized by tech website Built In as a "Best Place to Work Remote First" in 2021. Affirm also received previous recognition from Forbes as a "Disruptive Innovator" and LinkedIn as a "Top Startup."
Quick Facts About Affirm
Affirm has multiple Employee Resource Groups (ERGs) and community groups where employees of similar backgrounds, cultures, and interests can come together. These groups help establish programs and policies within the company that help with Affirm's diversity, equity, and inclusion goals. Affirm also publishes an annual report online with its demographics and diversity goals.
The University Program at Affirm gives interns and recent grads hands-on experience that can help them launch careers. Past participants have built a real-time data processing pipeline, developed an extensive automated testing framework, and helped build out Affirm's proprietary financial platform, according to the company's website.
Career Opportunities At Affirm 
Are you interested in working at Affirm? Check out the company's careers page to learn more and view current openings.