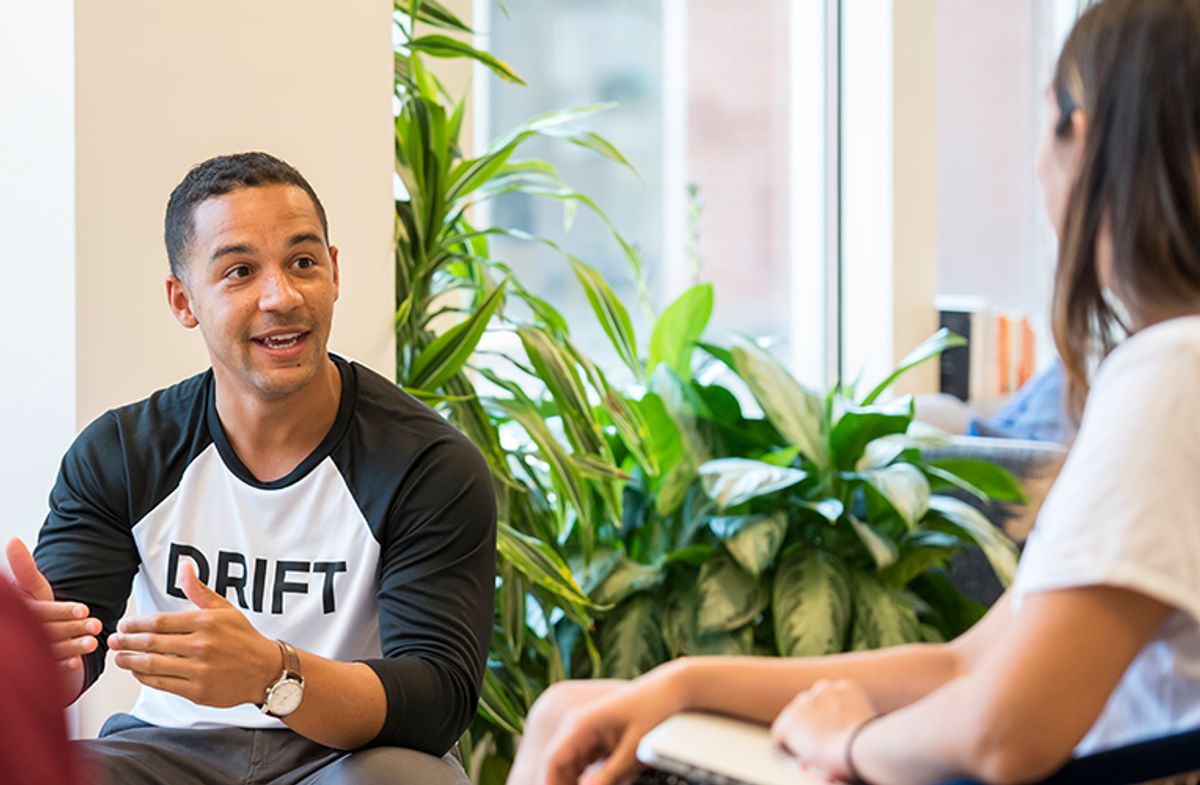 Photo courtesy of Drift
Drift is the fastest-growing technology company in Boston, but it remains committed to fostering a company culture of openness and teamwork.
On the surface, that may not seem like an easy task for the conversational marketing platform that has gone from 82 employees to 300 in 18 months, and could be up to 475 employees by the end of 2020.
But, when you hire the right people, the culture often follows suit, according to Dena Upton, vice president of people at Drift. Upton says, in a competitive environment where there sometimes seems to be an "arms race" among companies for the best benefits and perks, Drift's employees remain the company's biggest perk.
"They believe in the product, they believe in being disruptive in marketing," Upton says. "They're excited about what we're doing."
Drift Is Committed To Its Leadership Principles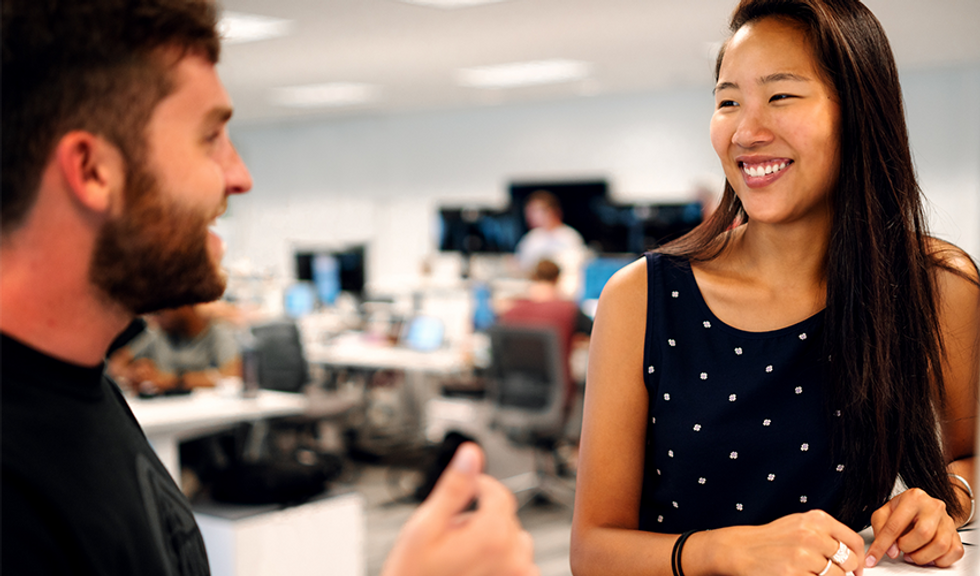 Photo courtesy of Drift
Upton says a big part of having the right kind of company culture is hiring people who will buy into the company's eight leadership principles. For those who buy in, the opportunities for growth and success are unlimited.
Those principles are:
Put the customer at the center of everything you do.
Create a culture of respect and trust.
Practice extreme ownership.
Have a bias for action and deliver daily results.
Stay scrappy.
Push for high standards.
Be a curious, learning machine.
Seek feedback, not consensus.
Upton says Drift is clear about their expectations and they want employees who are up for the challenge. The company's founders also put a lot of focus on having a diverse workforce.
"If you're coming to Drift, you're looking to make an investment in yourself and challenge yourself every day," Upton says. "Drift is a place where you can constantly reinvent yourself."
Employees who buy into the company's leadership principles seem to enjoy the challenge.
"I've been continuously pushed outside of my comfort zone, provided unprecedented learning opportunities, and more than anything, I've been empowered to make Drift a better place," one employee wrote in a Glassdoor review. "While it hasn't always been easy, it has been truly rewarding."
"The leadership principles the company strives towards are truly inspiring, and having a solid understanding of what they are and how you can implement them in your current role leaves you with a very clear understanding of how you can level up within Drift," another employee wrote on Glassdoor.
Good Communication Is Essential To Drift's Success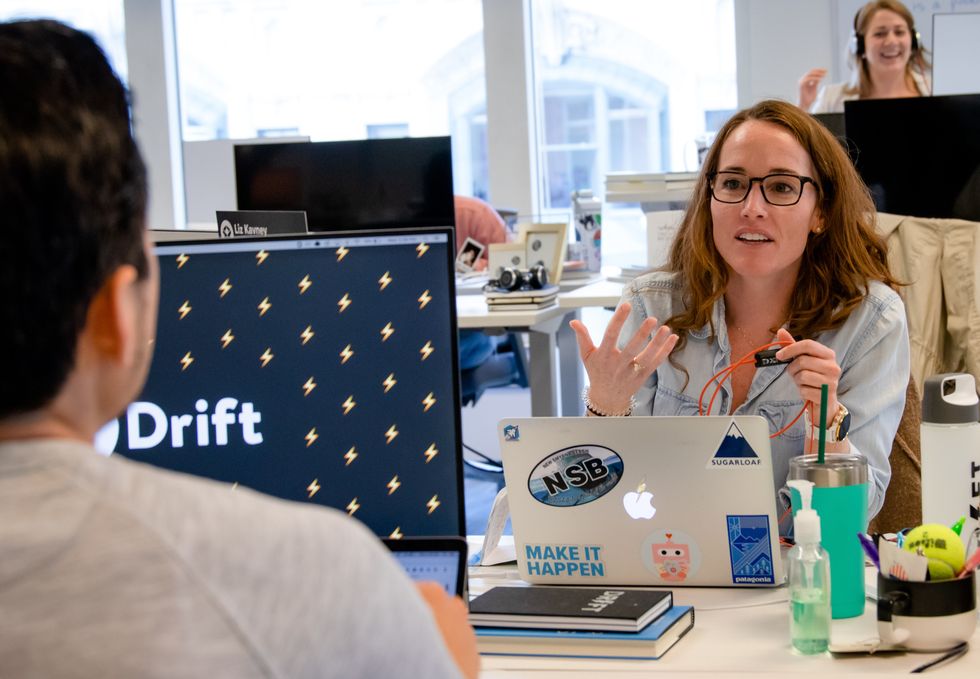 Photo courtesy of Drift
As Drift continues to grow, "extreme transparency" remains at the center of its culture. Upton says that decisions made by the company's top executives are quickly shared with everyone.

The company also promotes transparency with their two weekly meetings, Monday Metrics and Show & Tell, which happens every Friday.
At the Monday meeting, Drift executives go over key metrics of the business, and the different teams within the company discuss what they're focusing on for the week, while Friday's Show & Tell is a relaxed way to revisit the goals of the week and discuss what was accomplished.
Upton says the meetings are a way to bring the entire company together and make sure employees are invested in the company, even as it continues to grow.
"We want it to still feel like a small company, even if it's 300 people."
The Perks Of Working At Drift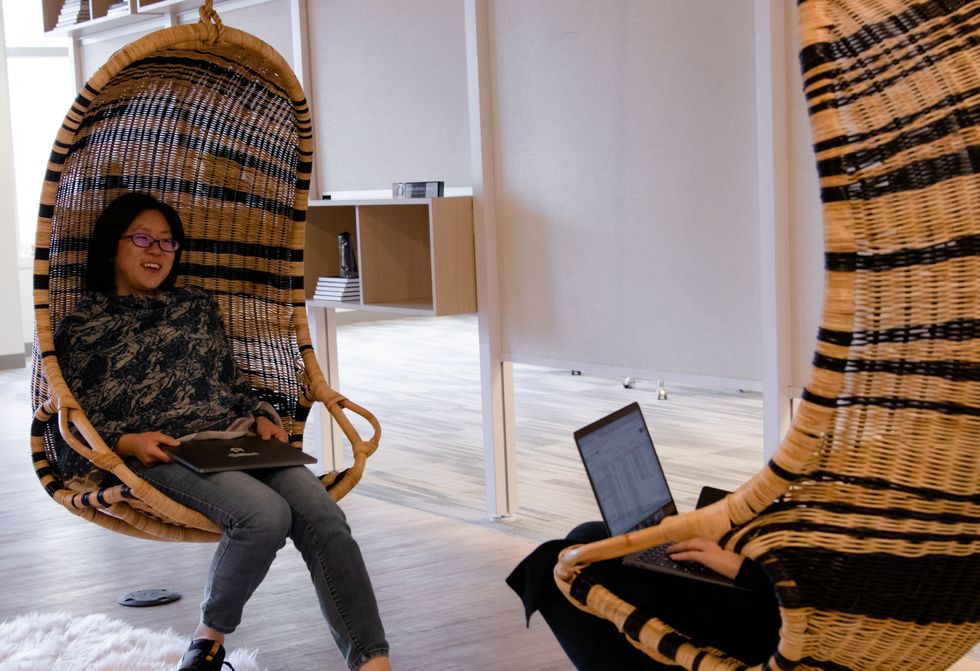 Photo courtesy of Drift
One of the most popular perks of working at Drift is the company book club, where employees can choose from a large list of books to order from each month. Upton says the company is a big fan of reading and the club is an opportunity for employees to quench their thirst for knowledge and be entertained. Employees can also gain additional knowledge through Drift's "Seeking Wisdom" podcasts and through the company's speakers series, where notable people in the profession share their experiences.

A daily perk offered by the company is catered lunch. Upton says employees aren't obligated to eat at work, but the company offers the benefit so employees have one less thing to worry about during the day.
Drift also offers sabbaticals to employees every three years. The sabbatical is a paid month off and the only requirement is that those who take the sabbatical share their experience with the team when they return. Upton says some employees have used the sabbatical to travel to India, motorcycle through Vietnam, and some have just taken "staycations" at home.
"It's a time to reflect and invest in yourself," she says.
Drift has offices in Boston, San Francisco, Seattle, and will soon open an office in Tampa. The company continues to grow and is on the lookout for new talent.
Want to know what it's like to work at Drift? Check out Drift's careers page.
Drift earned Work It Daily's Culture Champion Badge. Are you interested in having your business featured by Work It Daily? Learn more about Work It Daily's Champion Badge Program and get your business in front of job seekers looking for their next great job opportunity.