Ryan Niessen
Ryan Niessen is a keynote speaker and co-creator of
The Gateway Method
: a simple, proven way to gain inside access to the world's best employers and get your dream job. Connect with him on
LinkedIn
or
Facebook
.
It's simple. If you want to succeed in your life and career, then the fastest and easiest way is to learn from people who have already done it. Related: 3 Clues That Will Help You Find Your Dream Job They've faced the challenges. They've learned the lessons. And their wisdom can significantly shorten your learning curve. That's why you're going to love these three GameChanging ideas on getting your ultimate job from some legends of the business world. Each of these men have done or are doing something absolutely remarkable in the world, and though you may not want to follow in their exact footsteps, there's a HUGE lesson to take away from each. Plus, as a small bonus for being the success-minded individual you are, I'm going to throw in a free resource at the bottom of this article. It'll help you accelerate your success and take the next step towards your ultimate job.
If you've had your ear to the ground lately, then you may have heard about this rapidly growing movement. It's made up of a group of people who are tired of working boring, meaningless jobs, and ready to do whatever it takes to live life on their terms. Related: Want Career Happiness? Identify Your Top 5 Desires No more Office Space style workplaces. No more quarter-life crisis', and spending the majority of your work day finding ways to look busy as you suppress your anger at wasting your life away…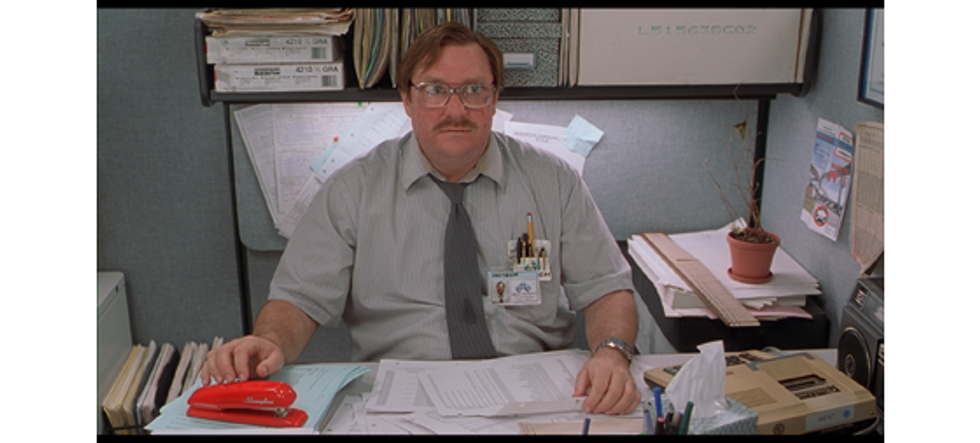 (By the way - there's a better way to work at the bottom of this article.) This movement is about changing the game from surviving to thriving, from working for a just a paycheck to working for a purpose and a paycheck. It's about a new game, where your authentic strengths, values, and passions are contributed daily to a worthy cause, and you go to bed at night exhausted, yet happy - satisfied with what you accomplished that day. It's about you getting a...
What if the real reason you can't find a job you love isn't because it's hard to do or because "you just can't find anything better"? Related: 3 Ways To Break Free Of Your Boring, Torturous Job What if it's just about how you were taught to "play the game" of your career? Think back to those times in your life where you conquered major challenges. Maybe it was finding love, winning something in sports, or doing something academically. How did you do it? Odds are, you tried and failed a bunch of times. But with guidance from mentors, persistence, and the right insight into how to "win the game" - you did it. Well, with 70% of people unhappy in the workplace and only 1% of traditional resumes leading to a job offer, I think it's safe to say that we haven't been taught properly how to "win the game." The good news is that there's a whole new breed of companies out there called "For-Benefit" companies, which exist to make a profit AND a difference - and are renowned for empowering and engaging their employees. They've created a whole new game with a whole new set of rules… making them what many people would consider to be the best employers out there.
"So, why do you want to be an accountant?" I asked a fellow student in college one day... RELATED: 5 Ways To Make More Money "They get a high salary," he replied. I gave a bit of a friendly laugh, and we moved on to the next subject. What I really wanted to say was: What the heck are you doing!? I didn't want to tell him what to do with his life. It's his choice, and his values. But a high salary is a sad thing to have it all come down to. I mean, money can pay for an enjoyable life. But if you're going to spend 40+ hours a week doing something, shouldn't it provide more than just money? The truth is that you can get more from work than just a big paycheck. You can love what you do. Contribute to a meaningful cause. Grow your skills. Have fun, and work with inspiring people. In fact, many people around the world already have this type of job. It's called...
I still get a bit angry thinking about my first job. They treated us like crap. 10 minute lunch breaks (if that), and if you weren't running to do something at all times, you were yelled at. Related: The Lazy Job Seeker's Guide To Getting A Dream Job Thankfully, that was just for one summer, and I've made sure I'm treated better at each job since. Yet, that experience left a lasting mark on me, and shaped who I am today. In fact, that experience is part of what drove me to write to you today. See, this is just 1 of 3 types of experiences that we'll call "dream job predictors." And if you're feeling a bit lost or confused about what your dream job is, or what your next step in life is, then the three types of experiences I share in this article could be the key to finding the answer. Plus, I include a free resource at the bottom that'll help you take the next step to gain further clarity on your dream job, as well as make it a reality.
Imagine getting your post-secondary degree and being presented with a multitude of job offers… within the next week! Related: 4 C's To Career Success You're overwhelmed and excited at the same time; the world is your oyster! There's no trace of fear, no worrying about paying your loans or making your way in the world. You have guaranteed your success in life, and you're going to be great. Doesn't that sound nice? Well, years ago when people with college degrees were the BIG fish in a small pond, that may have been a graduating student's reality. But for those of us in the first stage of our career TODAY, we know this is just a dream. Because today, having a college degree is the norm. It's the new standard for entry-level jobs, and (if you're lucky) you'll be able to pay all your bills each month with your first job out of college. Nowadays, things are different. There's more competition than ever, and the best companies out there can take their pick from an ocean full of qualified, normal sized fish.