California Tech Sales | SoCal (A Xerox Company)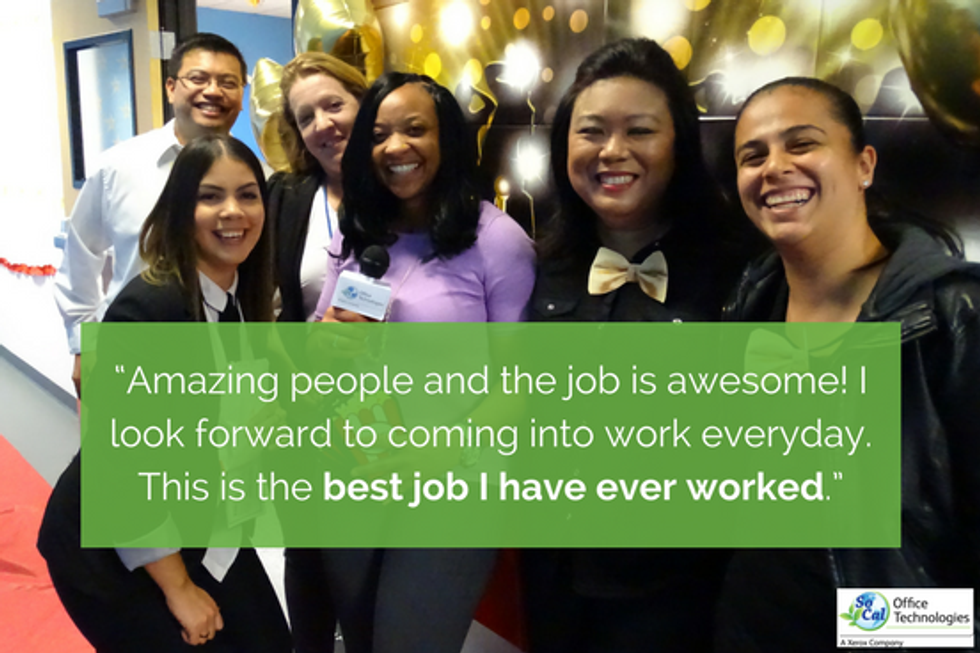 *SoCal is a subsidiary of Global Imaging Systems - a Xerox company and is looking for professionals interested in California tech sales.
At SoCal, we do not fill empty seats...We hire and develop future leaders!
Looking for a professional job in tech sales? The Managed Print Services (MPS) field will have you working with businesses on the tech they use most. Growth is an important value we hold at SoCal
Office
Technologies. We want to you see you grow not just as an individual, but as a contributor to this company. There are several paths you can take to achieve this and we will do our best to help you along the way.
Let's talk benefits...
Our suite of benefits helps you keep a great work/life balance, which we consider one of the best reasons to work at SoCal!
Medical, Dental, Vision
Flexible Spending Accounts (FSA)
Paid Basic Life/AD&D Insurance
Short Term Disability
Employee Assistance Program (EAP)
Voluntary Critical Illness Insurance
Voluntary Accident Insurance
Hyatt Legal
Paid Travel Assistance
Auto/Home Insurance
401(k) Retirement Plan with 75% matching (up to 6% comp)
Paid Vacation, sick leave, bereavement leave, and jury duty services
Xerox Federal Credit Union (XCeed Financial Credit Union)
Xerox Employee Discount Program
Parents In Partnership with Education (a program to reward SoCal employee's children, based on GPA)
Solutions Consultant Position:
We have 5 openings for Solutions Consultants to join our Los Angeles, Ontario, or Irvine sales teams. To be successful in this role you will need to demonstrate the following skills and expertise:
Strategic Planning & Business Development
Identifying and connecting with companies that need to save money and reduce daily headaches
Architects a strategic marketing plan that aligns sales initiatives with customer requirements
Interprets and analyzes research and competitive intelligence to understand the market drivers and business opportunities
Crafts complex proposals and business solutions with a high degree of confidence and strategic thought
Internal & External Customer Focus
Calling and visiting customers to educate them on the best tools to help them work smarter everyday
Building relationships by earning trust and respect via your knowledge and attitude
Practices the 360 Selling Process by analyzing the customer's business communication requirements, and develops customized solutions.
Serves as the first line of contact with customers responsible to assist in the creation and maintenance of accurate paperwork on each sale
Maintain prospecting/ customer database to maintain a record of all activities inside of each account system.
Analytical & Critical Thinking
Interprets market data and financial reports to inform overall sales plan
Consolidates and summarizes performance data to shape ongoing business development strategies
Is proficient in understanding key drivers within appropriate markets
Evaluates current state, customer satisfaction and completeness of strategy implementation along with next steps in advancing the account.
Meet forecasting objectives by keeping timely & accurate forecasts on account assignment
Solutions Consultant Desired Competencies and Experience
Outside or Inside Sales Experience
Business to Business Sales
Cold calling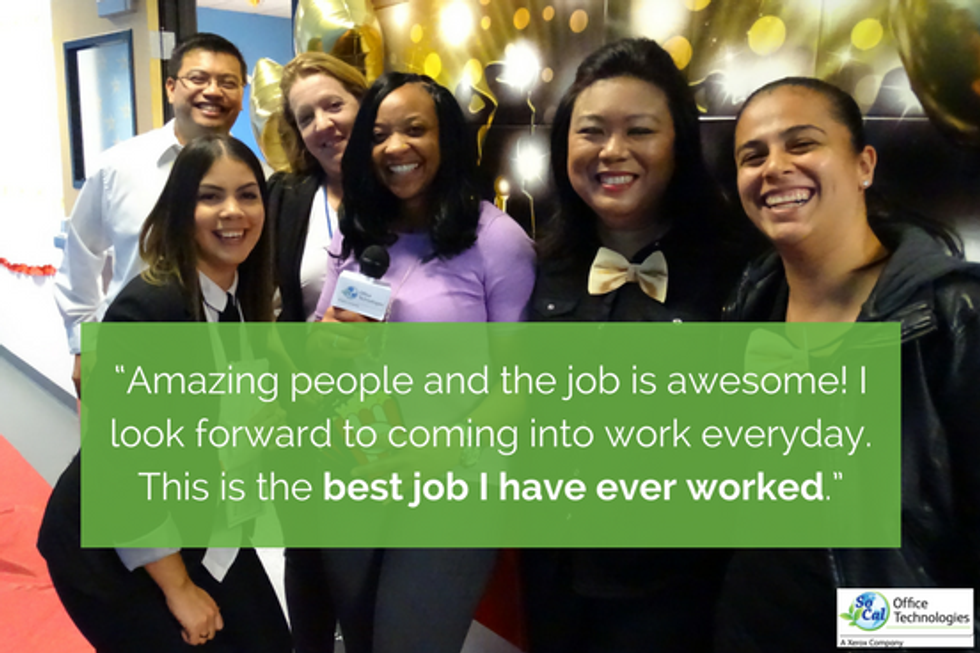 P.S. - We Offer the BEST Training & Development
We are committed to developing our employees. Our dynamic hands on skills training programs targeted specifically to those in their sales, service or administrative functional role. Our Sales Training Initiatives are a cutting-edge combination of sales skills and product training. All new hire sales representatives complete an intensive multi-week new-hire program. Throughout your Sales career here at SoCal Office Technologies you will be offered ongoing career and skill development programs. Our practices and policies that we follow: Harassment-free work environment, Domestic partner benefits, Non-discrimination policy, Education Assistance Program, Employee Assistance Program
If you are interested in different sales opportunities,
read about other Xerox subsidiaries in other parts of the country.