The Ultimate Guide To Finding A Mentor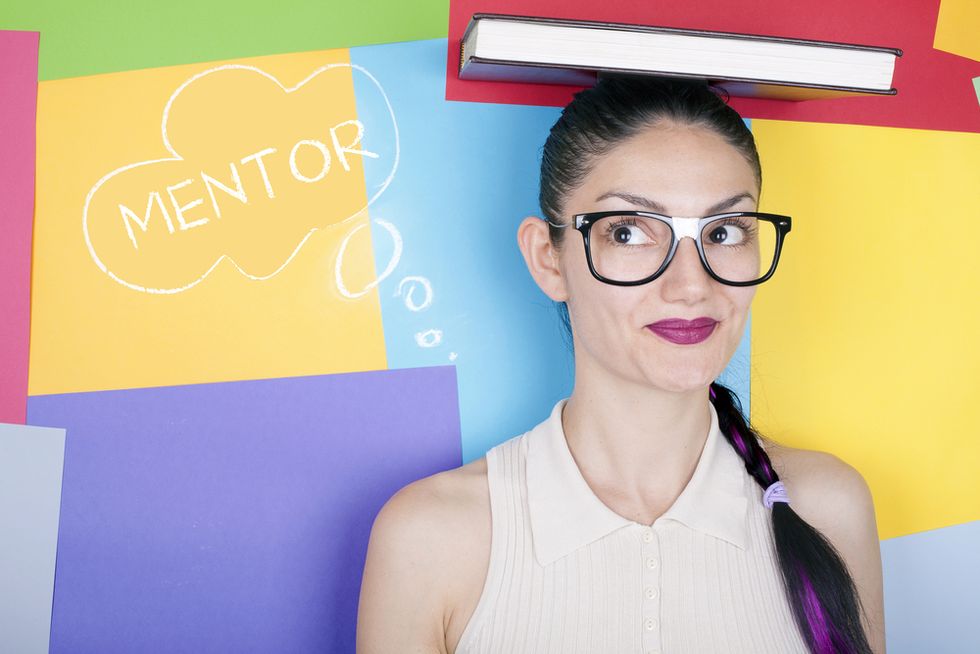 Everywhere you look, experts say you need a mentor to succeed. Immediately, we picture a Yoda-like figure who will guide us on our road to wherever it is we wish to go. But, shortly after that, most of us realize we don't have access to anyone that masterful or knowledgeable.
---
Related:Mentoring Vs Managing: Does It Have To Be One Or The Other?
Well, my personal approach to mentors is somewhat unusual, but it eliminates the problem above. I believe a mentor is an individual - or resource - that guides and educates those less experienced within a particular industry to become more accustomed to and confident in their roles. I believe mentors can also come in the form of resources, not just physical, living persons. So yes, everyone can access to mentors. In case you were wondering, the word 'Mentor' is actually derived from a character in Homer's The Odyssey where he serves as a friend and council of the main character Odysseus. Despite what you think, the chances are great that you've had some form of mentorship in your life. Some friends might have been a source of guidance throughout your life without you realizing it. Defining a mentor already showcases the importance of them, no matter which category of your life you need assistance in, their presence can do wonders for your personal and professional growth. Just in case you're not sold, here are some reasons why you should invest your time and in some cases, money, in a mentor.
Why You Should Have A Mentor
One of the greatest things about mentors is that they allow you access to other important people within your field. Although this should always be a give-and-take relationship, and your mentor hopefully gains satisfaction from your relationship, it can be very time consuming. In order to make the most of the relationship both parties need to determine what it is that they want to get out of the agreement and how much their are willing to put in. Mentors can do a number of things for your career. They can help you build your
resume
, guide you on a project, and help you identity resources, including referring you to other mentors and important people in your field. Apart from gaining invaluable experience in learning from your mentor your relationship adds to your overall credibility. Having someone that knows your business-mind, skills, and capabilities can be highly beneficial in a work environment, especially if you have a mentorship program within your company. If you work as a freelance professional, a mentor could really boost your career, especially if you choose someone that is way ahead of you. Successful people don't mind sharing their methods and tips and, quite to the contrary, they often want to educate others.
Different Types Of Mentorship To Consider
We are all different and don't necessarily have similar needs when it comes to the type of guidance we want. Some might prefer having in-depth conversations with their mentors for hours on end, while others would rather do some academic research or make use of other self-help resources.
Formal Or Informal Mentorship
Within companies, the mentorship programs are mostly formal. This is where a mentor works through a certain program advised by management. Within these mandatory mentoring relationship the meetings are scheduled, tracked, documented, and evaluated based on clearly articulated goals and milestones. On the other hand, informal mentoring relationships are formed on a spontaneous level where the mentee is motivated or inspired by a certain individual and feel the need to learn from them.
The Life Coach
This is an individual that you consult with for personal growth. They could either have a human resources or psychology background to assist you in finding your balance. This mentor is someone that will have an objective input and opinion on what is going on in your life. This type of mentoring relationship mostly happens face-to-face, although there are alternative options that are becoming much more popular, such as Skype, phone, or some other online method.
(Want my secrets on how to get promoted fast? Watch this video)
The Peer-To-Peer Support
Even though mentorship is about learning from someone more experienced, it can also be practiced with your equals. Think of it as a support system of like-minded peers with the same goals and vision in mind. This type of mentorship is mostly informal and can take place during office lunches or casual coffee dates.
The Self-Help Mentor
Some individuals prefer to educate themselves with self-help materials. Not everyone is a fan of putting their feelings into words and they don't necessarily know how to express themselves on a verbal platform. The wonderful thing for those that prefer self-help mentoring is that there is a world of resources waiting to be explored. The self-help mentor takes the form of books, eBooks, manuals, articles, checklists, software or websites that provide proven formulas or step-by-step advice on how to grow professionally.
This is the individual that has an
executive
or senior title. Their status within their company boasts of success and influence and such a relationship would be highly beneficial. This type of mentorship is likely to take place in a formal fashion unless you have a more relaxed relationship with the individual. The leader types are willing to sacrifice their valuable time and resources in order for the entire organization to grow.
The Inner Mentor
Some of us might have enough drive and discipline to take mentorship into our own hands. Although this is an option, it would be best to practice this method in combination with another type of mentorship relationship. With regard to the inner mentorship, you rely on your life experience and intuition to guide you. Pick apart your career highs and lows in order to determine your true strengths and weaknesses. This is not an easy feat, as you will have to be able to be truly honest with yourself and approach the exercise in a logical and practical manner while fully trusting your instincts.
Social Media Gurus
In the past, it wouldn't have been as easy to reach out to those you admire. These days, even the most influential people have some form of social media presence. Although it might be a long shot, you can approach your idol or prospective mentor via these channels. They might surprise you. This mentorship method is ideal for those that work independently and don't necessarily have access to company
leadership
programs.
How To Approach a Mentor Relationship
Know What You Want
In order for you to make the most of a mentorship opportunity, you have to clarify what you want out of it. Specify the role you need your mentor to play and what your expectations are. What is your main objective? Do you need your mentor to help you on an academic or technical level or are you merely looking for someone to help with your networking ventures? If the only thing you're sure of that you want is a new job,
click here
.
Open Communication
Apart from determining what you want, you will have to communicate in a clear manner to make sure you and the mentor are on the same page. Communicate your expectations and agree on the level of commitment both parties will engage in. Establish how much time and availability you would need to reach your goals and plan ahead what would be discussed during your meetings in order to reach your goals. As you can see, mentorship can come in various different forms, all of which are able to facilitate your goals and objectives if used in manner intended. Find out what works best for you and follow that route or several of the mentoring routes mentioned in this article. Either way, mentoring relationships are one of the fastest ways to achieve success. For more
career advice
in video form, visit my
YouTube Channel.
This post was originally published on an earlier date.
Related Posts
To Find A Mentor, You Must Be A Student
How Mentors Can Help Grads Get Their Dream Job
How To Be A More Valuable Mentor
About the author
Alex Simon is a career reinvention coach and speaker. Often referred to as "a master at breaking into sexy and exciting careers", he has promoted world title fights, managed Indy 500 race car drivers, worked for a Wall Street giant, and is the subject of Starsuckers, an award-winning documentary on the pursuit of fame. Check out his website,
follow him on Twitter
,
find him on YouTube
, or
add him on LinkedIn
!
Disclosure: This post is sponsored by a CAREEREALISM-approved expert.