CAREEREALISM Announces Weekly #InboundRecruiting Chat

Hampton, N.H. (April 7th, 2015) -
CAREEREALISM, a
career advice
and employment branding site, hosts an
Inbound Recruiting Twitter chat every Wednesday at 12PM EST.
The goal of the weekly twitter chats is to raise awareness about inbound
recruiting
strategies that help employers attract the right job candidates to their current job openings. Inbound Recruiting strategies try to "sell" jobs to target job candidates by becoming a part of the job search process.
Why Is Inbound Recruiting Important?
Inbound recruiting makes it simpler for the candidates you want to hire to find you!
Inbound recruiting helps candidates envision themselves in a position with your company!
Inbound recruiting makes the decision simple because it lets candidates know when they are the right fit for your job and your culture!
The national time-to-fill average is 25 days. That's the longest time-to-fill average in 13 years. Did you know that, 28% of HR managers are focused on improving the candidate experience?

Founder & CEO of CAREEREALISM, J.T. O'Donnell stated:
"Today, we would laugh at any business that said it didn't need to educate potential customers about them as a way to earn their trust and respect. The internet and the information age has created a new, more sophisticated consumer of products and services. The talent you seek to fill your positions are no different - they're consumers of your company's employment brand. If you aren't educating them using inbound recruiting tactics to capture their interest in working for you, then your company is missing out on a valuable opportunity to fill its talent pipeline - and losing good candidates to your competitor in the process!"
Want to learn more about Inbound Recruiting?
Need tips and tricks to get your strategy started? Join us for the #InboundRecruiting Twitter chat by following @CAREEREALISM and the hashtag
every Wednesday at 12pm EST!
To request additional information, please contact
jennifer@workitdaily.com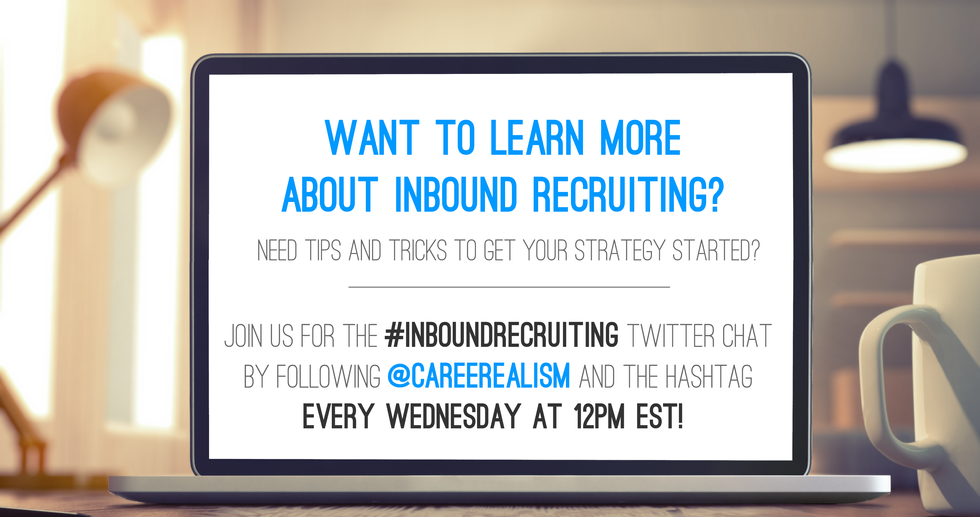 About CAREEREALISM
CAREEREALISM, a privately-held career advice and Employment Branding company, was founded in 2009 on the belief that "every job is temporary." The purpose of the site is to help people solve their career and job search problems. CAREEREALISM connects the top talent with the best companies by telling stories that showcase what makes a company's culture
unique
. The company is the leading online destination for career advice and employment branding intelligence.With extensive experience in career counseling at large companies, founder J.T. O'Donnell has created an organic platform built to share experiences, provide feedback, and suggest how companies can reveal their talent brand. For more information please visit
www.CAREEREALISM.com
.