5 Ways To Manage Work Stress (And Have Fun Doing It!)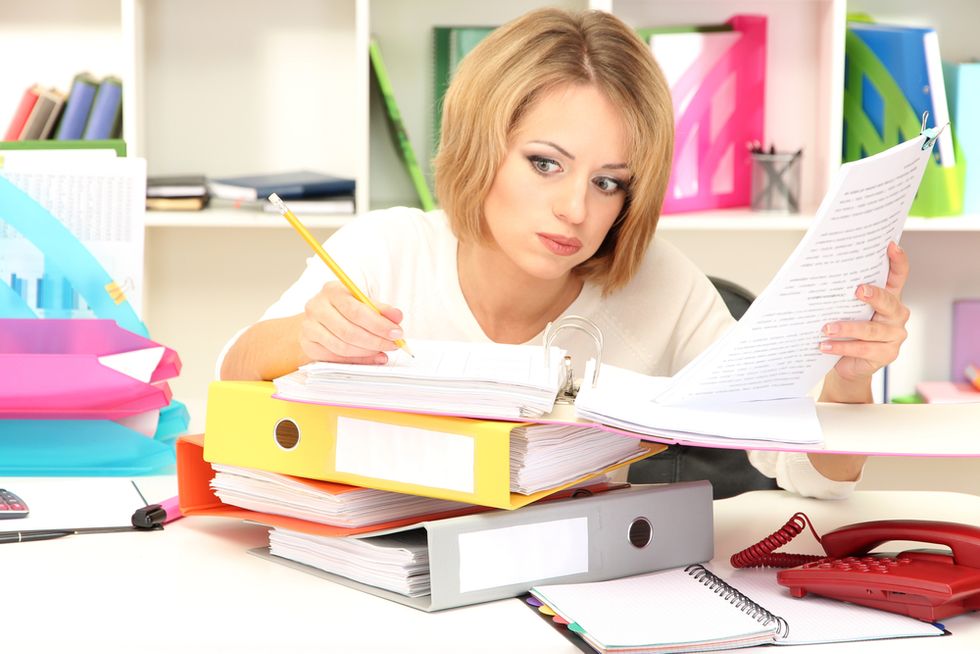 You can't escape stress that is a direct outcome of your busy work schedule. Everest College's Third Annual Survey reveals some startling truths –workplace stress is on the rise amongst Americans and a massive 83% are stressed out by at least one thing at work. It's also been identified as the number one workplace risk issue. Related:5 Tips For Talking To Your Boss About Stress A large percentage of employees see work stress as an acceptable fallout of their professional lives and ignore it. What they do not realize or choose to ignore is that it has a detrimental impact on their physical health, their personal lives and in many cases their psychological well-being as well. Taken together, this affects their productivity at the workplace and quality of life as a whole. So it's important to manage stress and what's more not just manage it, but have fun along the way. Here are five tips to help you do that:
---
1. Do not bring your work home.
For an ideal
work-life balance
, keep you work and home lives separate, do not mix the two. Focus on your work at the
office
; when at home make sure you spend some quality time with your family. There are plenty of people who choose to carry their work home; this means after slogging away at the office, you will be doing the same at your home. This not only means you are carrying your work stress to your home, but also means you cannot stop thinking about work. Your mind needs a breather and spending time with your family, discussing something other than work, is a great way of getting rid of all the stress. When at office think of work, but when at home get all that "work" out of your system. Make it a point to have a nice dinner conversation with your wife and kids, watch a serial together, or just listen to some soothing music before going to bed. Such activities allow you to have some fun and also help you think of things beyond work; perfect for bringing down your stress levels.
2. Talk to someone.
There is a school of thought that says discussing your work related issues with your family is counterproductive. It might lead to your family, especially your spouse worrying about all the work related stress that's taking a toll on your life. While there might be some truth to this thinking, there is another way to look at it. Unburdening your worries will essentially help you cope with them or find a solution for them. There are times when you just want to talk to somebody about all that's happening in your work life, the issues you have to face and whether you are handling them right. Who better to discuss all this with than somebody who understands you inside and out, your wife, girlfriend or your very close friend? Doing this on and off will help you feel better at the end of it, on top of it you might find a solution for your problems.
3. Set aside 'me' time.
Do you follow a hobby? Do you love sports? Do you love movies? Do you read books? Indulge in your hobbies and your interests during the weekends. Yes, weekends are time for some family fun as well, but don't forget to give some time to yourself as well. If nothing else going to the nearest park, sometime early in the morning and taking a long walk will help free your mind from all the troubles and just soak in the beauty of your surroundings. This is the time when you will feel everything is right with the world and will help you feel satisfied with what you are doing and your achievements.
4. Plan a vacation.
A change of scenery is best placed to help you get rid of all the stress that's piling on through the year. So plan a fantastic annual vacation that helps you get away from it all. Get your whole family into the act of identifying an ideal destination and planning the vacation. Vacations are a perfect opportunity for you to unwind, relax and reenergize your body to meet the grueling work schedule you'll face when you're back from the holiday. Have fun, and make sure to make this fun count. A rider – do not carry your work to your vacation!
5. Think beyond work at the office.
Go out for an after office pub crawl with your co-workers, organize office parties, discuss your fantasy baseball rankings and a lot more to just get your mind off work for some time, through the course of a busy day at the office. This will help you recharge your batteries and also ensure you don't feel all that stress on your back, all that much. There are some people who shut themselves off from the world around them when they're at the office, while this might make them 'the ideal employee'; it does nothing to get rid of all the work stress.
Wrapping Up
You must have been told a gazillion times 'do not stress yourselves at work. Well, it's not like you have a choice or something. It comes with the territory. So, the next best thing is to deal with it, manage it and also have some fun in the bargain. Hopefully, the tips listed in this article will help you do that and much more. It's important that you come up with your own innovative ways of dealing with work related stress. Do not fall into the trap of not doing anything about it. Otherwise you will end up destroying not just your professional life but your personal life as well.
This post was originally published at an earlier date.
Related Posts
3 Reasons For Stress In The Workplace
How To Stop Work Stress In 5 Ways
A Simple, Effective Way To Manage Stress At Work (Or Anywhere)
Photo Credit: Shutterstock