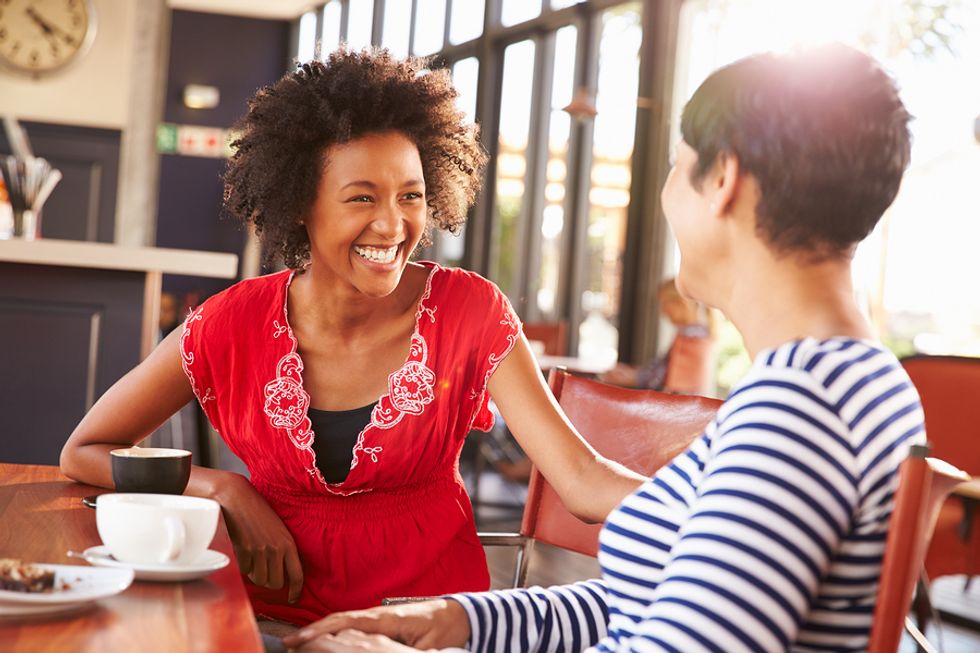 For some, the interview process is extremely nerve wracking which can sap energy and confidence. It can be a time where you question whether or not you are good enough for the job and you may even tell yourself that you're just going for the practice, which certainly isn't the mindset to have! It's important to prepare for an interview.
---
Speak To Positive People (Get Encouragement)
Related:
How To Prepare For An Interview:
Part One
One way to combat the negative thoughts is by speaking to a reliable, positive and experienced mentor who you can trust. Find someone who you can share your thoughts and concerns with; it could be a professional mentor or supportive friend or family member. The key here is to ensure that whoever you speak to has a positive mindset and can motivate you to succeed, as well as give you guidance based on professional experience. Having 'accountability buddy' can give you positive
feedback
support - and encouragement to keep going - when you need it most.
As far as I am concerned you can never do too much preparation for your interview and mock interviews are a great way to get feedback from someone who knows what they are doing. Mock interviews are particularly important if interviewing is your weakness and you lack confidence. The best way to run a mock interview is with somebody who has professional experience of interviewing people at your level or above. Try to simulate the interview feeling and environment by scheduling a mock interview date at a venue suitable for conducting interviews or even via Skype. The mock interviewer should score you on several aspects so that you know what you need to improve and where your strengths lie. For example, the interviewer should be able to assess your body language, answers given to questions asked, the quality of the questions you asked and so on. Some may even provide you with a recording of the session so that you see and manage areas for improvement. Having a coach gives you the added advantage of having a shoulder to lean on to provide anecdotal advice and someone who can answer on the spot questions. So my advice to you is to get a coach today.
Eat Something Light And Simple
Avoid eating foods that will have an adverse affect on your stomach or cause you to feel bloated and uncomfortable on the day of your interview. This has potential to hinder your performance on the day of the interview because an upset stomach can be distracting and energy sapping at a time when you need to be at your best. So play it safe and eat foods that you know enhance your performance and give you a much needed boost of energy.
No Alcohol
I remember interviewing people who I knew had consumed alcohol. It's not that they were drunk, disoriented and stumbling about the place, no. I could just smell it on their breath; it was really off-putting because it raised so many questions in my mind and made me wonder about their drinking habits and professionalism in the workplace. All this at a time when I should have been focusing on their interview. There were occasions on which the profile and
resume
CV of the candidate looked really good, but it was the interview which was the defining moment and I had to make a decision as to how I dealt with the situation. My advice is to simply avoid alcohol in this scenario so that you don't divert the interviewer's attention to something that could be perceived as negative.
Prepare Relevant Questions
If you don't ask questions the interviewer will assume that you have little or no interest in the job so it goes without saying you're not going to get an offer. Having said that, asking irrelevant questions can be equally as damaging to your chances of securing the job. So the key here is to prepare what you are going to ask well in advance of your interview. Don't leave it to chance and ask questions off the top of your head, write down and memorize what you are going to ask. But what kinds of questions should you ask? Well there are four main types of questions. Firstly, you should ask questions about the business/organization based on your research and knowledge of what they do. Secondly, you can ask questions about the role itself for example 'what is the typical career path for someone in X job and what would I need to do to make progress in the role?' You should also ask questions about the team you will be working in and finally ask questions about the people, primarily the interviews and leaders within the organization. You should prepare at least two questions for each of the four categories I just mentioned (which is a total of eight questions). And play it by ear, if you feel you have time to ask more questions. Often when you ask questions, more questions come to mind so it's important to make quick mental notes so that you can follow up with other relevant questions to keep the conversation going along a relevant track. And you must also remember to prepare your closing questions!
Confirm The Time And Day With The Interviewer
I recommend leaving the interviewer a message to confirm that the interview is due to go ahead, you should do so 24 hours before the interview is due to commence. This is a great way to
stand out
from other people who are going for the same job because not many people are likely to be aware of, or put into practice the professional etiquette required. Using this tactic is sure to leave the interviewer with a good first impression before you meet them.
Disclosure: This post is sponsored by a Work It Daily-approved expert.