Sign Up For The National Career Summit!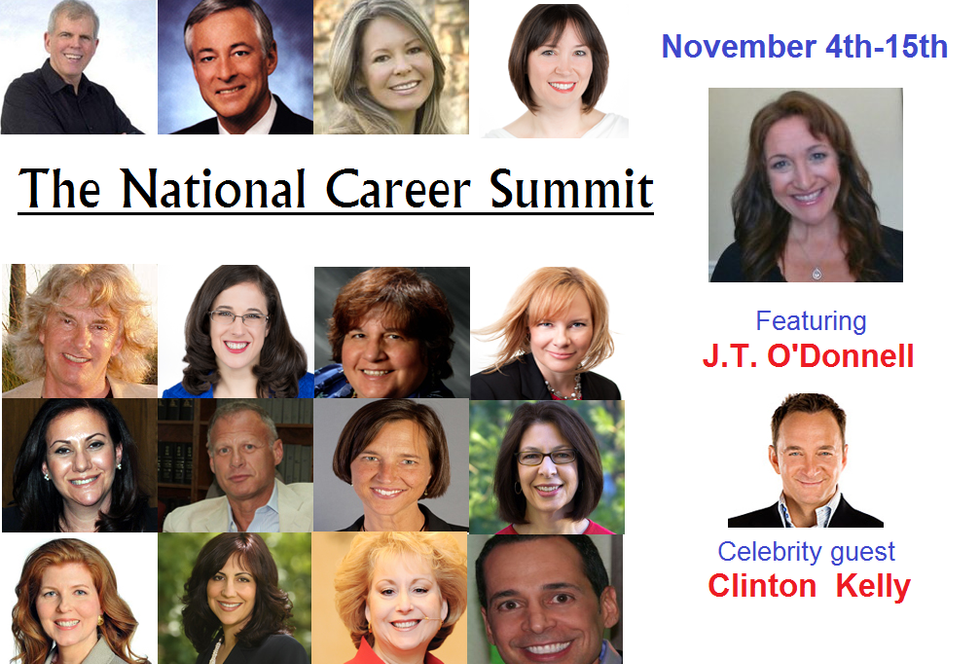 Are you sick of getting rejected by employers? Are you ready to get on the fast track to your career goals? Well, sign up for the National Career Summit, a series of presentations from November 4th-15th! The National Career Summit is a special series of FREE virtual presentations by widely-acclaimed career experts. During this two-week series, you will learn how to take control of your job search or career. Here's what you will learn during this virtual series:
---
You can effectively handle challenging interviews and win the job.
You can ensure your resume lands on the top of the pile.
You can brand yourself and recession-proof your career.
You can find the hidden jobs that aren't listed on the job boards.
You can land a job using LinkedIn, Facebook, and Twitter
Look Who's Presenting!
CAREEREALISM and CareerHMO founder, J.T. O'Donnell will be a featured expert in the National Career Summit event. In her presentation, "How To Find A Career That Excites You," she will discuss topics such as:
Define for yourself what an "exciting" career is.
Understand why so many people fail to have one.
Discover what steps you can take to find a career that excites you.
A few other presenters joining her include:
Martin Yate, NY Times Bestselling author of the Knock 'em Dead books
Brian Tracy, author of Unlimited Sales Success: 12 Simple Steps for Selling More Than You Ever Thought Possible
Viveka von Rosen, author of LinkedIn Marketing
Laura Labovich, CEO of The Career Strategy Group
Miriam Salpeter, founder of Keppie Careers
Robin Schlinger, a professional resume writer at RobinResumes.com
Mary Elizabeth Bradford, professional resume writer and author of The Career Artisan Series
Special celebrity guest:
Clinton Kelly, former co-host of What NOT To Wear, and current cast member of ABC's
The Chew
. To check out the full list of presenters, please click
HERE >>
More Information
So, do you want to get ahead in your career or job search? Then, sign up for this jam-packed series full of awesome tips, advice, and insight!
Dates:
November 4
th
-15
th
Where:
http://www.nationalcareersummit.com/
Cost:
FREE!  
SIGN UP NOW ►
  *Note: This event is not hosted by CAREEREALISM.com. For any inquires about the National Career Summit, please contact them directly.  
Photo Credit: Shutterstock