CT, MA, NY & RI Tech Sales | CBS (A Xerox Company)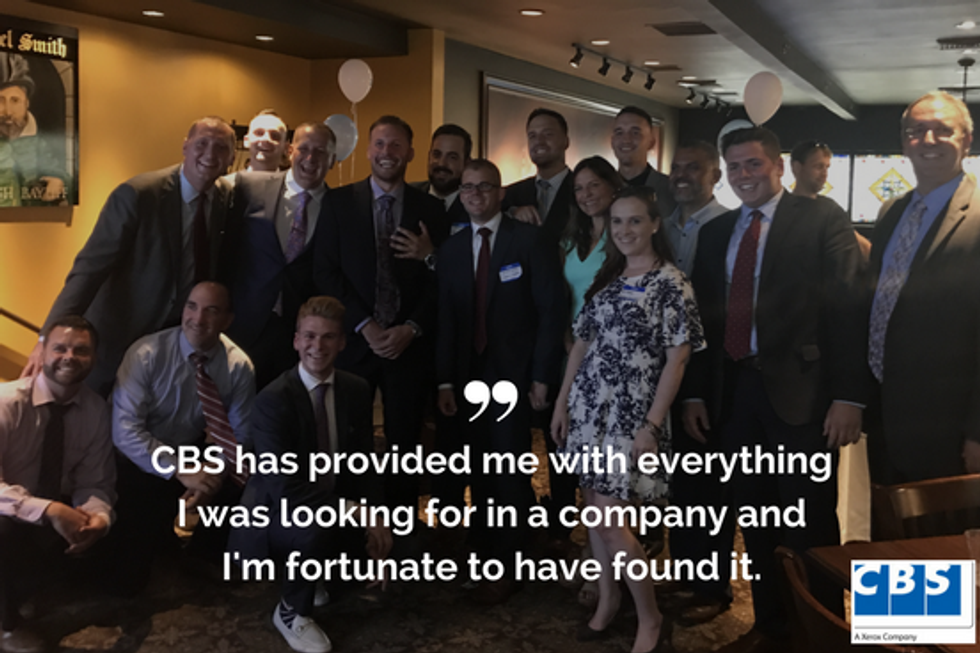 *CBS is a subsidiary of Global Imaging Systems - a Xerox company.
At Connecticut Business Systems (CBS), we do not fill empty seats…We hire and develop future leaders!
Looking for a professional job in tech sales? The Managed Print Services (MPS) field will have you working with businesses on the tech they use most. CBS is dedicated to providing continuous career development for all employees. Moving your career on the right path takes involvement from both you and your company. We work with you in assessing where you currently are, where you want to be and how to get there.
Let's talk benefits...
Our suite of benefits helps you keep a great work/life balance, which we consider one of the best reasons to work at CBS!
Performance-based earnings and competitive compensation, including UNCAPPED commissions in sales. Your 1st year, you can expect to earn between 60-75k, 2nd year ranging 68k-90k, depending on performance. Those are just averages!
Full medical, dental and vision coverage starts the first day on the job
A monthly auto allowance since you'll be out and about in your territory daily
Paid Time Off & Most Federal Holidays!
Company iPhone, iPad, & Laptop provided
401K, paid vacation time, & lots more we'll tell you about when we meet :)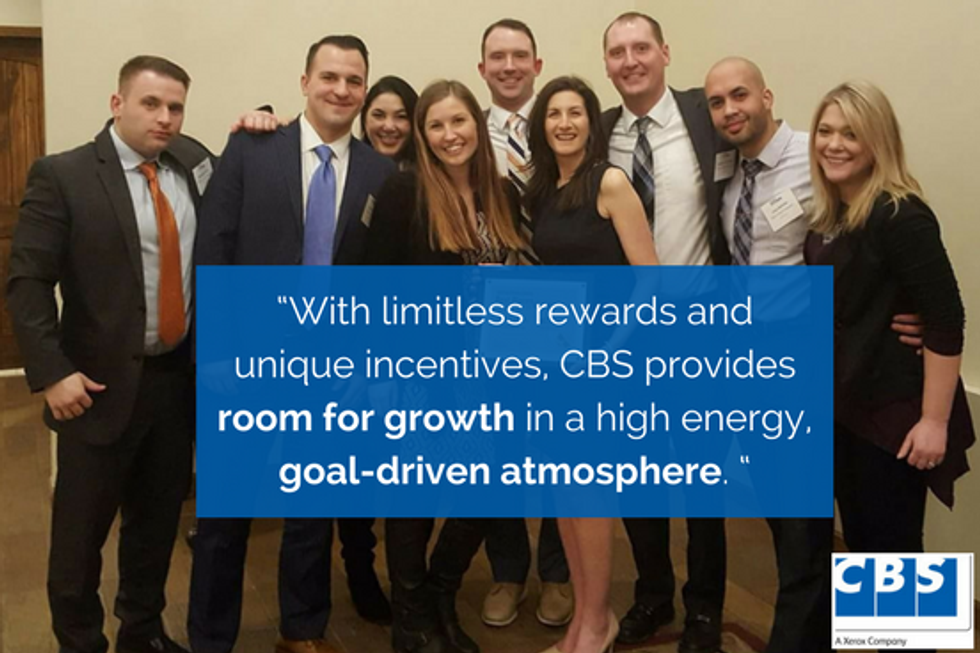 Sales Representative Position:
We are looking for a Sales Representative to join our sales team in Wethersfield, CT. In this position, you will become a trusted consultant to a net new client base you're responsible for growing and maintaining throughout your protected territory.
To be successful in this role you will need to demonstrate the following skills and expertise:
Strategic Planning & Business Development
Architects a strategic marketing plan that aligns sales initiatives with customer requirements
Interprets and analyzes research and competitive intelligence to understand the market drivers and business opportunities
Crafts complex proposals and business solutions with a high degree of confidence and strategic thought
Working smarter and harder than ever to achieve huge activity levels: competition blitzes, stopping by potential clients, cold calling via phone and in the field. #Mustlovetalkingonthephone
Internal & External Customer Focus
Practices the 360 Selling Process by analyzing the customer's business communication requirements, and develops customized solutions.
Serves as the first line of contact with customers responsible to assist in the creation and maintenance of accurate paperwork on each sale.
Manages territory by protecting and increasing a profitable revenue stream within current accounts.
Participate in planned in person account reviews.
Maintain prospecting/ customer database to maintain a record of all activities inside of each account system.
Using our app to track everything you do, the minute you do it: your business plan, income, pipeline, notes, and all activity.
Selling by listening to clients, showing empathy, asking great questions to respond to their needs, handling inevitable objections, and building trust because every client is different.
Analytical & Critical Thinking
Interprets market data and financial reports to inform overall sales plan
Consolidates and summarizes performance data to shape ongoing business development strategies
Is proficient in understanding key drivers within appropriate markets
Evaluates current state, customer satisfaction and completeness of strategy implementation along with next steps in advancing the account.
Reviews leads, pending orders and lease upgrades, developing action plans to progress each cycle.
Meet forecasting objectives by keeping timely & accurate forecasts on account assignment
Collaborating with your team, mentor and manager. All Sales Managers started in this same role so they understand and support activity which you'll go over together weekly.
Sales Representative Desired Competencies and Experience
4 year college degree in a business related field is preferred but not required
Proficiency using MS Office Suite (PowerPoint, Word, Excel & Outlook)
Excellent communication (oral, written and presentation skills)
Personal drive and internal motivation toward high achievement
Ability to influence, negotiate and gain commitment at all organizational levels
Demonstrated flexibility and adaptability; willingness to take risks and try new approaches
Must have valid driver's license and minimum level of auto insurance coverage
Outgoing disposition with a willingness to learn and collaborate within the Sales Team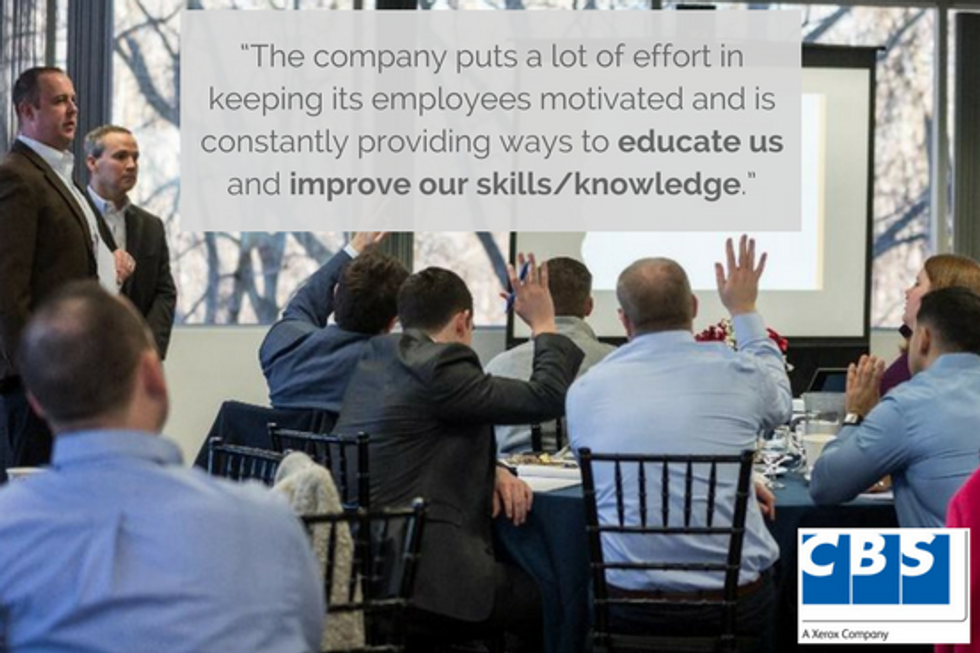 Our investment in career development reflects our commitment to attracting, developing and retaining top talent. We continuously strive to build a great workplace and provide every opportunity for you to build a career that changes and grows with you. If you are looking for a company who values
local community involvement
and offers
unlimited earning & growth potential,
you may have found your new home at CBS, A Xerox Company!
If you are interested in different sales opportunities,
read about other Xerox subsidiaries in other parts of the country.