Community
How To Implement An Enterprise Content Management (ECM) System For Your Organization

Do your remote employees not have all of the info available to them like they used to because there are only paper versions? Or if your organization is hybrid, is it following the "hotel" model and employees who don't have an assigned office/desk have to perpetually carry paperwork with them if it's not online? Did your organization consider using document imaging (Enterprise Content Management [ECM]), but was concerned that the ECM was too pricey? Have you considered the operational efficiency and/or cost of not having an ECM for the long run?
---
Are you spending a small fortune shipping documents between office locations? Do you know how many packages were lost in transit?
Do you know how much time employees spend looking for documents, especially misfiled documents?
What happens if a fire destroys several boxes of files?
Are your files organized so that you can quickly produce specific documents if there is litigation?
How many processes have an automated workflow including escalations (vs. having a manual process which may not be fully documented)?
How sure are you that you're following your retention schedule, and destroying documents in a timely manner?
If you suddenly had to pivot your office employees from onsite to remote, how quickly can you do this without impacting the employees' productivity?
Are you communicating with employees by continually sending email after email?
Do you have stacks of paper invoices on desks until AP employees can get back into the office?
Are employees trying to figure out where/how to scan sensitive documents because they don't have a scanner at home?
Most if not all departments will benefit from utilizing an ECM. As a result, implementing an ECM across the entire organization will spread the cost and provide a much better ROI. A majority of the ECM costs are fixed (for the desired features and functionality which will be used by most departments) and the variable costs are typically for seat licenses.
How To Implement An ECM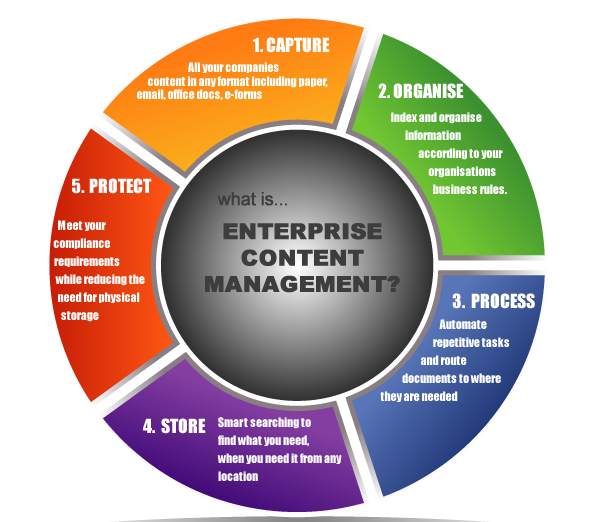 When the decision is made to implement an ECM, I implement it across the entire organization (to maximize the ROI) one department at a time. Here's the framework I've typically used:
Purchase an ECM system
Administration such as purchase scanners, organizational changes, corporate governance, communication plan
Select project team (one member from each department) including IT, legal, audit, and risk/compliance
Create implementation schedule - start with AP or HR

Identify documents, indexes, security, etc.
Determine retention schedule for each document
Determine if any existing documents will be back-filed (such as personnel files)
Create online forms (including barcodes) and workflows

Go live with the department
Repeat with other departments one at a time
There are numerous benefits to having an ECM including security, compliance, legal, and disaster recovery. Employees will be more effective and efficient because the digital paper (and associated workflows) will be at their fingertips wherever they're working from.
For more information on the benefits of an ECM (document imaging), follow me on LinkedIn!