7 Must-Have Items Every Career Girl Needs In Her Closet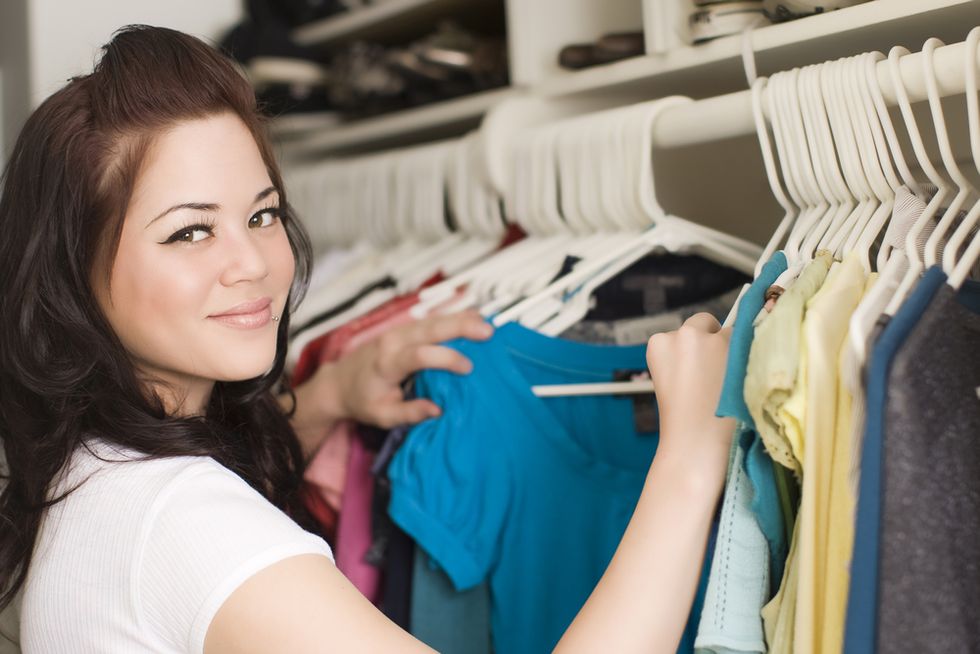 You got the interview. Now, what to wear?! As a young professional, you probably don't have too many work-friendly clothes yet. Having a professional appearance matters, so you need to be looking your best at all times. That's why building a solid (and fashionable) work wardrobe is key.
---
Things Every Career Girl Needs In Her Closet
Got a tight budget? Who doesn't?! Just make sure to be smart about your purchases. Check out stores like TJ Maxx, Marshalls, or Khols for great deals. You can also hit up thrift stores like Goodwill or Salvation Army for cheaper, used items.
Tip:
Before buying clothes (or ANYTHING for that matter), think about the "cost per wear." This is a simple concept. If an item is $25 and you only wear it once over the next year, the cost per wear is $25. But if you wear it 25 times, that item will only end up costing $1 per wear. ($1 beats $25 any day in my book.) So, be a smart shopper and get your money's worth! Before buying clothes ask yourself these questions:
How many times will I wear this particular item?
Is it versatile?
Is it functional?
Is it good quality?
Is it work appropriate?
Here are some items every
career girl
should have in her closet - be sure to look for them next time you hit the stores:
1. Blazer
Blazers are my new favorite thing. They can completely transform an outfit from casual to professional instantly. Wear them over dresses, blouses, or tank tops for a classic professional look. If you're office is more casual, try wearing a bold cardigan instead.
2. Fitted Suit
This is a must-have item for every young professional's closet. The fitted suit is professional and lets people know you're ready to get down to business. For your first suit, stick with conservative colors like black, grey, or blue. In fact,
studies show that navy blue inspires confidence
, according to AOL Jobs.
3. Sensible Shoes (and Some Not-So-Sensible Ones, Too!)
As a young professional, you need to have at least one pair of sensible shoes that goes with almost any outfit. However, you also need to let your personality shine through your work clothes. The best way to do that? Get some awesome heels or wedges! Whether you're into leopard print, polka dots, or bold colors, you can spice up any boring work outfit with a splash of pizzazz.
4. Versatile Dresses
Dresses are a great addition to any career girl's closet. When you buy a dress for work, try to think of at least three different outfits you can design around it (remember, versatility is key!). Can you wear a cute cardigan or a sharp blazer over it? What about a colorful scarf? Would a waist belt be flattering with this dress? Also, make sure it's work appropriate (not too short, sheer, or revealing). If you have any doubt in your mind about something, opt for something more conservative. "Conservative" doesn't have to mean "boring," though. The right accessories can instantly turn a dull outfit into a unique, yet professional look.
5. Comfortable Slacks
There's nothing better than a comfortable pair of slacks. When you buy yours, it's important to make sure they fit correctly (loose slacks can be just as bad as tight ones). Also, make sure they are the right length - Rule of thumb: If the bottom of your pants has two or more folds when you have shoes on, they are too long. And if your ankles are showing, they are too short.
6. Multiple Blouses
Obviously, it would be wonderful if you could have a different blouse for almost every outfit; however, this is pretty much impossible when you're just starting to build your work wardrobe. I would suggest purchasing at least two or three blouses at first. The first two should be basic colors - such as white, black, or blue. The third blouse, however, should be a little more colorful or unique. Let your style shine with this one - Do you like polka dots? Ruffles? Patterns? Think about your personal style and how you can incorporate it into your professional clothes.
7. Warm Coat/Rain Jacket
Before I started working, buying a nice, professional-looking coat was the last thing on my list. However, I quickly realized that, once it gets chilly and wet, it doesn't matter how professional you look if it's hidden under your old ski jacket. (Talk about an outfit fail.) Be prepared for whatever the weather can bring - buy a sleek rain jacket and/or a cute pea coat. Although these items can get a little pricey, trust me, they're worth the investment!
Photo Credit: Shutterstock