Becoming A Sales Territory Manager With NES Rentals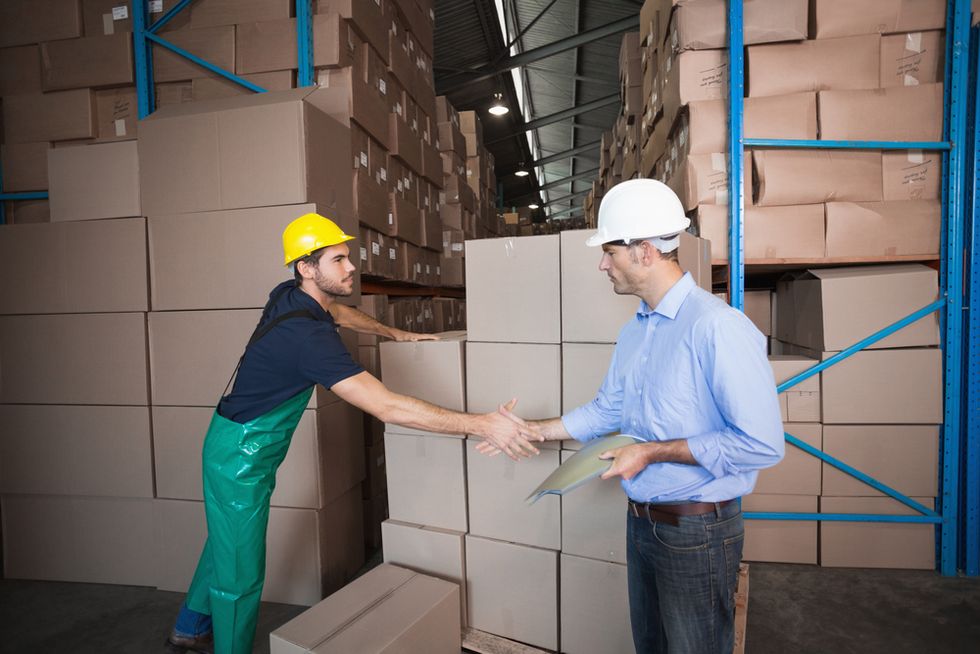 Imagine a large company - with more than 80 locations - that has all the benefits of a corporation, but maintains the closeness of a family operation. It's the best of both worlds, and NES Rentals captures this very feeling. A member of the NES team, Steve Parsons explains what he discovered when he joined the team: "NES Rentals is a great place to work because of our people – from the CEO all the way down. Most everyone is working together to achieve a common goal. It's in my opinion that this synergistic work environment is felt at the customer level where it's the most important, hence our consistently high net promoter scores."" With the ability to create connections with clients and foster relationships with co-workers comes many unique qualities of a company's culture. What does this mean for NES Rentals?
---
Take An Inside Look At NES Rentals
Executive Assets:
Whether it's the leadership at each individual location or the executives of the company at large, the executive team is recognized for its dedication to the company's success, the staff's safety and growth, and the customer's satisfaction. Not only do the leaders have storied experience with NES Rentals, some have 30+ years of experience in the rental industry, are U.S. Military Veterans, or have been recognized with awards for their commitment to safety in the industry! Check out their stories
here.
As Customer Support Specialist Jill Mitchell explains,
"NES is always improving its company and employees, and they offer many things to assist you in many areas of your work atmosphere and with our families."
Employee Spotlights:
Described by Jill as, "very kind, enthusiastic, family oriented, and always willing to help each other," the employees at NES are committed to one another as much as they are their customers. This is further evidenced by the comments another team member, Craig German, shared with CAREEREALISM:
"NES is a great place to be in sales. They encourage you to entertain your customers and get to know them on a personal level. This gives you the opportunity to gain their loyalty and build those relationships in the community. NES also gives you a great support team, when you have questions or problems you can find answers quickly with the tools they provide."
Above all else,
the employees
are knowledgeable about rental services and value the unique ways they each impact the growth of the business.
Wow Factor:
Many companies say they're committed to customer service. We've all been on the other end of that, though, and know that not everyone lives up to it. At NES Rentals, they walk the walk
and
talk the talk, so much so that they arrange for
independently conducted surveys
and research to take place regularly. This gives them insight into their customers' real needs, and the ways they can continue to improve. It seems to be effective, based on NES Rentals being ranked among some of the highest firms in the country in customer service. They say it comes down to eliminating hassle, reliability, and customer loyalty.
Fun Factor:
It's one thing to know about the specs of rental equipment; it's a whole other game when it comes to being able to operate them. Whether you're an employee or a customer of NES Rentals, you have access to more than 100 International Powered Access Federation
trained Evaluators
to teach you through the Operator Program. Ladies and gentlemen, start your engines.
Values Showcase:
Having a job is nice. Having a job you can grow with is even nicer. Companies can show their support for their employees in many ways. Helping employees grow professionally is one of NES Rentals' priorities. With the goal to promote from within and help its ambitious team members advance in their careers, NES Rentals offers tuition reimbursement toward classes or a degree in an employee's field. From undergraduate education and graduate degrees to continuing classes, NES Rentals reimburses up to $7,000 per calendar year allowing its employees to get a headstart in their career right from the start. Steve explains how this support impacts employees:
"I really value our benefits and compensation programs, the encouragement of creative thinking which typically goes hand-in-hand with thinking "out of the box" in order to achieve an objective, and lastly our liberal paid time off program which greatly helps with the ever so delicate work/family balance."
Open Position: Sales Territory Manager in Wappingers Falls, NY
Check out this available position as a Sales Territory Manager, and see if the personas that fit the job describe you, too:
Personas: Who Fits This Position?
Someone who fits this position will be:
40% Warrior:
Sales is hard work but, oh so rewarding to those who are persistent! You are someone who rises above a challenge, is loyal, and persistent.
40% Superconnector:
Building relationships and keeping them strong is key. You are someone who recognizes what people need, connects with others well, and is naturally engaging.
20% Researcher:
You will need to dig for data on upcoming construction projects and find an "in" in order to sell to the decision maker. You are someone who likes to be well-informed, can reliably find answers on your own, and you're a problem-solver.
Learn what your top three personas are here.
A Day In The Life:
Here's how other people in the role describe a typical day as a Sales Territory Manager:
"My typical day starts a little different than most as I only live 1.7 miles from the branch. I begin most of my days by showing up bright and early at the branch. During this time there, I chat with the staff about pertinent issues and get an overall "feel" for the day ahead. I head out to the field to work that day's pre-determined area(s) and clients – tasked with renting as much gear as possible, furthering our customer/vendor relationships, and networking to gain critical information – all while representing our company in a professional and courteous manner. "Obviously, the more versed you are with our gear and its abilities, limitations, specifications, etc., the better off you'll be at helping the customer select the correct piece should they ask. I literally work with NASA rocket scientists, guys with the shovel in the ditch, and everyone in between. I'd say that the bulk (80% or so) of the people that I deal with are jobsite superintendents, general foremen, procurement agents and engineers."

- Steve Parsons

"Your day will change often. That's why planning is key in this business. It is imperative that you get in front of decision makers every day. The work you do today does not pay off until sometimes months down the road. Therefore, communication and follow-up are just as important. "Research is a big part of this business, relying on dodge reports, newspapers, chamber of commerce, and just about anywhere you can get information about the community and upcoming projects. Lastly, maintain and grow those relationships inside and outside of work if possible to earn the trust and loyalty of your customers."

- Craig German
In addition to the right personas, the person for this job also has:
High School Diploma or Equivalent
1+ years' experience in a construction/equipment environment
Recent Sales territory experience near Wappingers Falls.
Aerial equipment knowledge strongly preferred
Valid Driver's License and clean driving record
What this industry has to offer:
"I like this industry because it changes every day. When you talk to your customers they usually have a need and you get an opportunity to provide a solution. There is a great deal of satisfaction in providing people with what they need to complete the task."

- Craig German
Don't Forget These Extra Perks:
You receive affordable and comprehensive healthcare (medical, dental and vision)
You are eligible for tuition reimbursement up to $7k/year
You will be enrolled in a 401(k) Program that includes an employer match
You accrue 3 weeks paid vacation yearly, plus holidays
You can utilize the vehicle and mileage reimbursement program
You experience AWPT training with all employees
To apply, simply complete the application here
or
contact Lindsey Kepley
with your questions!