The Entrepreneur's Checklist: 7 Things You Need To Start A Business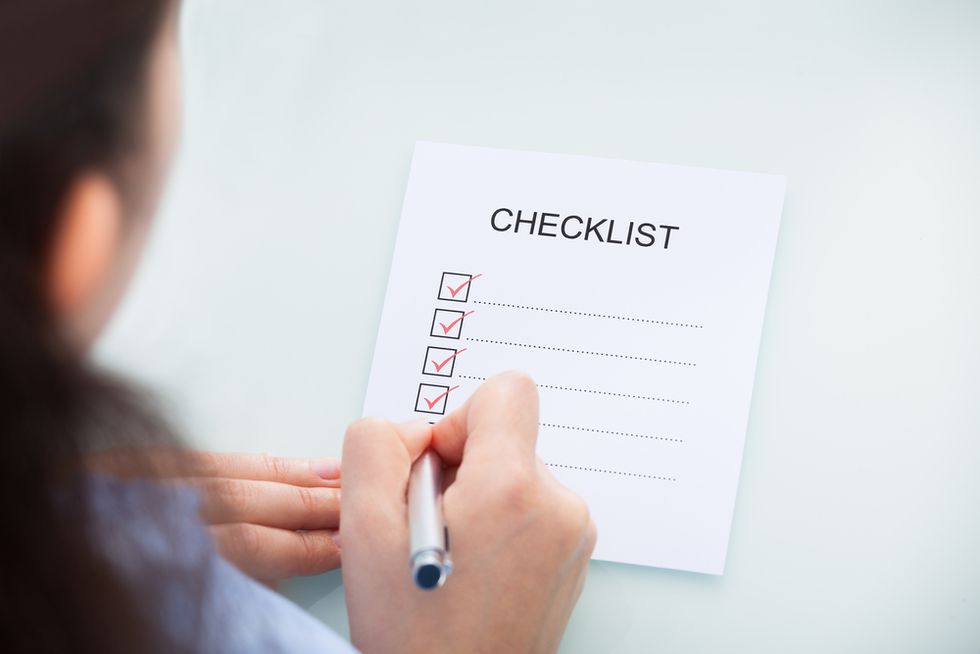 If you're one of the 90% of Americans employed full-time by someone else, chances are you're not feeling much satisfaction at work. Some of you are stuck with a boss who makes your lives miserable, while others may be merely bored or vastly under appreciated. Maybe you should become your own boss and start a business. Related:10 Must-Haves For The Budding Entrepreneur Only 30% of Americans are actively engaged in their jobs, according to a recent Gallup report, State of the American Workplace. Not only does being unhappy at work lead to a whole range of obvious complaints, it can also take a toll on your health, the survey reported. One way to improve your situation is to strike out on your own. So, how do you know if you've got what it takes to run your own business? Just like most things in life, what separates the whizzes from the rans is preparation. Do your research, write a realistic business plan, raise sufficient capital, and your odds for success go way up. Even before you pinpoint your business, you'll need to start by asking yourself key questions to determine whether you're ready to leave a sure paycheck for the chance to take charge of your career for life.
---
Entrepreneur's Checklist: 7 Things You Need To Start A Business
Here's the entrepreneur's checklist. In order to start a business successfully, you will need the following:
1. Support from your family
When undertaking such a major life change, it's critical you have your family behind your decision to give up your job to follow your dream. As you may go through a financial fallow period, their support can help you persevere.
2. Commitment and dedication to making your business succeed
You've heard the phrase: You've gotta want it more than anything else. Or how about: Hungry for success. The point is you have to believe in yourself even when faced by setbacks. Sometimes that means aggressively courting clients or revising your business plan. Surround yourself with critical support, including a good attorney, accountant, and business coach.
3. Sufficient capitalization or willingness to take on debt
While you will likely need to finance some of your startup costs, you should have sufficient resources set aside to get you through the startup period until revenue begins to exceed costs and the profits start rolling in.
4. Management skills
If this is one of your strengths, bravo, but if not, you may need to investigate what it takes to manage employees. If you choose a franchise, you'll get ongoing training to help you learn the art of hiring, retaining and getting the most out of your workers. Alternatively, you could purchase one of the many franchises that do not have any employees other than the owner.
5. Marketing
How do you see yourself getting customers? The answer to this question will dictate which businesses best suit your style. If you're an expert at networking, you'll likely find it easy to develop a clientele. For those who prefer that customers find them, either due to a good location or national advertising campaign, you might want to try a retail operation.
6. Desire to develop your own or follow someone else's system
You may be well suited to a franchise if you like the idea of following a system that's been perfected over time and working well for franchisees around the country. Or you may prefer to control every aspect of your business and make your own
unique
contribution to the marketplace.
7. Tolerance for risk
Even in today's job market where a steady job is no sure thing, starting your own business requires you to be comfortable with risk. If you believe in your vision and have the moxy to push through the learning phase, you greatly improve your odds. If you've checked most of the items above and you're ready to move forward, we recommend you consult a coach to help you decide on a business that suits your skills and experience. Once you turn the tables and occupy the boss's chair yourself, don't forget you still want to make your employees feel valued, help develop their strengths so they, too, can feel satisfied and engaged at work. After all, you've already walked in those shoes. And happier employees can go a long way toward helping you make your business a success. Ready to make your dream of becoming an entrepreneur come true?
Get your free evaluation today!
This post was originally published at an earlier date.
Related Posts
4 Reasons To Quit Your Job To Be An Entrepreneur
5 Things You Need Before You Start Your Own Business
Do You Have What It Takes To Be Your Own Boss?
Related Posts
Think You're Ready For A Franchise Discovery Day? Not So Fast
Worried About Starting Your Own Business? Try A Franchise
The Image Factor In Buying A Business
About the author
Ready to make your dream of becoming an entrepreneur come true? Get your free evaluation today! Contact Dan Citrenbaum to help you create the career you've always wanted. As a business coach, Dan brings years of experience helping people select and buy a franchise or existing business. You can reach Dan at dcitrenbaum@gmail.com or at (484) 278-5489.
Disclosure: This post is sponsored by a CAREEREALISM-approved expert.