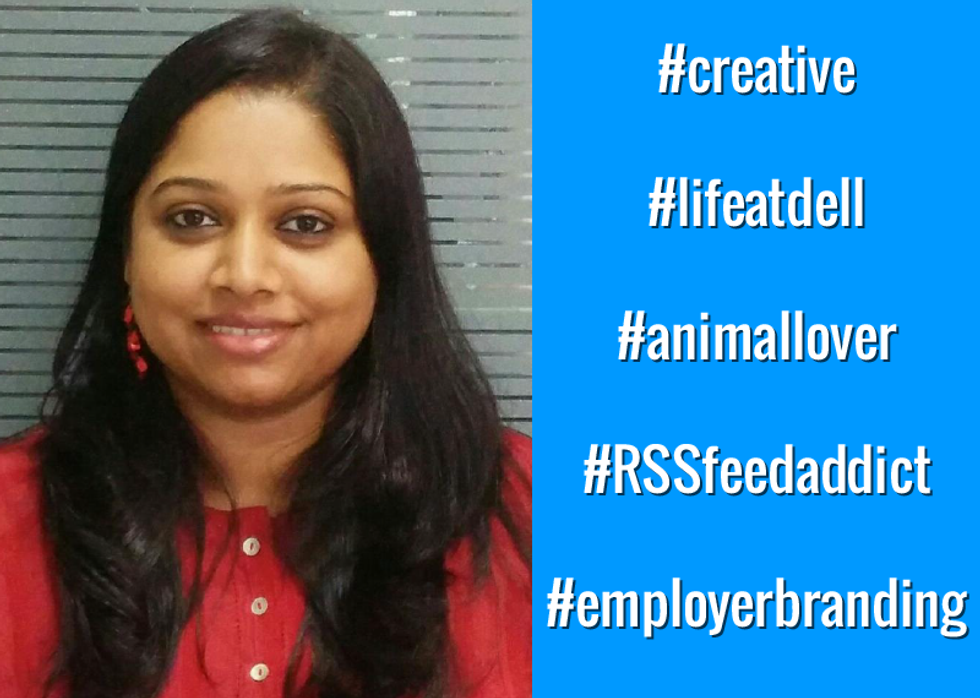 Recruiter Info
Name:
Vandana V Bellur
Title:
Employer Branding Lead, Dell India
Email:
vandana_bellur@dell.com
LinkedIn:
www.linkedin.com/in/vvbellur
Twitter:
@VandanaAtDell
Company Info
Company:
Dell
Location:
Round Rock, TX
Website:
dell.com
Careers Page:
dell.com/careers
LinkedIn:
www.linkedin.com/company/dell
Twitter:
@CareersAtDell
Facebook:
www.facebook.com/CareersAtDell
For Job Candidates
Preferred Method To Be Contacted By A Candidate:
Phone
Preferred Process For Following Up On Application:
At Dell, we strive towards a 'Post-interview communication on next steps no later than seven days' - One of Dell's candidate commitments. If you don't hear back from us, please email or reach our recruiters via
Twitter
.
Things That Impress You In A Candidate:
Demonstrating how you spend time outside of work reveals a lot about who you are. Companies, especially Dell, are interested in this!
Things Candidates Must Include To Be Considered For Job:
Connect your qualities and strengths with real-life work experiences and include specific examples. Rather than providing a long list of responsibilities, focus your resume on what you have achieved in past roles, including money or time saved, processes improved, revenue generated and so on. Watch this
short video
to learn more about landing a job at Dell.
Things That Will Disqualify A Candidate From Getting Considered:
Incorrect contact details, falsifying your work experience, bad mouthing and negative attitude
Can Candidates Apply For Multiple Positions And Not Get Penalized?:
Yes
Recruiter's Perspective
What's your favorite quote?
"Success Will Come and Go, But Integrity Is Forever." Amy Rees Anderson
What do you like to do in your free time?
I love outdoor activities. So I love to travel, hike, and indulge in adventure sports. There are also some days when I just want to spend some quiet time at home and catch up on Netflix!
In a sentence, why do you enjoy working at your company?
I enjoying working at Dell because I am always learning something new, my colleagues and my manager are the most fun people to work with and to top it all, work flexibility is a given at Dell.
In a sentence, how does your company have fun on a regular basis?
Team lunches, birthdays and work anniversary celebrations, volunteering, team outings, and more.
In a sentence, how would you describe the employees at your company?
Customer focused, result-driven, entrepreneurial, innovative, diverse, friendly, energetic, and social.