When It Comes To Work, Don't Kiss Up, Manage Up!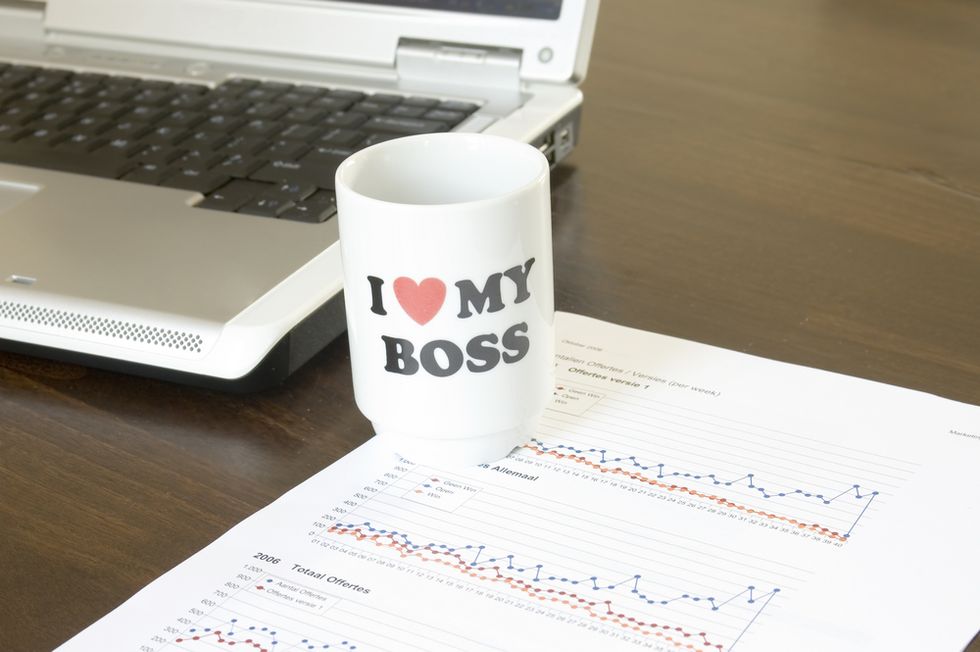 Don't Kiss Up. Manage Up!

"Managing up" is an approach that anyone can use to build and maintain a positive working relationship with his or her boss. A true intention to promote a cooperative and productive relationship will help you deliver the best possible results for you, your boss and your organization. Whether this is your first or tenth job, regardless of your level or title, learning how to best communicate with your supervisor and quickly understanding his or her agenda is crucial for taking ownership of your career and setting yourself up for long-term success.
Related:
3 Rules To Managing Up
Rosanne Badowski, co-author of "Managing Up: How to Forge an Effective Relationship With Those Above You" was Jack Welch's executive assistant at General Electric Co. for 13 years. "Doing what you can to make your manager's job easier will not only help them do their job, but you will be considered a valuable asset to your manager and to your organization," she says. "You want to be described as indispensable."
---
Self-Reflection
Understanding your work style, strengths, areas for development, and even your personality type are good ways to determine how you may need to adjust to your boss's work style. We know that people may work differently from each other, and some people are more difficult to work with than others. Remember, you encompass 50% of the relationship with your supervisor. Pay attention. Know what you don't know. Your strength may help compensate for your boss's weakness. For example, if your boss is not a planner, offer to create and send out the monthly team meeting agenda (which in turn will help meet everyone's needs), or if your boss is more strategic and less technical, offer to create the slides for the next Board presentation. The more you can dependably jump in when needed, follow through on your commitments, maintain a good attitude despite the situation, present quality work, and adjust your work style to meet your boss's needs, the more quickly you will be managing up!
Ask Questions. Never Assume.
If you have not done so already (and especially if you are just beginning to work for someone new), it's crucial to schedule a meeting with your supervisor and set expectations, goals, and priorities. Ask questions to understand your boss's viewpoint and know what defines success for your boss, you, your team, and the organization. Selectively use your boss's time (and yours!) for the necessary only. Here are a few helpful questions to ask:
What are your expectations and main goals?
What role do you envision me playing to help us reach these goals?
How do you prefer to stay informed of progress and how often do you want updates?
Notice how your boss makes decisions. Are they based on hard data or intuition? If he or she has a more analytical style, ensure you always have the right data to support your idea. Are decisions made quickly or is more time needed to process information and determine next steps? Be prepared to discuss all angles of the situation with your recommended solution and determine the time frame needed for an answer. Does your boss have any obvious pet peeves? If your supervisor makes it clear that he or she despises when people use "texting language" in emails, or when team members are just one minute late to a meeting, then be extremely mindful to avoid these situations.
Manage Your Personal Brand
Managing your personal brand will also help you manage up. Follow the company's policies and procedures, stay out of office politics and avoid gossip with co-workers. If you make a mistake or miss a deadline, acknowledge the situation and take ownership of it immediately. Do not place blame on others or make excuses. However, it is critical to immediately inform your boss not just about the issue at hand, but also your response to it. Clearly and succinctly outline the situation, potential impacts, and recommended solution. Address it head on and resolve to learn from it. Keeping your boss informed on progress, deadlines, and challenges will help prevent unwelcome surprises. Be proactive, anticipate issues, and manage risks to avoid "fires." Ask for feedback and graciously accept it all - good and bad. This will also help you learn and progress in your career. In summary, in order to appropriately manage up, you need to:
Understand your own work style.
Learn your boss's preferences by asking questions and observing his or her behaviors so you can adjust as needed.
Manage your personal brand by building credibility through your actions.
Related Posts
5 Ways To Remove Digital Dirt
7 Phrases To Delete From Your LinkedIn Profile
About the author
Jennifer Malach is a Certified Executive & Career Coach with over 20 years experience in the professional services and software development industries including 17 years with Accenture, a global management consulting, technology, and outsourcing company. She has extensive experience in recruiting, interviewing, hiring, coaching, training and developing talent to promote their learning, retention and advancement. Jennifer has also led, managed, and mentored teams across North America.
Disclosure: This post is sponsored by a CAREEREALISM-approved expert.