Blog
Booz Allen Hamilton's Connection To The Military Is Central To Its Culture

Photo courtesy of Booz Allen Hamilton
Booz Allen Hamilton has built a strong relationship with the U.S. military through the years. Not only was the business founded by a veteran, but the company has a number of U.S. military and government clients.
So, it should come as no surprise that the company has earned a strong reputation as being friendly to military personnel, military spouses, and veterans. It's a reputation the company is proud of and works hard to maintain.
---
A Natural Fit For Veterans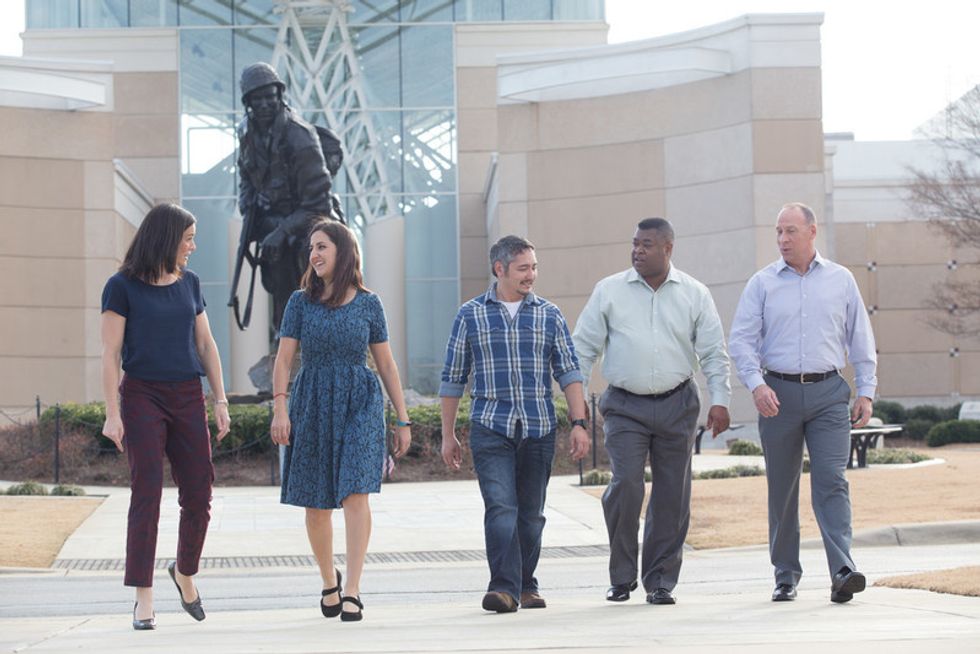 Photo courtesy of Booz Allen Hamilton
Headquartered in McLean, Virginia with offices globally, the company provides consulting, analytics, digital solutions, engineering, and cyber security to public and private sector organizations.

The type of mission-based work the company does for the government makes Booz Allen a natural home for veterans, members of the National Guard and Reserve, and military spouses, according to Greg Rivera, Recruitment Lead for Transition Military and Veterans with Booz Allen.
"Whether they're retiring or getting out [of the military], they want to continue to live that mission and those values. With more than 100 years in consulting and being founded by a veteran, [working at Booz Allen] feels comfortable to many people. That's why they're attracted to Booz Allen, because we have many of the same values," Rivera says.
Laura Schmiegel, Head of Military and Veteran Affairs at Booz Allen Hamilton, says roughly one-third of the company's workforce is military-connected.
Schmiegel credits company leadership and its inclusive mindset for creating an environment that is welcoming to veterans and military personnel. She said many in leadership positions are veterans themselves or have worked with veterans frequently.
"Our leaders are very proactive when they get transitioning military veterans or military spouses, in connecting those people with both other military veterans and spouses but also with other leaders in the firm that can help them transition [into the workforce]," Schmiegel says.
The company also offers great flexibility for reservists who want to continue their military careers. Reservists get up to one year of differential pay and continuing health and retirement benefits for the duration of an active-duty assignment.
Schmiegel says the company also takes pride in its recruitment and retention of military spouses. The company helps spouses facing relocation through networking and career training.
"Over the last several years our own military spouses got together and created the resources they would like to have for themselves. The firm recognized this great idea and opened up those resources to spouses firm-wide. Our Military Spouse Network has become one of the most robust, active groups we have at the firm," Schmiegel says.
Booz Allen Hamilton also teamed up with the
Elizabeth Dole Foundation
to create an interactive data map to pinpoint where the greatest need for military caregivers is. The tool uses data analytics and AI to provide new insights that will enable the Dole Foundation to serve caregivers in the communities where they live.
Recruiting Military Talent Is A High Priority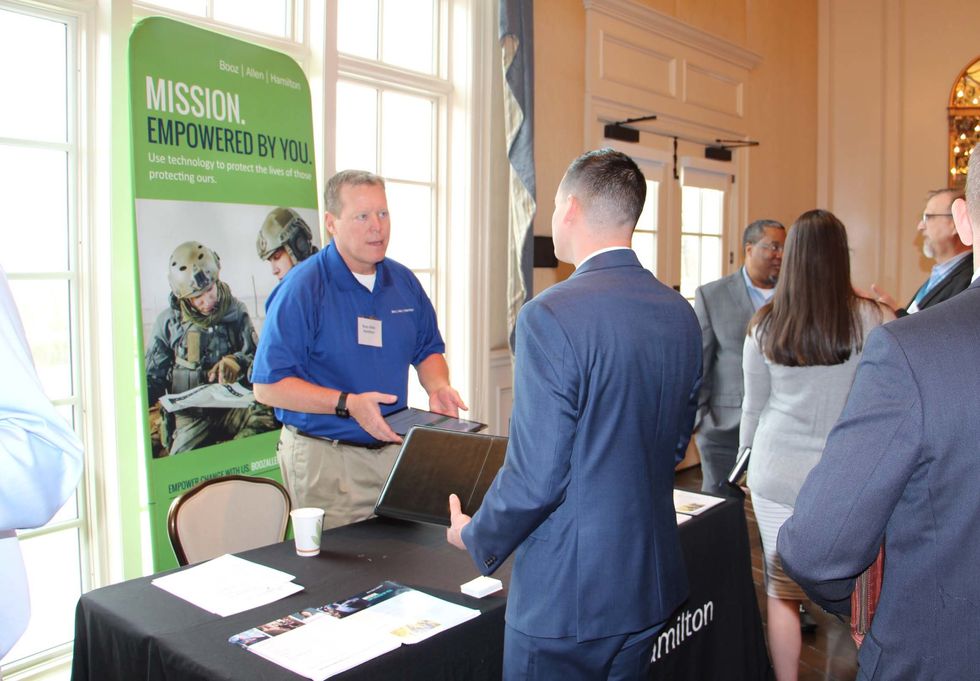 Photo courtesy of Booz Allen Hamilton
While Booz Allen has earned its reputation as a veteran-friendly company, the company remains dedicated to continuing to build and support its military-connected workforce.

Jennifer O'Brien, Global Candidate Attraction and Recruitment Experience Leader at Booz Allen, says the market for veterans and military personnel transitioning back into the workforce is as competitive as ever, and that Booz Allen has to be proactive in recruiting that talent.
"While we have a strong tradition of recruiting this population, we have to continually challenge ourselves to ensure our mission and benefits resonate with the community to differentiate Booz Allen as employer of choice," O'Brien says.
"As a critical recruiting channel, we work with career offices on military bases and attend events to get in front of military talent. We also have a talent community dedicated to nurturing this talent that offers relevant information on career opportunities, as well as people profiles and the mission we support. Employee referrals also provide a big boost to the company's recruiting efforts."
Schmiegel notes that veteran unemployment is currently below the national average.
"For employers like Booz Allen, it's a matter of recognizing the natural leadership that veterans bring. Because we have so many veterans in the company already and always need people with mission expertise and clearances, that drives us to continue to expand our veteran employee base."
An Inclusive Culture For Everyone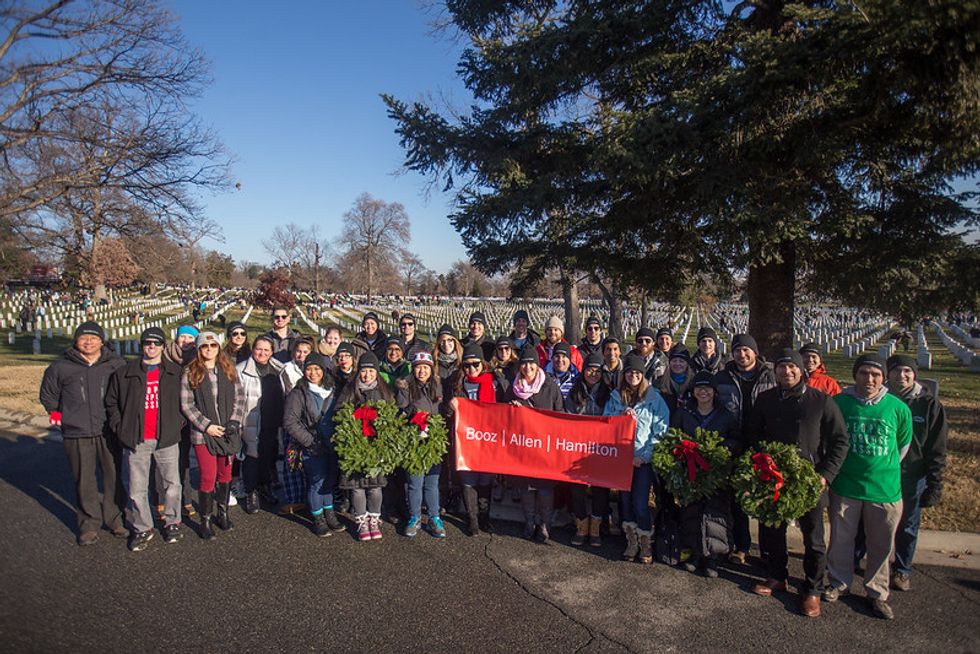 Photo courtesy of Booz Allen Hamilton
Outside of veterans, Booz Allen has worked hard to create a culture where everyone feels welcomed. The company has five Global Business Groups that serve as an umbrella for employee resource groups that include Multicultural Networks, Military Veteran networks, a disability network, women's network, and their LGBTQ network among others. The company also provides many community service options and charitable endeavors for employees to take part in.

O'Brien says the company's key to building a strong culture is putting people first. "People, passion, purpose, those are things that we believe in here. We empower people to change the world."
O'Brien says that while the company spends a lot of time retaining and growing their employees, there are always employment opportunities available at Booz Allen.
Want to know what it's like to work at Booz Allen? Check out the company's
careers
page.
Booz Allen Hamilton earned Work It Daily's Leadership Champion Badge. Are you interested in having your business featured by Work It Daily? Learn more about Work It Daily's Champion Badge Program and get your business in front of job seekers looking for their next great job opportunity.