5 Tips For Building A Productive Team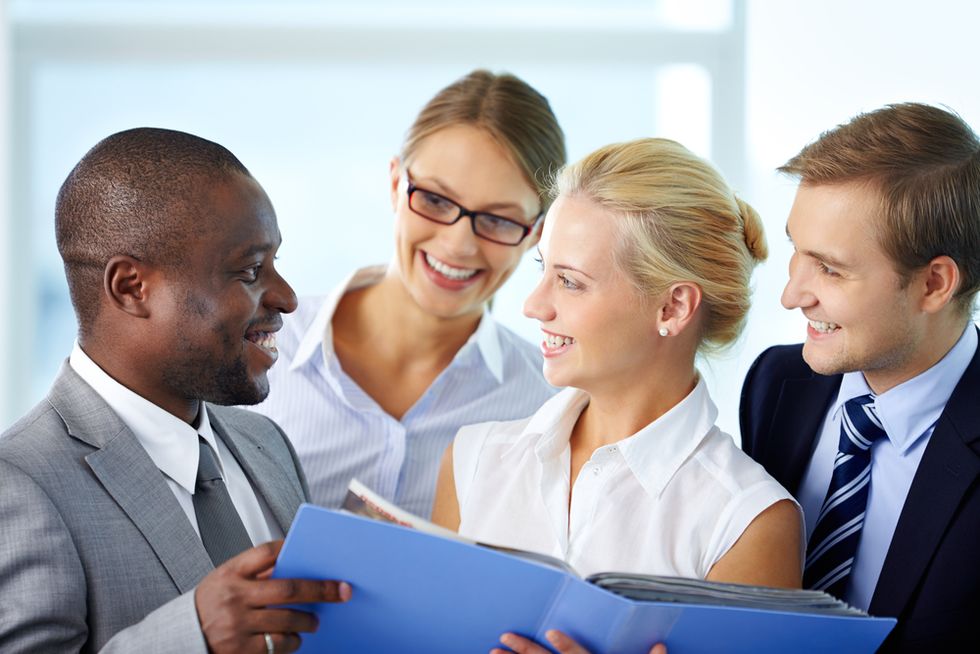 One of the best ways to build a successful business is to employ amazing people. Sounds simple right? Well, not exactly. Sometimes, it takes a little more to get the best from your team. It's not just about hiring the right people - you also have to cultivate an environment that will allow them to thrive and grow with your business. If you aren't doing the most you can to ensure that your team members are happy, motivated, and truly involved in the business, then you are doing a disservice to yourself, your team, and, worst of all, your customers.
---
Tips For Building A Productive Team
Building a productive team isn't as hard as you may think. Here are five things you should be doing with your employees to increase productivity, focus, and overall team wellbeing:
1. Appreciate Them
It's all too easy to forget that the people working for you are just that - people. As a team manager, try to connect with everybody who works for you as often as possible and take the effort to learn about who they are as individuals. Learn to appreciate everything they are doing for you and I guarantee it they will begin to notice. Employees who feel appreciated and respected by their employers always aim to please. I think we all know what it's like to work for someone who doesn't appreciate what you do for them, and I'm sure most of us would agree that isn't the key to running a successful business.
2. Teach Them To Be Superstars
"Only 10% of the population has 'the learning mind-set,' that seek out and enjoy learning. The other 90% will not look to improve their skills unless they have to as part of their job requirement." - Chet Holmes 'The Ultimate Sales Machine'
By actively providing constant training to your staff members, you are consistently building their skills, self-confidence, and ability to make educated decisions for the benefit of your business. Hold weekly or twice-monthly team workshops to teach systems and procedures for every element in your business. Teach your employees to get the most out the time and effort that they are putting in to reap the most reward. Also, to eliminate the need for guessing when it comes to difficult situations, create systems to specifically manage a crisis. Software should be used to educate and train your employees effectively. Free tools like
Process Street
can help document your standard operating procedures, ensuring that employees have easy access to any information needed to do their job effectively. By making constant education a requirement of the job role, you are almost forcing your employees to become the best they can be. Hey who knows, they may even thank you for it later!
3. Make Them Feel As Important As They Truly Are
As much as you may think you do, you don't have to think of all the solutions to every problem. Enable your staff to proactively think about the problems facing the company. The chances are that they will notice opportunities for improvement in areas you will never know, simply because they are on the front line every day interacting with customers and suppliers, and so on. Avoid any negative responses to bad suggestions and ideas put to you. Instead find a way to let them down gently and compliment the effort made to think outside the box. People always enjoy working somewhere they know they are making a true impact and will work harder and smarter as a result.
4. Offer Rewards For Results
Be as clear as possible with what you expect from your employees. Set targets for all of your staff - not just the salespeople. Targets are proven to motivate employees and give something to focus on. But don't treat missed targets as an opportunity to punish your team; simply offer a reward (whether monetary or otherwise) that will drive your team to meet the targets you set in the future. Of course, you must be realistic and set targets that you truly believe can be met, but set rewards for overachievers, too.
5. Hire Superstars, Fire Timewasters
This final point is perhaps the most challenging to a lot of business owners. Knowing how to hire the perfect people for your business is a key skill for any employer. Look for dominant personality traits such as confidence, self-belief, and influence. You want team members who will constantly challenge themselves to improve, over achieve and go above and beyond the call of duty. On the other hand, recognizing when an individual is bad for your business is another crucial skill. Sometimes, firing the right people is just as effective as hiring the right people, especially if you think they are preventing some of the other members of the team from reaching their full potential. If you recognize that you currently employ someone who isn't a good fit for your team, find a way to fire them as soon as possible. Of course, there is a lot more than can ever be listed here, but if you follow these five points, then you should be well on your way to building an amazing team of individuals to power your business to success.
Enjoy this article? You've got time for another! Check out these related articles:
Photo Credit: Shutterstock