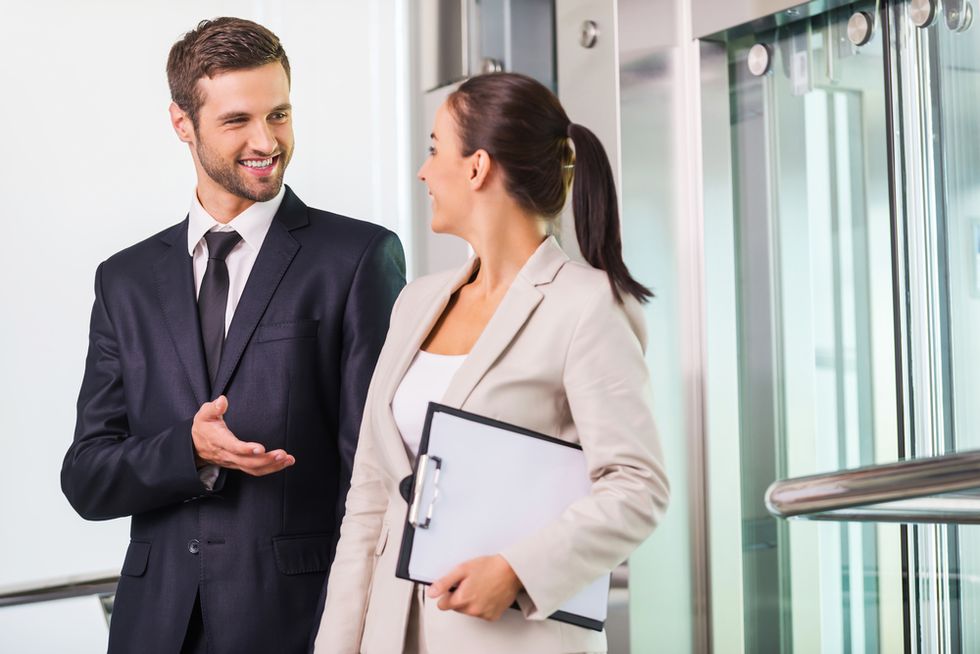 If you're looking for a job, you might want to create an 'elevator pitch.' It is a brief explanation that summarizes who you are, what you do and why you'd be the perfect candidate - you'll want to be able to reel off your pitch at any time, especially with people who might be able to help you get your dream job. Related: How To Perfect Your Elevator Pitch However, it can be really hard to condense all your experiences into a 30-60 seconds speech!
---
Let Me Give You Some Do's And Don'ts Of Writing A Great Elevator Pitch:
1. Decide what kind of work you're looking for
Unless you can clearly explain to someone the type of a job you're interested in, nobody will be able to help you find it. You need to know what your goals are. And if you're looking for a job that is different to what you're doing right now - you need to tailor your pitch accordingly. E.g. if you want to be a web designer, emphasize the web design work you've done, rather than talking about your current job which might have nothing to do with what you're looking for. Also, write down your skills and accomplishments relevant to your target position. Then delete everything that's not relevant to what you're looking for - be specific.
2. Structure your pitch and tailor it to the audience
A good pitch
(and this relates to your
resume
and
cover letter
, too!)
should answer three questions: Who are you? What do you do? What are you looking for?
Here is an example of what your pitch might start with:
"Hi, I am Karen Smith. I am a Brand Marketing Manager with 10 years of experience in the travel industry - I've worked for companies including Expedia and Thomas Cook - and I am looking for opportunities in London."
You'd then use the next several seconds to briefly mention some details about what makes you
stand out
- and what your specific skills are that could help a potential employer. Also, focus on the needs of your audience, not yours (just like in a
job interview
:-) You'll only be successful if the person you're talking to understands it. So don't use a lot of jargon when talking to someone from outside of your industry but also don't explain simple terms to a professional in your industry.
3. Practice
It is important your read your pitch out loud and practice. You want to sound conversational, not like if you've memorized it by heart. Release your pitch and ask someone for feedback. If your
friends
don't understand what your key points were, your speech still needs work.
4. Prepare a few variations
It is a good idea to prepare a few variations of the speech - if you only have 20 seconds, your speech would be different to when you have a couple of minutes. Make sure you master a few key talking points and you can then tailor your speech for particular occasions.
What About The Don'ts Then?
1. Don't sound boring or make people wonder about what is it that you do
Ask yourself what problem you solve rather than what you DO. For example, instead of saying I am an interview coach, I could say I help professionals get hired, promoted and paid more faster than they would on their own. You might want to include some number and concrete details - this will make you more memorable.
2. Don't undersell or oversell your skills or experience.
If you undersell yourself, people won't know how you can help them so they won't be able to recommend you to people who might be able to offer you the job. On the other hand, if you oversell yourself, people then won't take you seriously.
3. Don't sound too salesy
Yes, you want to sell yourself - but you don't want to sound like a typical used car salesman. Hope these help!
If you need help in creating your elevator pitch and getting clarity on what your unique selling points are, apply for a complimentary consultation to see if working together is right for you:
www.TalkwithMargaret.com
This post was originally published at an earlier date. Disclosure: This post is sponsored by a Work It Daily-approved expert.