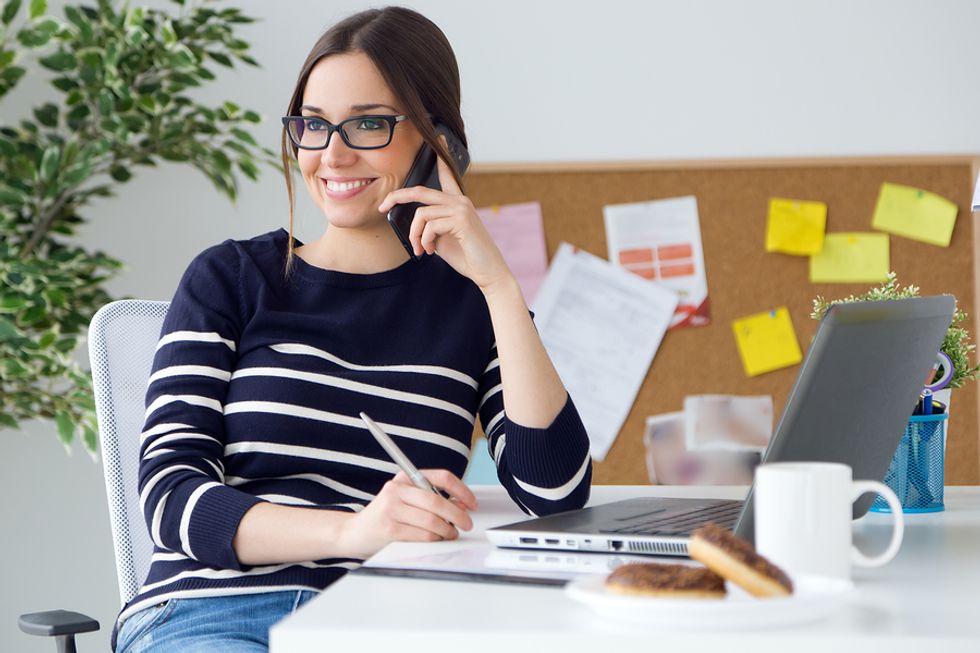 Graduating college and starting to apply for your first full-time job can be scary. Perhaps you are worried about lack of experience, or what your first full-time job will be like on day one. Here are some tips that will give you a boost of confidence for your first interview:
---
Related: 4 Things You Can't Forget To Do Before Your Interview
1. Practice Before The Interview
It's no lie that interviewing is a skill that takes practice, confidence, and a lot of focus. Researching the typical questions that are asked during an interview will help you to garner knowledge on what to expect, and how to best prepare for the questions. Write out your answers and rehearse in front of friends, family, and the mirror. Ask for feedback from friends and family about how you can be clearer or even more descriptive in your answers.
2. Know Your Top Skills & Credentials
Listing your skills on your resume is one thing, but being able to succinctly and cohesively describe them in an interview is another. Think about the qualities and attributes that make you unique. Are you a good communicator or problem-solver? Think about examples of those skills in real-life situations and be prepared to provide those examples in the interview to support why you are the best candidate for the job.
3. Research The Company & Prepare Questions To Ask
One of the most important aspects of the interview process is knowing about the company you are interviewing with. Therefore, it's important to research the company, know its mission, know current trends, and know the company's competitors. Make sure you also find out who you are interviewing with, and research that person via LinkedIn. Additionally, make sure you prepare several questions to ask during the interview to display your keen interest in the company.
4. Convey Your Accomplishments And Actions
Many interviews today require you to apply your skills to a situation, the action you took and the result that occurred – the method commonly known as S.T.A.R. (situation, task, action, and result). The ability to utilize the competencies you have mastered is a great way to shine in your interviews and demonstrate that you are the right candidate. Study your resume carefully and focus on providing examples of your achievements in your academics, leadership, memberships, and internships.
5. Give A Good First Impression
First impressions are everything, especially in the interview process. Arrive early, bring three copies of your resume, and make sure to dress for success – conservative and professional attire should be adhered to in the interview process. Be enthusiastic and energetic during the interview. Be engaged, and ask questions. All of these things equate to giving a first impression.
Bonus Tip
: Always send a thank-you letter following the interview, but make sure to take the business card of the interviewer so you have his/her information handy when sending out the letter.
Related Posts
5 Things You Should Be Doing If You're Unemployed
3 Techniques To Fight Unemployment Stigma
6 Tips For Dating While You're Unemployed
About the author
Wendi Weiner, creatively known as The Writing Guru, is a Nationally Certified Resume Writer (NCRW) and Certified Professional Resume Writer (CPRW) with over 15 years of expertise in resume writing, essay writing, and professional editing.
Visit her website here.
Disclosure: This post is sponsored by a CAREEREALISM-approved expert.