Networking
5 Ways To Hack LinkedIn And Twitter For New Jobs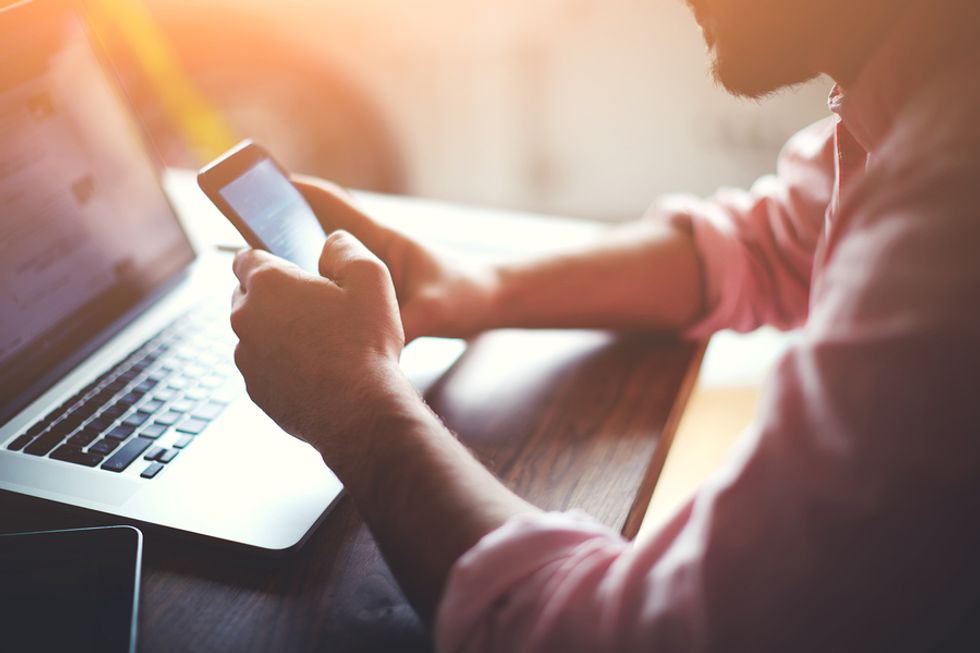 "I keep hearing about people who landed jobs using social media. How do I tap into this?" Related: Why You Need Social Media In Your Job Search If you're anything like me, then you probably set up a Twitter and/or LinkedIn account largely because other people were doing it, but had no real game plan on how to use it. Most people on social media are like this, drifting in a sea of people hoping to magically net new opportunities. When nothing happens, they throw their hands up and say, "See? I knew this was a huge waste of time!" Here's the secret: a few simple actions, executed consistently, will turn social media into rocket fuel for your career. Forget about answering job postings or coming in "cold." You'll be in a position to receive, evaluate, and pounce upon opportunities before the competition even knows they exist. Note: For maximum results, you'll want to deploy the following actions in tandem:
---
1. Set Up A "Top Of Mind" Campaign
The squeaky wheel gets the grease, and in social media that means regularly engaging with your contacts. But how do you do that in a way that doesn't come across as annoying, but rather adds value? Answer: a "top of mind" campaign.
Create an account with a service like Buffer or Hootsuite (don't worry, they're free to start). These services auto-schedule posts in advance so you can create a weekly, or even monthly, flow all in one shot.
Link your Twitter and LinkedIn Accounts to your post-scheduling service.
Now create a pipeline of posts that will be shared on a daily basis across both of your social media accounts. For best results, aim for at least two posts a day across both Twitter and LinkedIn Monday thru Friday.
Here are some post ideas:
Articles on industry trends
Your "hot take" on a major issue going on in your field.
Inspiring quotes.
Photos from recent networking and industry events you've attended.
Links to blog posts or other content you've written.
Links to YouTube videos you've posted.
Reposting articles from major industry leaders (be sure to give them proper credit).
Questions for your network (if you do this, set some time aside to answer them!).
Advice for people hoping to enter your field.
2. Stay Current On New Opportunities Using A Twitter Search List
Did you know that an estimated 80% of jobs are filled without ever being advertised on job boards? Twitter is a great way to tap into this hidden market. Carve out some time to "follow" major industry recruiters, as well as key executives and HR personnel at dream companies (follow the official company Twitter accounts as well). This way you'll be able to view an up-to-the-second flow of job opportunities directly within your Twitter feed.
3. Turn Twitter Follows Into LinkedIn Connections
Once you've built up a list of influential players on Twitter, it opens the door for you to take the relationship deeper by connecting with them on LinkedIn. Why? Because a direct connection on LinkedIn is FAR more likely to engage in things like informational interviews and "meet and greet" calls than someone you merely follow on Twitter. Here's a template you can use:
Hi [First Name],I follow you on Twitter (my handle is [@twitterhandle]. As a fellow professional in the industry, I really appreciate your insights and unique perspective, especially with regards to [Mention recent project or initiative]. I'd love to connect here if you're open to it! [Your Name]
Once you've done this, all you need to do is check Twitter, find a relevant opportunity, and follow up with the right person on LinkedIn.
4. Send Out A Recruiter Blast On LinkedIn
This little-known feature is a fantastic resource when combined with the "top of mind" campaign outlined above.
Sign into LinkedIn and click on the "Jobs" tab.
Now click on "Preferences", scroll down to the bottom of the page and you'll see a "Share career interests with recruiters?" option. Click to turn this on.
Fill out the questions, then click on the "Share your job preferences" option at the bottom.
Boom! You've just sent out a powerful "blast" to recruiters about your job interests, and increased your visibility with them for the next 90 days.
5. Push For Face Time
The best opportunities aren't filled, they're created on your behalf. Every week, set up informational interviews with at least three people in your LinkedIn network who either work at a dream company, or are deeply plugged into your target industry. Remember: you are not asking for a job, you are simply seeking to deepen the connection and offer some insight into your ambitions. Some questions you can ask:
What is a typical day like for you?
How do people at your company work together, what's the culture like?
How did you rise to your current position? What mentors did you have along the way?
What problems is the company currently facing? Note: This question opens the door to positioning yourself as someone who can address them.
One last thing: the effectiveness of these strategies is directly related to how powerful of a brand you're presenting. Your Resume, LinkedIn and Twitter profiles should all position you as a top-tier specialist in your field, and feel cohesive. Make sure the foundation is solid before making moves.
Disclosure: This post is sponsored by a CAREEREALISM-approved expert.