5 Awesome Healthcare Careers With Salaries Over 100k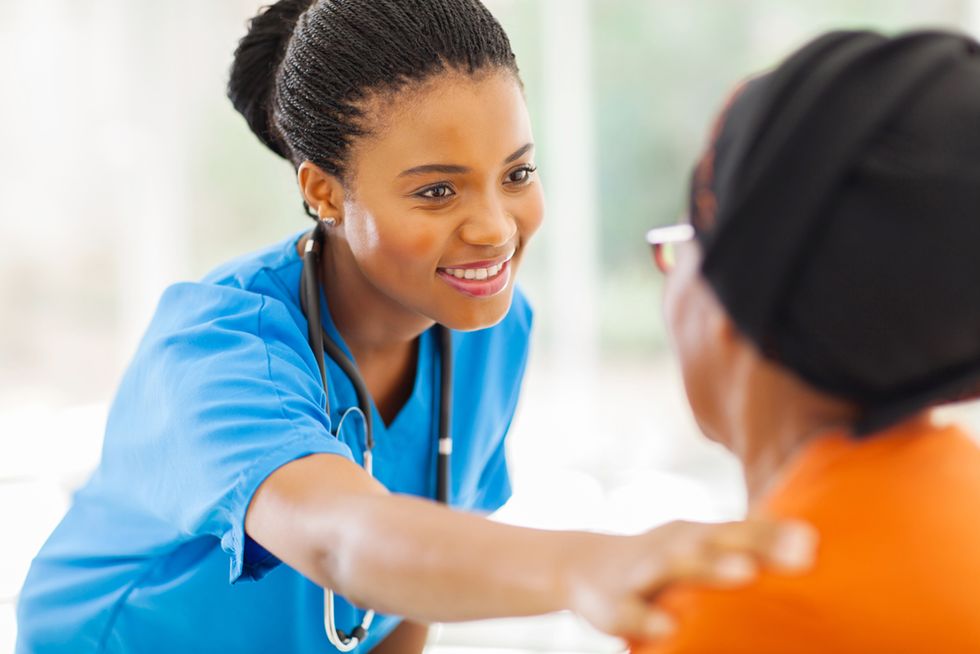 If you are going to further your education with a bachelor's or a master's degree, how many great careers do you think exist? The field of healthcare is one of the fastest-growing in the US. According to Health-Care-Careers.com, the largest database of healthcare specific careers, the average salary for careers in this field average $83,052. However, they also list 140 careers over 100k! The good news for aspiring graduates is that it's not tough to land a good job and earn a high income with the right education and training. Related:The Changing Trends In Healthcare Careers Take a look at our findings. Five of the top careers include:
---
#1 Nurse Practitioner
A nurse practitioner coordinates patient care under the supervision of a doctor. He or she does many of the same duties as a doctor does - perform medical examinations, prescribe medications, and ordering and interpreting diagnostic tests. You need to have a bachelor's and a master of science degree in nursing to enter this field.
How It Pays You Back
The top 10% of nurse practitioners earn well over
$100,000 per year
. Some nurse practitioners may earn less, depending upon experience and the area of the country. Also, this field is expected to grow in demand by 31% by 2022.
#2 Nurse Anesthetist
A nurse anesthetist provides anesthesia services for both inpatients and outpatients at hospitals and medical facilities. He or she ensures that the patient is given the proper levels of anesthetic so that a medical procedure can be done safely. This health care career requires a high level of education, with at least a master's degree. Over time, most people in this profession will be required to have a doctorate as well.
How It Pays You Back
A nurse anesthetist does most of the same work as an anesthesiologist, but is paid less. Still, this career really does pay you back: You can earn a median salary of $148,000, and as with the other advanced nursing practice careers, job demand is expected to soar to
30%
or higher by 2022.
#3 Pharmacist
A pharmacist dispenses many types of prescription drugs to patients. They also provide expertise on how to use these drugs safely. Some pharmacists also give advice on how to live a healthy life. They may conduct health and wellness screenings, give immunizations and generally oversee the medications that patients receive. You must have a Pharm.D. degree and pass a licensure exam to practice as a pharmacist.
How It Pays You Back
The median salary for pharmacists was
$116,000
in 2012. The field is expected to grow by 14% by 2022. Most of the demand is being driven by our aging population; they are living longer lives, and want to stay as active as they can. They look to prescription medications to help them to deal with various medical problems as they age.
#4 Podiatrist
A podiatrist provides medical and surgical care for those who have problems with their feet, ankles and lower legs. They diagnose illnesses, treat injuries, and do surgeries in these areas. A typical day would involving assessing the condition of the patient's feet and ankles, and reviewing their medical history. You must earn a Doctor of Podiatric Medicine (DPM) to practice in this field. The degree takes four years to finish.
How It Pays You Back
The median salary in this profession is a healthy
$116,400,
and the top 10% can earn over $187,000. Also, this profession pays you back in job demand: You will see an increase of demand of 23% in the field by 2022.
#5 Physician Assistant
A physician assistant practices medicine under the supervision of doctors and surgeons. They have several years of formal education to examine patients, diagnose their injuries and illnesses, and to provide treatment. You need to have a master's degree in a physician assistant education program, which takes about three years to complete.
How It Pays You Back
The median salary in this field is over
$90,000
, and the top 10% will earn at least $124,000. The best place to earn a good salary is at a public or private hospital. Just as good, the job demand in this profession will be a huge 38% by 2022. You will always be able to find a good-paying job as a physician assistant. There you go! Five high paying, high demand careers in health care that pay you back big time. Good luck!
Related Posts
How Volunteering Can Help You Get A Job In Healthcare
7 Degrees That Lead To High-Paying Careers
Locum Tenens: How To Get Started & What To Expect
Photo Credit: Shutterstock