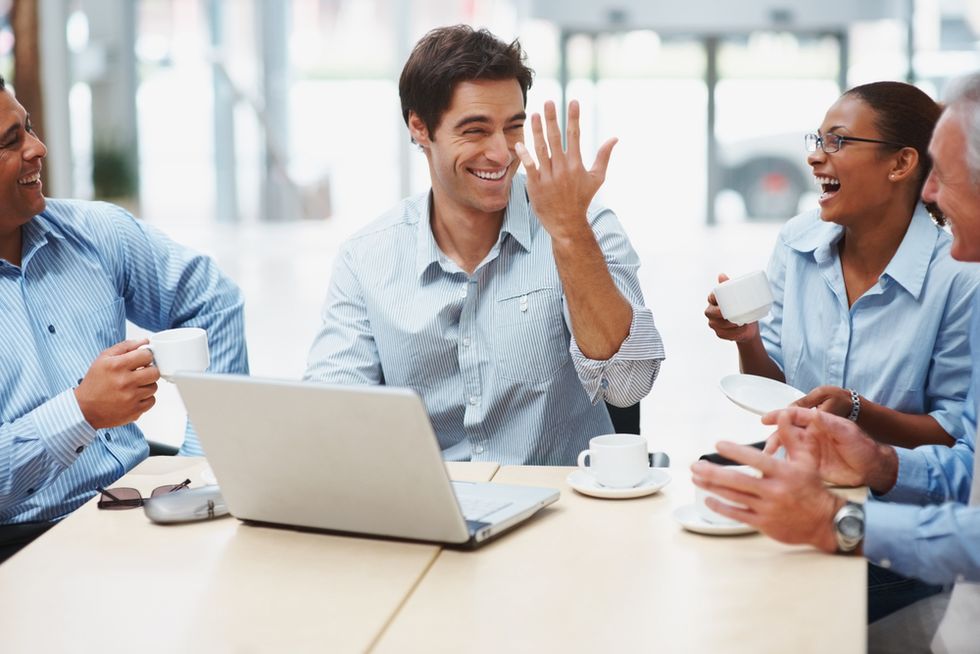 So, you are invited to a business party or event. You walk in and pretty much everyone is dressed in some form of black, blue, gray, brown, or beige. Related:How To Create A Personal Brand Without Being A Jerk Then, your eyes catch someone wearing a royal blue, cherry red, banana yellow, lavender something. Your eyes naturally go to that vivid color and person. They attract your attention - They are intriguing! The same can be said for how we see people communicating with each other. Most people are standing a few feet from each other, speaking with their mouths moving and eyes wandering with little energy or emotion. Then, there's one person you notice that has a crowd around them and is using their hands, smiling, animated, having fun and engaging others to have fun and participate. Their energy is stimulating others and pulling them in. People have their own "unique essence" about them. Your persona is simply an extension of your DNA. Yep, you were born with it. For business, I like to call it your UBS - Unique Brand Style. We are naturally drawn to things and people that evoke emotion in us. When it comes to interpersonal connections attracting people because of your external style and internal authenticity is something worth developing and refining. So, the question is: How can you stand out, be memorable, and make an impact? The great news is we all have the potential to do this. Your Unique Brand Style is really the description for who you already are: thegenetic DNA personality you were born with. Our "persona" is both internal and external. For some it comes easier than others. Like any personality trait, it has to be defined, refined, and used to engage and interact.
---
How To Develop Your Unique Brand Style
Learn how to brand yourself as unique by using these five actions to develop your UBS - Unique Brand Style:
1. Get A Makeover
Develop your personal dress style, appearance, and image that consistently screams what you are about. Are you casual business, formal business, chick, trendy, preppy, classic, or a hybrid of several? People have always told me I am "classy in an unconventional way." I love classic clothes that I can make pop with shoes and accessories!
2. Clear Out Mental Toxins
Develop a positive mindset, attitude, and communication style and bring it with you all the time. We are not always on, but be known for your energy style. Lead with humor, be interested in others, be a catalyst, and connector. Make it about others.
3. Support A Cause
Mentor, advocate, and support others in their causes, businesses, and communities. Be a go to person and someone people can count on.
Volunteer and give back to the community that supports you. There is big buzz now about Social Entrepreneurship. Using your business expertise to help non-profits and those in challenging times.
5. Get Something Done
Leadership leads to legacy.Step up, speak up, step out, and make a difference. Join a group, committee, project, initiative, and make something good happen. Commit to these five things and watch your "brand style" soar! Get a professional makeover. Clear out the mental toxins. Support one cause for 60 days. Volunteer one day a month at a local charity you are passionate about. Head up a committee and get something good done. This post from Seth Godin's Blog, "
Finding Your Brand Essence
" really resonated with me.
"Clothes don't make the man, the man makes the man. Clothes (and the brand) just amplify that." (Seth Godin)
You stand out and make a difference by standing up, speaking out and saying and doing something people can benefit from and relate too. Ready? Set? GO!
This post was originally published at an earlier date.
Photo Credit: Shutterstock