What You're Entitled To After Being Hurt On The Job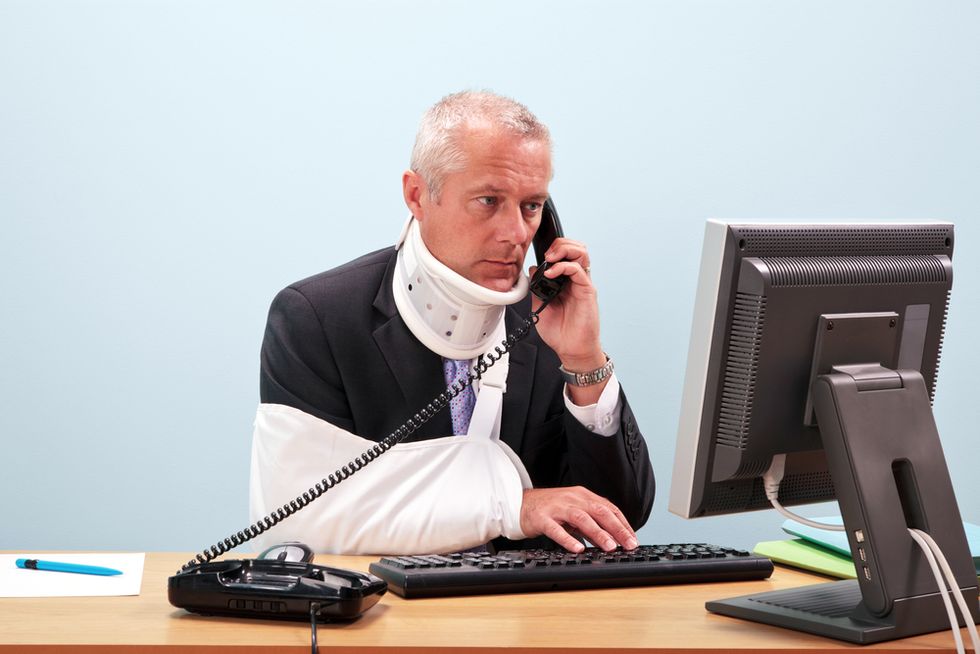 Simply put, workers' compensation is a type of legally mandated insurance that covers employees who are hurt on the job. It's generally paid for by employers, and the funds and recovery process are then administered by specialized entities. Due to the scale of workers' compensation programs, the impact on public health organizations is high. Each state has its own workers' compensation laws and entities (to find the appropriate office for your state, click here), but they generally require any business that has employees to purchase appropriate coverage or otherwise contribute to a workers' compensation fund. In some states, small companies or companies in certain industries may be exempt from the workers' compensation requirements. Employers in industries involving manual labor, however, are almost always required to purchase workers' compensation insurance. Participation in a workers' compensation program is often described as a substitute for the ability to sue an employer for negligence. That is, absent workers' compensation laws and programs, an injured employee might be able to sue an employer for maintaining an unsafe workplace or issuing unsafe instructions. Instead, under workers' compensation programs, injured employees are entitled to apply for limited benefits that are less speculative than a lawsuit would be. If an employer's conduct is particularly reckless or is intentionally harmful, however, the right to sue generally remains. Compensation varies by state, and workers' compensation typically covers medical expenses as well as lost wages (at a percentage of your usual wage). In addition, other benefits, such as rehabilitation or retraining, may be available. If an injury didn't happen "in the course of employment," however (i.e. at work or during work-related activities), that injury generally is not covered. Moreover, injuries incurred when an individual is working while intoxicated or acting independently are not covered; for example: If employees get into a fight and one is injured, workers' compensation generally is not available to the injured party. As a public health matter, workers' compensation raises interesting concerns. Based on data available from 2000, more than 15 percent of states received "F" grades regarding the performance of their workers' compensation programs from the federal Occupational Safety and Health Administration, indicating that there is quite a lot of room for states at an organizational level to improve on coverage of injured employees. Moreover, the amounts involved are staggering. Nationwide, in 2010, over $50 billion in benefits were paid out. Of this, nearly 50 percent were for medical benefits, which in 1970 were only 30 percent of the total payout. Rising health care costs are expected to account for an increasing share of payouts in the coming years, as well. As the workforce grows and changes, public health professionals would also be well-served to stay abreast of the injuries that are typical to professions that are increasing in popularity; for example: If office work continues to become more and more common, claims for lower back injuries and carpal tunnel syndrome should be expected to increase correspondingly. For that reason, studies pursued and educational materials crafted by public health agencies should be tailored to reflect injuries that are common to the workforce as it evolves. In addition, any efficiencies that can be introduced into the workers' compensation program, whether at the employee end, the health care provider end or the various organizational ends, will have tremendous impact due to the number of people affected by workers' compensation issues. With over 100,000,000 people currently covered, workers' compensation is a matter of great public health concern.
---
This article was written by Social Media Outreach Coordinator, Sarah Fudin on behalf of CAREEREALISM-Approved Partner, 2U Inc – an
education-technology company
that partners with institutions of higher education such as the George Washington University to deliver their
online MPH
degree.
Photo Credit: Shutterstock