Inbound Recruiting Starts With Building Relationships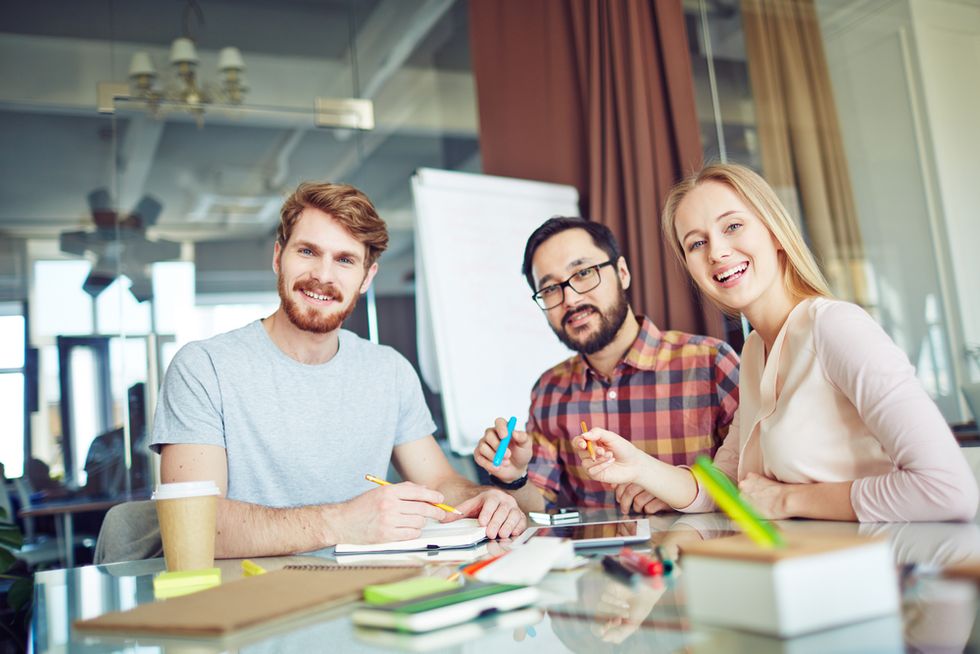 We spend as much time with our co-workers than anyone in our lives. They are the people we celebrate our wins with, the people who motivate us when we have had a rough day, and the people who make us smile when we look back on our career. Effectively marketing your employment opportunities requires that you focus on these relationships and the prospective relationships that you'll be adding to your company. Related:3 Reasons You Need Inbound Recruiting If you are looking to build candidate relationships and hire top talent, here are three big questions to ask yourself.
---
Why is building relationships and showing who you are important in the inbound recruitment process?
Inbound
Recruiting
means candidates are coming to you. That requires a strong reputation, and there's no more effective way to build a strong reputation than by building strong relationships. Whether it's with
employees
, candidates in your pipeline, or past prospects, the way you develop rapport deeply influences the degree to which those individuals advocate for you. Two considerations when setting the stage for fruitful relationships include: How can you orient relationships and how can you accelerate relationships? Orient your relationships by defining what kind of company you want to be when it comes to working with candidates and employees. As an employer, you need to decide what do you want people to get out of interacting with your brand. Once established, you want to accelerate the relationships with your candidates as quickly as possible. If your talent acquisition strategy does not include employee branding or a description of your workplace culture, then all candidates see are a list of job specifications. In that case,
if
your candidates get in the door for an interview, they have no foundation to understanding the environment they will be working in. However, the more you can share your culture upfront with tools such as videos, photos, and brand ambassadors, the more you can empower your candidates to better understand the dynamics and values of your team. Now that your relationship is accelerated and the filters have been applied, you can begin to have conversations from a baseline that is far more advanced than if you had just recruited through a static job posting.
How do you put your team front and center to build relationships when recruiting?
The people you are going to be working with define your experience at a company. And here are three ways to put them front and center:
1. Targeted rich media
For someone in sales, being able to work with executives might be a key selling point. On the other hand, a developer may be more interested in having work that gets deployed on a regular basis.
Identify those hooks that are unique to your teams and use employee testimonials and rich media to highlight those specifics in your recruitment messaging.
For example,
EY utilizes rich media
to have employees in different areas of the company speak about their personal experiences working and growing with their specific team, as well as the company at large.
2. Build a culture of employee engagement
Develop a culture that includes employment brand advocacy from beyond the marketing and communications departments. For example, from sharing how much they love the new office espresso machine to reminiscing about 20+ years with the company, Adobe employees share what life is like working at the company with the hashtag
#AdobeLife
. Social media is but one avenue through which your employees can act as brand ambassadors. The key to
boosting employee engagement
boils down to having employees who love where they work, providing incentives for engagement, and making it easy for your employees to engage. The more connected your employees feel, the more your workplace culture will shine through when recruiting.
3. Don't limit involvement to one part of the recruitment process
The recruitment process doesn't stop at the point of application and neither should your employees' involvement. From including employee voices in job postings to hosting "meet the team" interviews, involving your team at every stage of the recruitment lifecycle makes your prospective employee feel valued and engages your current workforce.
How does applicant conversion rely on relationships?
On average businesses spend over
$3,300
per hire on recruiting and U.S. corporations spend nearly $72 billion each year on recruiting efforts
. Although many companies are great at igniting candidate interest, they often drop the ball at the point of offer. It's like charming someone you meet at a coffee shop with all your best jokes and stories, building the chemistry, and then closing with "So, can I get your number? I'd love to take you out to McDonald's."
We bias our account of an experience to the ending
, so it's critical to make sure how you deliver an offer is every bit as impressive as how you first connected with a candidate.
We recently hired Yumna Bahgat to help tell Zoomforth's story. At the end of the hiring process, the Zoomforth team came together to
compile personal video messages
welcoming her to the team. In her own words, "It was the first time during the hiring process that I had received personalized messages from each member of the team I would be working with. They each remembered details of our conversations together and it made me feel welcomed and right at home. The videos SHOWED me the culture of where I would be working and I couldn't wait to accept the offer." No matter how you do it, make sure you have a strong close for the relationship you have worked so hard to build. At it's core your company is a group of people and when you are marketing your jobs, you are marketing the opportunity to enter a relationship with those people. Make sure those relationships are at the center of your recruitment marketing, messaging, and processes.
About the author: Chris Murphy is the CEO of Zoomforth, a startup that helps talent acquisition professionals convert leads with more visual and personal messaging. Contact Chris at info@zoomforth.com.
Join The Conversation!
Want to learn more about Inbound Recruiting? Need tips and tricks to get your strategy started?
Join us for the #InboundRecruiting Twitter chat by following @CAREEREALISM and the hashtag every Wednesday at 12pm EST!
We love to hear your insight and happily answer your questions.
P.S. Free resources here for the savvy recruiter!
Related Posts
5 Must-Haves Of A 'Viral' Company Video
5 Reasons Why Job Seekers Line Up For Your Culture
3 Signs Your Office Is Cooler Than Your Culture
Photo credit: Shutterstock