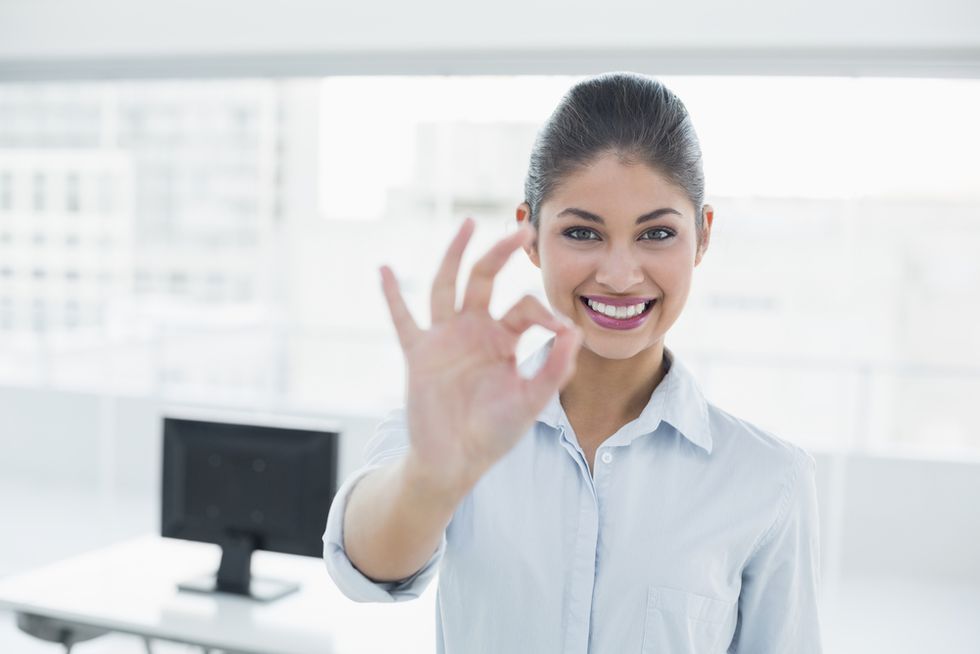 It's the start of a new year and you have probably set some new career goals for yourself. Whether you're looking for a new job, working to move up within your organization, or starting your own business, building a strong personal brand will help you get the best possible results. Webinar:The Science Of Personal Websites For Career Advancement Your personal brand encompasses a number of things, from wardrobe to resume to LinkedIn profile, but your web presence is easily the most visible piece and needs the most care. Thankfully, it's also one of the easiest aspects of your brand to improve. Here are three ways that will help you improve your online personal brand:
---
1. Get A Professional Headshot
Social networking accounts have become, in many ways, your extended resume. Many employers now ask for your LinkedIn profile along with your resume (and oftentimes they'll find it without telling you they're looking). LinkedIn and Facebook also power many other applications, oftentimes taking your profile picture with the rest of your data. The result? For better or worse, your face is
everywhere
. Most people have pictures that check the minimum acceptability boxes: the subject of the photo is identifiably human and not visibly involved in illegal activities (at least at the time of the photo). This approach won't prevent a person from getting an interview, but it represents a missed opportunity to impress. By getting your own professional headshot, you are making a statement that you care about your appearance (and your career, by extension) and sending a message that you have a standard of quality and professionalism that you uphold in everything you do. This can be the determining factor that helps you rise to the top of the resume pile or get called back for the second-round interview. Here are some photo specifics:
Avoid the local family portrait studio -- find a photographer who specializes in executive headshots. Check out photographers' portfolios online before you schedule an appointment.
Make sure your photo is tasteful and flattering (your eyes are fully open, your facial expression conveys confidence and sociability).
Have at least one photo taken on a solid white or gray background. Anything lighter than solid black will work.
Outdoor shots and cityscapes can work well, but make sure to have at least one great studio shot, as well.
Make sure your photographer can touch up your photos without them being obviously edited.
Crop your headshot photo just below the shoulders and just above, or below, the top of your head.
2. Spruce Up Your E-mail Signature
According to a study by the Radicati Group we send, on average, 40 business e-mails each day. That represents 40 opportunities to
stand out
to potential employers, clients, or partners. The best signatures give the e-mail recipient your name, company, title, and contact information, which can be looked up for quick reference in the future. It's both a courtesy to the people with whom you communicate and a badge of professionalism that shows that you know your way around the business world. Many signatures could go even further to serve your goals, however, and here are some tips to make the most of your communication:
Insert a call-to-action for the recipient. If you are looking for a job in sales, you might write "Looking to join a company and immediately impact the top-line". If you're a self-employed CPA, you might say "Helping people make tax season stress-free since 1990." You never know who might be in a position to hire you or help you, or who might see that note and remember a friend of theirs could use your skills.
Provide links to your personal website, blog, and/or relevant social media profiles. People you interact with will often look for more information about you and this makes it easy for you to direct them to the resources that present you in the best light.
3. Create A Personal Website
According to research we've done at
Workfolio
, 56% of HR professionals think a personal website is the most impressive self-promotion tool a job applicant can have. This is also the tool that few people in non-technical roles currently have. A website allows you to create a space that's 100% yours, not "renting" space from a social
network
, where you have control over the content and appearance. Use this space to tell the story of your career, showcase your accomplishments, and build a community around your writing. Here are tips for getting started with a personal website:
If you are not technically inclined, explore website builder tools that take care of the coding for you. Spend time on writing good content, not setting your website up.
Tell a story around the items on resume as a starting point and build out content from there. You should explain who you are, what you've done, and where you want to go, at the minimum. Some tools also offer the ability to import content from social media profiles to make this even easier.
You can also use this space to get a bit more personal than you can on your resume -- talk about your hobbies and interests, as long as they're not inappropriate for work or potentially off-putting.
Make a point to visually highlight your major career achievements and quantifiable results. You can do this through larger font sizes or unique visual features.
Get a custom domain that is as close to your name as possible. This helps people find you when they are searching for you using search engines.
Place links to your website on social media and in your e-mail signature.
Watch This Webinar!
Join us for the special presentation on to learn about The Science of Personal Websites for Career Advancement.
Presenter:
Charles Pooley, Founder & CEO of Workfolio, Forbes Best Website for Your Career Award Winner.
Cost:
FREE!
WATCH NOW ►
This post was originally published at an earlier date.
Photo Credit: Shutterstock