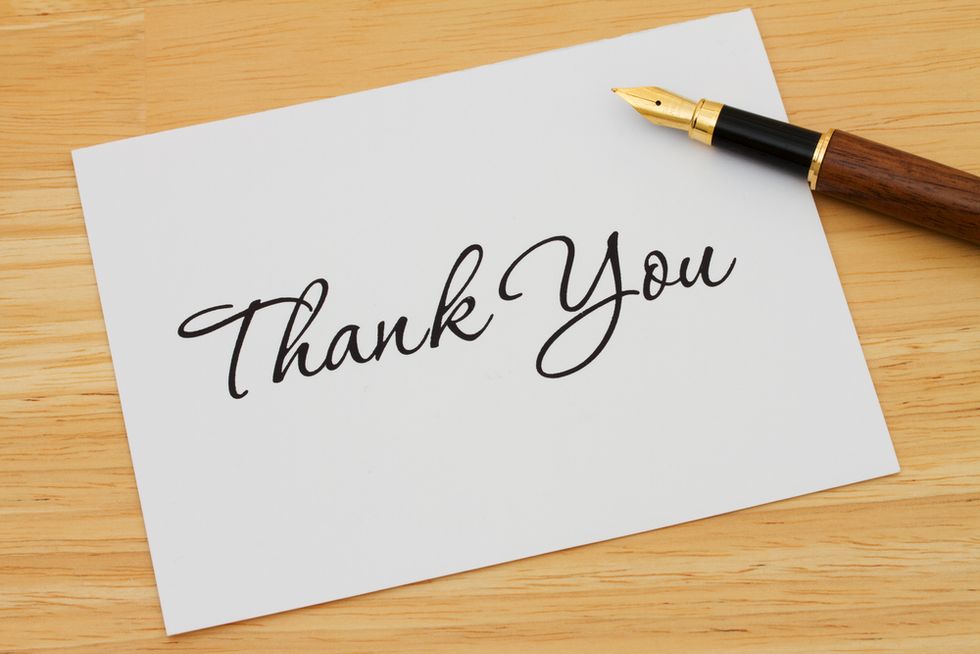 A surprisingly easy way to stand out from others competing for the job is to send a thank you note after the interview. Many job seekers don't send a note—maybe because they believe it isn't necessary (it is), or maybe because they don't know what to say. A good interview note that really makes you stand out in an impressive way will say more than just "thank you for your time, and I look forward to hearing from you." This letter is a fantastic opportunity to boost your chance of getting the job, so you need to take full advantage. Write a substantial and sincere note. The best and most effective thank you letter format goes more like this:
---
Begin with the accepted social pleasantries.
Thank them for the interview. Possibly, mention that you enjoyed the conversation.
Reiterate that you are a great fit for the job.
Talk about your skills and why they are a great fit. Say that what you learned in the interview made you even more enthusiastic about the job. Mention something specific that you talked about that caused you to believe this.
Maybe, add something new.
Now that you've had a chance to process the interview, maybe you realize you forgot to mention something important, or that you need to correct a misconception. Now is the time to do this.
If you asked in the interview when they plan to make a decision (hopefully, you always ask this), you can say something like, "If I haven't heard from you by Tuesday (or whatever day they gave you), I will check in with you." At that time, you can email or call.
So, a whole note may look something like this:
Dear Mr. Manager,Thank you for taking the time to interview me on Wednesday for the ____ job. I really enjoyed our conversation. The more I learn, the more I am convinced that my skills in X, Y, and Z are perfect to help with your A, B, and C challenges. In fact, I believe my experience in D, E, and F would also be an advantage to solving your issues with _________. I am looking forward to discussing this with you again in more depth. I'll call you on Tuesday to discuss where we go from here.Sincerely,Your name
Customize your note to the situation and your personality and voice.
Additional Tips:
Send your note within 24 hours.
Sometimes hiring decisions are made quickly. Email your note within 24 hours, so you don't miss out. (Don't get in so much of a hurry that you fail to spell check it.)
Send a note even if you think the interview didn't go well.
Even if there were a few bumps in your interview, and you think there's no way they'll offer you the job, send a note anyway. You can attempt some damage control by directly addressing any issues. It might work for you. It can't hurt.
For more help, download my Free Report – Following Up After the Interview
Related Posts
How To Manage Without Being Mean (Is It Possible To Not Be Pushy?)
5 Things To Consider Before You Take That Management Job
#1 Key To Becoming An Effective Leader
About the author
Career Coach
- Peggy McKee is an expert resource and a dedicated advocate for job seekers. Known as the Sales
Recruiter
from Career Confidential, her years of experience as a nationally-known recruiter for sales and marketing jobs give her a unique perspective and advantage in developing the tools and strategies that help job seekers stand head and shoulders above the competition. Peggy has been named #1 on the list of the Top 25 Most Influential Online Recruiters by HR Examiner, and has been quoted in articles from CNN, CAP TODAY, Yahoo! HotJobs, and the Denver Examiner.
Disclosure: This post is sponsored by a CAREEREALISM-approved expert.