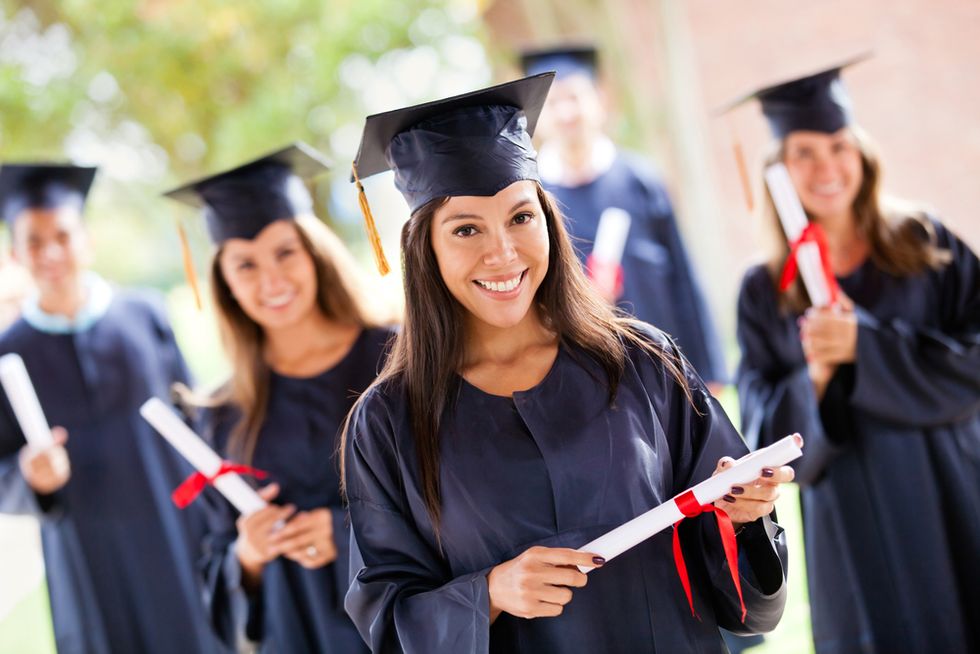 Ryan Kahn is the star of Hired on MTV, and author of Hired! The Guide for the Recent Grad, on behalf of the Happy Grad Project.
You've finally made it—you're just about to graduate from college. Anyone who's ever done the same will agree, it's an achievement. But, before you have time to pat yourself on the back, just about everyone will be asking where you'll be applying that hard-earned education.
Related:
5 Things You Need To Do For Your Job Search Before Graduation
And, while you may not have an offer the day you get your mitts on that diploma, you can avoid that uncomfortable conversation about a career in plastics with your uncle Bob and actually land a job with a few strategic steps you can take before you don that cap and gown.
5 Secrets To Landing A Job After Graduation
Here are five steps for landing a job after graduation:
1. Forget What You've Been Told
It's not what you know OR who you know, it's who knows you. I know it may sound unsavory, but let's face it: Relationships rule the world. There's a reason "Six Degrees of Kevin Bacon" exists, and that's exactly why you need to get your own game going—like, now. Start making a name for yourself by getting in front of every person that falls in line with your interests. But when I say get in front, what I really mean is, make yourself valuable. People in positions of influence are peppered with "asks" all day, every day. Don't be that person. Instead, find a way to make yourself useful to them.
2. Create a "Hit List"
Finding a job is no easy task, so it should come as no surprise that I'd suggest you approach it like a covert assassin. In other words, you need to create a hit list of the companies or gigs you're after, and pursue them relentlessly. Start by creating a knock list of the top 20 companies you're coveting an offer from, then use your social media and networking expertise to acquire a target contact at each, and arrange a liaison with them before you graduate. By the time you toss that cardboard hat in the air, you'll have a personalized, top-secret list of known informants and assets to help you achieve your mission of finding a job.
3. Get Your Hands Dirty
While it would be nice to tell you landing a job is a squeaky clean affair, the reality is, that's rarely the case. Fortunately, this does not mean anything quite as nefarious and "Hollywood" as taking a seat on the casting couch. But, while you don't need to do anything literally "dirty" you do need to dig in and get some experience, and that means finding an internship, pronto. The work probably won't be glamorous, and might be the hardest gig of your career, but it will get your foot in the door and give you invaluable experience—not to mention help you with your hit list.
4. Creep—Just Don't Be Creepy
Call a spade a spade, right? Well, when you're trying to get in with your dream company, that sometimes requires a bit of high-level interaction, AKA: creeping. But don't get it twisted; do this right, and creepy won't even be in the vocabulary of your new employer. That said, get back to your creeping, stalking senses, and dig in deep with the companies you're interested in. Follow them on Twitter, like them on Facebook, follow them on Instagram and Tumblr. You get the idea. But don't just be a passive bystander. Interact with your coveted companies in intelligent, relevant, and memorable ways. Just as you'd hope companies would interact with you—with information that's relevant and interesting—do the same for them, and you just might make a name for yourself before you even apply.
5. Create A Buzz
Sure, you're a freshly-minted grad, but that doesn't mean you don't have a fantastic story to tell. And, everyone knows, a good story creates a buzz, and that's exactly what you need to start attracting potential employers. Of course, unless you have your own personal publicist, you're going to have to do a little legwork to achieve this. But, thanks to social media, and a plethora of blogging platforms, it's easier than ever to create a name for yourself on the Internet—where I assure you, your prospective
employers
will be checking you out. Create a blog or a landing page with your basic information, include a portfolio of completed projects (yes, college assignments count), and, if at all possible, get a few approved quotes from former employers and professors to back up the buzz. Before long, your online presence will speak for itself. Just remember, the Internet never forgets, so keep it classy. Graduating was hard work, and you should be proud of that achievement. But, the work doesn't end there. So, once you turn in that last final—or better yet, before—start working on these five tips, and you'll stay ahead of the class when it comes to landing a choice gig when you graduate.
Download Your FREE E-Book!
Graduating? Know someone who is? As a perk of the Happy Grad Project, we're offering a FREE download of our e-book, "The Recent Grad's Guide To Getting A Job." This e-book is JAM-PACKED with tips from experts and recruiters, videos, and additional help. Don't put off your
job search
any longer -
Download our e-book today and get started
!

Photo Credit: Shutterstock