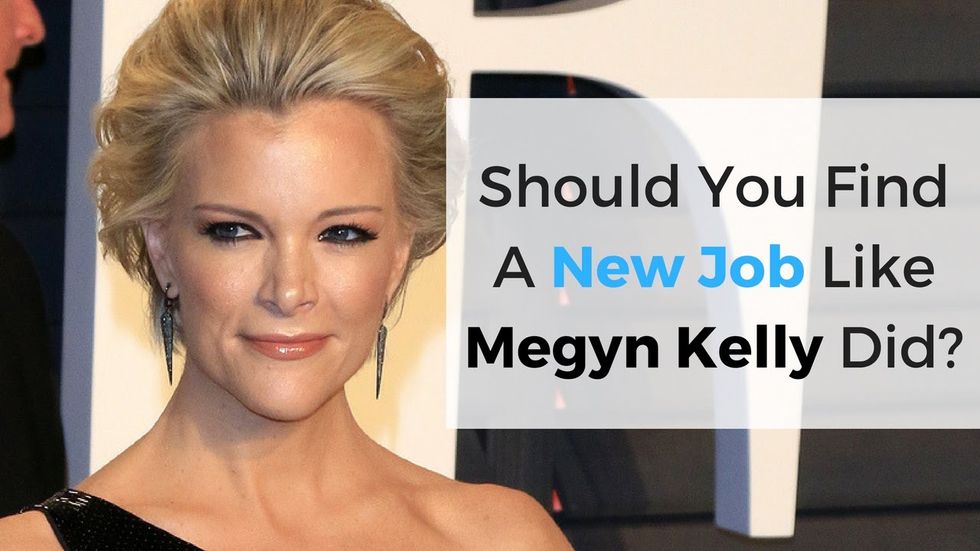 Last week, Fox News announced that long-time news anchor Megyn Kelly is leaving her prime-time role at the network to take a new job at NBC. Although she hosted a wildly successful primetime show on Fox, Kelly said that she's ready to take on a "new challenge" after serving 12 years at the network.
---
Regardless of the reasoning for Kelly's departure from the network, it reminds us that sometimes, no matter how successful you are at a job, it might be time for something new.
(Psst! Can't get hired? Watch this free tutorial.)
According to a new CareerBuilder survey, 22% of workers are planning to change jobs in 2017. Do you think it's time for a new job? Not sure if you're ready to make the plunge like Kelly did? Here are some signs that you should consider your options.
1. You're getting bored.
No matter how successful you are in a role, if you feel like you're becoming complacent, bored, or uninspired, it might be time for a new job. After awhile, your creativity will dwindle, as will your passion for what it is you do. And it will show.
Sometimes, you just need to shake things up in order to keep yourself moving forward. If you're not growing, you're shrinking. And, if you want to stay relevant (and happy) in your career, you need to acknowledge when it's time to move on.
2. You're not clicking with a new manager.
Sometimes, a poor relationship with a manager can simply come down to different interaction and work styles (find out what your styles are by taking this free quiz), and you just need to work together to find a solution that works for both of you. However, there are also times that having a bad relationship with your boss can be detrimental to your career success and satisfaction.
Work It Daily's founder and CEO J.T. O'Donnell always says, "People don't leave bad jobs, they leave bad managers." If something just isn't working between you and your manager that you can't seem to sort out, you might want to consider looking at your options. It's better to identify the problem early and figure out a game plan than to be blindsided later.
3. You weren't happy from the beginning.
When you start a new job, you're usually excited, nervous, terrified, or all three at once. Starting a new job is a BIG DEAL, and it's always a little nerve-wracking. But it's also pretty amazing to start with a clean slate. However, if you hated your job from the beginning and you've been miserable ever since, you're not doing yourself any favors by keeping yourself there.
If you're not using your true talents, leveraging your favorite skills, or tapping into your biggest passions, you're going to be unhappy. And, unhappiness at work can be the root of a lot of your career problems.
With all of that said, however, it can take some time to adjust to a new job and get in a groove. If possible, try holding out for at least a year, if not two, before you decide to make a change. You might discover a whole new part of your job or industry that's absolutely fascinating!
4. You're not making enough money.
Everyone wants to make more money. A bigger paycheck never hurt anyone, did it? According to a study conducted by Payscale, 21% of respondents claimed that one of the top reasons they left an organization was because they were "seeking higher pay elsewhere."
When you're not making as much money as you could somewhere else, you might begin to question your value and skills. This can be discouraging, and can make you resent your employer.
If you feel like you're not getting paid for what you're worth, research salaries for similar roles in your industry and location using this free tool on Glassdoor. It will give you an idea of what's competitive in your industry so you can make an informed decision before you make the leap.
5. Your work environment is toxic.
No one wants to work in a negative environment. It brings you down, stresses you out, and hurts both your happiness and work performance. Some signs of a toxic work environment include:
Excessive office gossip
Poor management and leadership
Overly aggressive and competitive work environment
Inappropriate/abusive behavior from colleagues
If you love your job, but struggle with any or all of these things, you should strongly consider finding a new job. Life is too short to be miserable at work every day.
6. You don't have enough time to enjoy the other things in life.
Some jobs can be extremely demanding and time-consuming. If you find yourself spending all of your time working and little of it doing the things you enjoy with the people you love, you can truly damage your overall happiness.
Think about what's important to you outside of work. Is it spending time with your family or friends? Relaxing with your favorite hobbies? Or something else? If you can't fit more of those important things into your schedule, it might be a sign that you should find a different role that will allow you to have a life outside of work.
Are you ready to get HIRED?
Watch our free tutorial "
8 Ways You're Being SHUT OUT Of The Hiring Process
" with career expert J.T. O'Donnell to find out what's holding you back from getting hired… and how to fix it!
WATCH NOW
This post was originally written by Ariella Coombs.
Related Posts
6 Things To Do Before Leaving Your Job
How To Get A Raise At Work