Things An Office Newbie Must Do To Impress A New Team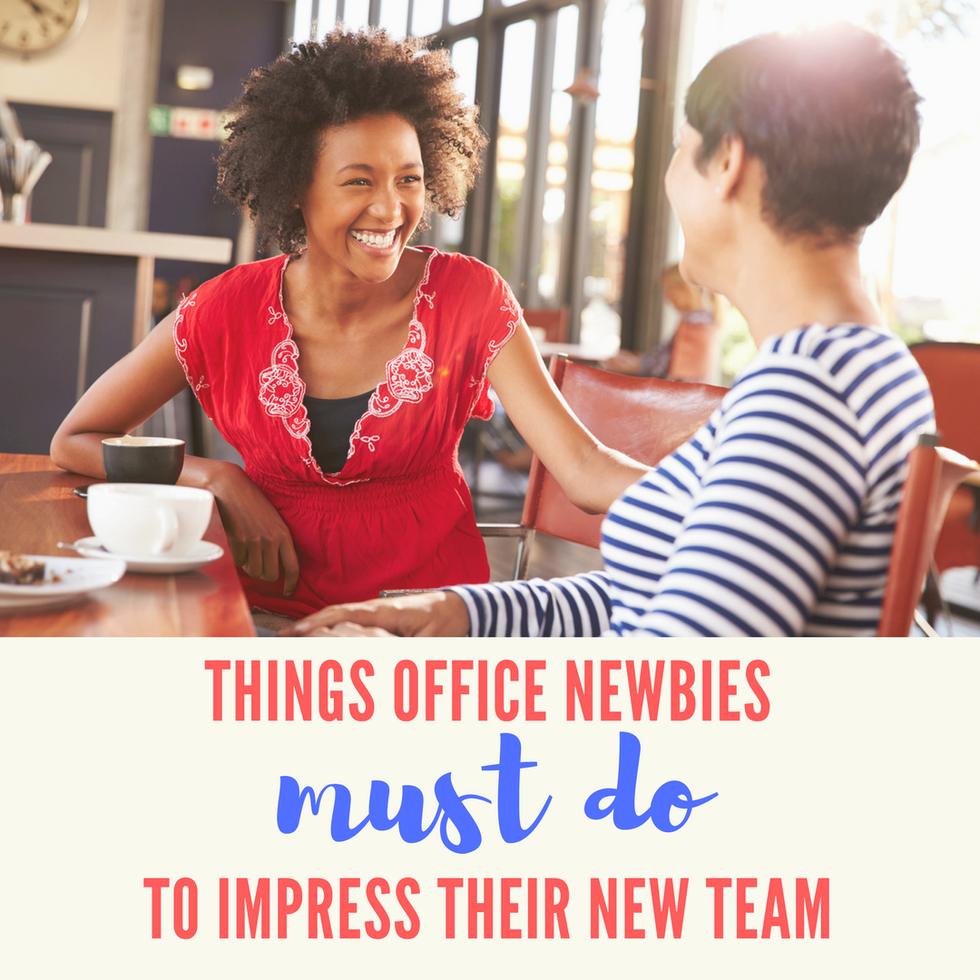 After going back and forth with employers for months, you've finally managed to land yourself a great gig. Congratulations! But you know what that means: you're officially the office newbie. [Insert dramatic screaming sound effects] Okay, okay --- it's not that bad. Sure, it can be intimidating to break into an established group, it can be done, and you can do it! You just have to know what you should and shouldn't do during your first few weeks on the job. (Find out what you need to do in order to GUARANTEE success within your first 90 days on the job.) From the moment you set foot in the door, your new co-workers will form an impression about you. That's why it's important to set the right tone from the get-go. There are a few things you can (and should) do in order to impress your new work peeps. Step into that new role with confidence, and challenge yourself to accomplish the following.
---
Introduce yourself.
Take a little time each day to pop over to people's desks and introduce yourself. Tell your new colleagues that you're excited to work with them and learn a little bit about what they do. In fact, make it a goal to learn at least one thing about each of your new co-workers within your first week. They will appreciate you taking the initiative to get to know them. Keep these introductory conversations short and sweet to respect their time.
Be warm and inviting.
Encourage people to strike up a conversation with you by having a warm and welcoming attitude. If you're giving off good, inviting vibes, people are more going to be more inclined to talk with you. Even though you're the office newbie, some of your new co-workers might feel intimidated by your presence. Ease their concern by wishing everyone good morning when you walk into the office, engaging them in conversation in the break room, or keeping a candy dish on your desk to attract people to your cubicle. Also, if you're shy, sometimes you can come off as being cold or unapproachable, which can discourage people from getting to know you. At the very least, greet people with a warm smile when you see them so they know you're not just being unfriendly.
Understand your interaction style.
When you're inserting yourself in a new team environment, it's helpful to understand how you interact with others. Although you might think you have a firm grasp on how you communicate with others, you might not realize how you could be misinterpreted by others. Unfortunately, this can result in unnecessary passive aggressive behavior, conflict, and drama. And seriously, who needs any of that?
Discover your interaction style and how it could be misinterpreted by taking this free quiz.
Keep the "I thinks" and "you shoulds" to yourself (just for a little bit).
You were hired to contribute your experience, knowledge, skills, opinions, and ideas. But before you start voicing your "I thinks" and "you shoulds," take a little time to understand your team, how it works, and what it's trying to achieve. While it's important to be confident in your ideas, sometimes stepping in too soon can result in resentment from your new co-workers (which isn't going to help you win over). As the office newbie, you might not know what the team has and hasn't tried yet, and you might not be 100% clear on their goals. You might have some great ideas to share, but first, understand what's happening, what's been done so far, and what challenges are holding things up. Make it a priority to learn as much as you can about the business and your goals as a team before you start spouting off new ideas and sharing your point of view. If you take a little time to understand these things when you start your
new job
, your thoughts will be more respected and welcomed by your colleagues. Ask questions and learn as much as you can before you speak up.
Let your enthusiasm shine.
When you're excited to be somewhere, people will generally be excited to have you. Yes, starting a new job can be nerve-wracking, intimidating, and even a little stressful, but remember why you chose this company/job over the rest. Remember why the opportunity is exciting to you, and let that enthusiasm show. Don't go overboard as over-enthusiasm can be perceived as "sucking up" or fake. Instead, show your excitement though your eagerness to learn about the company and excel in your role.
Be grateful.
As the new person in the office, chances are you're going to be asking for a lot of help from your new colleagues. Whether they are showing you the ropes, sharing advice, or just including you in conversations, show your appreciation. Thank them for helping you out and welcoming you to their team. A little thank you goes a long way! Being the office newbie isn't that bad as long as you know what to do. If you need more help getting your footing at your new job, check out our course, "
First 90 Days: How To Guarantee Success In A New Job
."
Related Posts
10 Rules For Starting Your New Job On The Right Foot
Top 5 Mistakes People Make When Starting A New Job
Don't Forget To Find These When Starting A New Job!