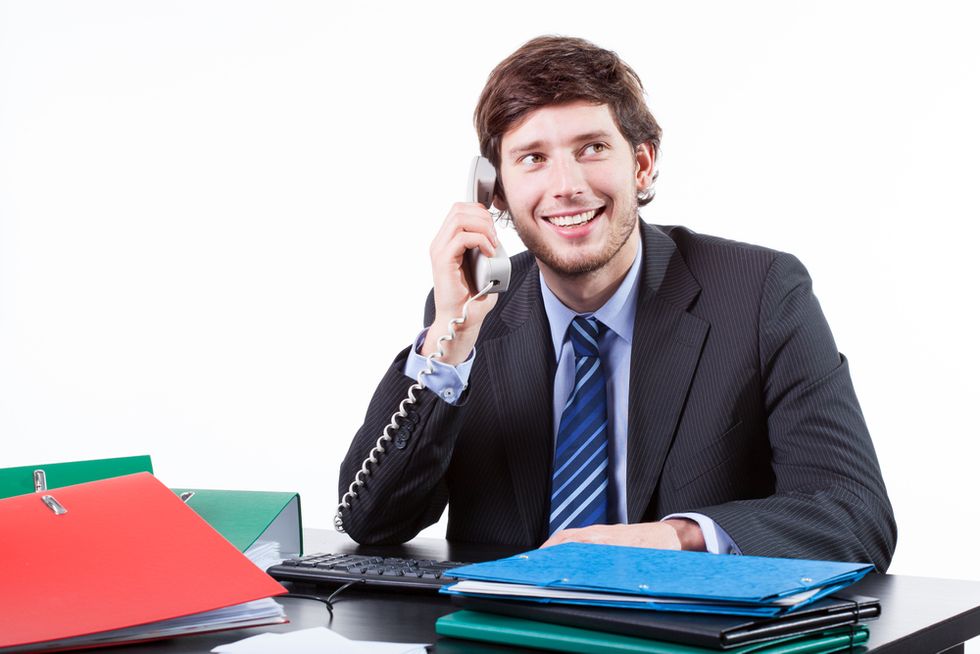 Phone interviews are really phone screens. Employers are looking for reasons to cut you from the list of people they're interested in (because it cuts time and expense from their interviewing process). Related: 6 Tips To Ace Your Phone Interview No matter what career field you're in, there are several common phone interview questions employers like to ask to get a feel for you as a candidate. Answer these well and you'll set yourself apart and have a much greater chance of making it through this hurdle and into a face-to-face interview.
---
1. "Tell me about yourself."
In any interview, this is a common opening question. However, it's so open-ended, many job seekers flub the answer by talking about personal things (where you live, your family, hobbies, etc.) or not knowing what to say at all ("um…"). This is your first chance to sell yourself for the job. Start with your education, which means what degree you have or recent (relevant) classes or certifications. Then, mention a few noteworthy accomplishments that would be especially interesting to someone hiring you for the job—check the job description if you need help.
2. "Why are you leaving your current job?" (Or, "Why did you leave your last job?")
While you might be leaving your job for negative reasons, it's important not to mention anything negative in this answer. It's never a good idea to be negative in any way during a job interview. A good, positive way to answer this is to focus on why you are running TO this job, instead of why you are running AWAY from your old job. For instance: "I enjoy the work environment of my current job, but I feel that it isn't challenging enough. I'm looking for an opportunity to better use my skills, and I think that [this position] at [this company] will allow me to do this." Or, "This job is such a perfect fit for me that I couldn't pass it up. I believe I could be very successful in this role because of my skills in X, Y, and Z, and I am excited about the opportunity." If you were let go at your last job and you can truthfully say it was a mass layoff/organizational shakeup that didn't have anything to do with your job performance, make sure you mention that.
3. "Why did you apply for this job?"
Just like anyone else potentially entering a relationship, the interviewer wants to know your level of interest and your motivation for wanting to be there. A good answer would sound something like: "This job is a great fit. My skills and background in A, B, and C mean that I would be successful." As much as you can, talk about how you not only meet their qualifications for this job, you exceed them in some way.
4. "Where do you see yourself in 5 years?"
Among other things, your answer here will help them see that this job is a reasonable step in your long-term plan, not a stopgap that keeps you afloat until you find something better. Don't automatically say that you see yourself in a management or executive position. In large corporations, it may be OK, but in smaller companies, there may not be room for advancement like that. Stick with the safer answer that mentions how you expect to have honed the skills you have now, developed new ones, and contributed in a meaningful way to the company.
5. "Why should we invite you for an on-site (face-to-face) interview?"
This question is the phone interview version of, 'Why should we hire you?' Your answer could be along the lines of, "I believe I can contribute in a meaningful way to the success of [this company], and that my skills and personal values match this position perfectly. When we meet in person, I think you'll see that I'm a great fit for this job and the company."
This post was originally published at an earlier date.
Related Posts
How To Manage Without Being Mean (Is It Possible To Not Be Pushy?)
5 Things To Consider Before You Take That Management Job
#1 Key To Becoming An Effective Leader
About the author
Career Coach - Peggy McKee is an expert resource and a dedicated advocate for job seekers. Known as the Sales Recruiter from Career Confidential, her years of experience as a nationally-known recruiter for sales and marketing jobs give her a unique perspective and advantage in developing the tools and strategies that help job seekers stand head and shoulders above the competition. Peggy has been named #1 on the list of the Top 25 Most Influential Online Recruiters by HR Examiner, and has been quoted in articles from CNN, CAP TODAY, Yahoo! HotJobs, and the Denver Examiner.
Disclosure: This post is sponsored by a CAREEREALISM-approved expert.