Networking
8 Strategies To Stop Networking & Start Building Genuine Professional Relationships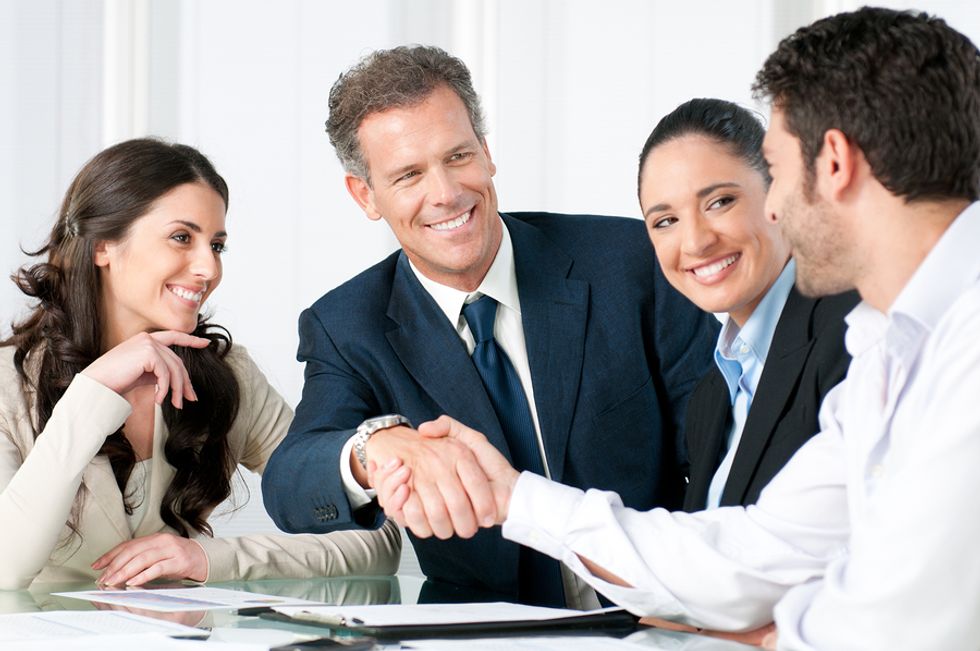 One of the most dreaded terms in all of job searching has to be networking. Perhaps because it seems so manipulative, intimidating and insincere. If this is how you perceive networking, then you are misunderstanding it completely. True, successful networking is about building genuine professional relationships and nurturing them. Once you grasp this definition and approach networking from this context, your dread will dissipate and you will feel much more positive about utilizing this strategy. Related: 3 Tips For Building Strong Business Relationships Here are eight strategies to help build genuine professional relationships, launch an amazing network, and set in motion an abundance of opportunities for future partnerships, collaborations and alliances.
---
1. Know The Heck Out Of Your Industry
It all starts here! Read books, blog posts and articles related to your industry. The more you learn about what is going on in your industry, the better prepared and more confident you will be to start conversations that build strong, genuine professional relationships.
2. Create A LinkedIn Account
LinkedIn is the ultimate networking social media tool. If you do not have an account, get one now! Your account provides space for your
resume
,
cover letter
, portfolio, references, work samples and much more. One of the best features for networking is the alumni tool that provides a list of all individuals on LinkedIn who attended your alma mater. You can look at their LinkedIn profile, learn about their professional path, contact them and begin to engage in professional discussions.
3. Create A Twitter Account
Follow industry experts on Twitter. They will educate you on the latest industry news, problems, and issues that are most important to them. When you like what an expert tweets, re-tweet them and add a brief, educated comment. This is a great way to introduce yourself and engage that expert without being aggressive or pushy. The more experts see your re-tweets and comments, the more they will learn about your professional opinions, ideas and competencies.
4. Participate In LinkedIn Groups
LinkedIn groups are fabulous ways to engage with industry experts. Groups are specific to an industry or job title and, when you join a group, you will learn tons about what is happening in your industry. Groups are also fabulous ways to meet other professionals in your industry. Lots of great information is shared in groups including industry problems, ideas, issues and even professional opportunities. Remember though, it is not enough to simply be a group member. You must consistently engage with other members, ask smart questions, offer smart answers to others' questions and demonstrate your professional value. These strategies will also begin to nurture and build genuine professional alliances.
5. Participate In Tweet Chats
Tweet chats are another direct way to engage with industry experts. Chats involve knowledgeable and smart discussion of a topic specific to an industry, are held weekly, and are fabulous ways to directly engage with industry experts. Use
www.twubs.com
to search industry specific chats. The more you participate in a chat, the more your opinions, perspectives, and ideas will become known. And, you will begin to be seen as another industry expert. As you meet other professionals within chats, reach out to them and begin to nurture and build professional alliances.
6. Join Professional Organizations
This is a great way to meet other industry professionals-ideally professionals who are more knowledgeable than you. Attend conferences, participate in industry specific professional societies, and discuss problems, issues, and trends facing your industry. These are all excellent strategies for nurturing and building your professional alliances.
7. Create A Professional Blog
Once you become more knowledgeable about your industry, it's time to share your smart industry ideas, ask good industry questions and pose potential solutions to industry problems. Blogging is a great way to do this. You can create your own blog site for free-
Best Free Blogging Sites
. Remember to share your blog posts on all your social media platforms as well as with your professional alliances. Ask them how they feel about your ideas, questions and solutions. By doing this, you are now officially demonstrating the value you bring to your industry. And, the more you share your unique value, the more your professional alliances will engage with you and see you as an industry expert and a thought
leader.
8. Start Collaborating
Once you are seen as an industry expert and thought leader, think about how you would like to collaborate with your professional alliances. Perhaps you have already discussed ideas and projects you want to pursue. If so, work on bringing your professional alliances out of the cyber world so you can begin these new initiatives. Start by moving from social media correspondence to phone calls or Skype. Then, find ways to meet face to face at conferences or meetings. If you will be visiting a city where a professional alliance lives, contact him/her and meet for coffee or lunch. Then, take your alliance to the next level by collaborating.
Bringing It All Together
These are all fabulous strategies for successfully approaching networking. Yes, these strategies require time, effort and initiative, however they will pay off tremendously. So, what do you think about these strategies? Do you have more to add? If so, share your strategies. And remember to #workitdaily! Thanks for reading my post. Need help with fine-tuning your networking strategies?
Check out these courses
and work with me on choosing the best options.
Related Posts
This Theory Of Awesomeness Leads To Your Dream Job
10 Inspiring Quotes About Career Success
Beware: The #1 Myth About Getting Your Dream Job
About the author
Elizabeth Dexter-Wilson, M.S. a.k.a. CareerDrELiz's mission is to help her clients find their professional mojo through purpose and passion. She brings her expertise in career coaching, branding,
leadership
development, professional etiquette and image consulting. A self proclaimed "career geek", Liz has over 20 years' experience in coaching
college students
, seasoned professionals, and career changers. Prior to her coaching and higher education experience, Liz worked in social services. She holds a Master of Science degree in College Student Affairs from Purdue University, West Lafayette, IN and is certified in Corporate Etiquette and International Protocol Consulting through the prestigious Protocol School of Washington.
www.CareerDrELiz.com
Disclosure: This post is sponsored by a CareerHMO coach. You can learn more about expert posts
here
.
Photo Credit: Shutterstock