Networking
Stupid Mistakes New Grads Make (How Not to Suck at Work)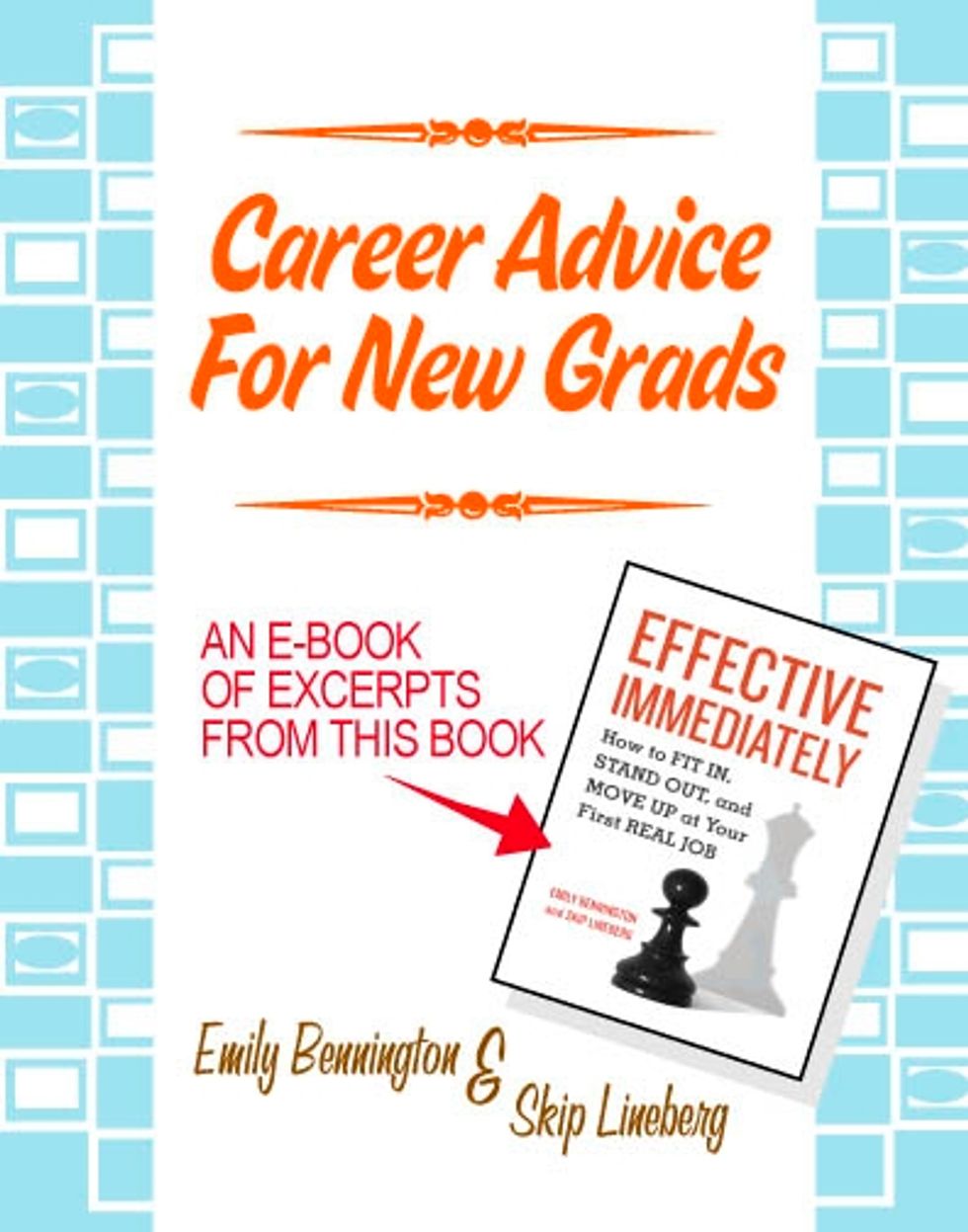 By CAREEREALISM-Approved Expert, Emily Bennington
I sucked at work and you can too!
As a young professional, I made some pretty stupid mistakes. From little things like rolling in with no make-up and wet hair to big things like viewing my colleagues as competition (yuk), I had a lot to learn. My story has a happy ending though. Over time I learned to shine a little more and suck a little less. I caught and corrected (most) of my rookie shortcomings and – through the process – I discovered I loved helping others do the same. So…in the spirit of reducing lame behavior at work, I'm proud to give you
Career Advice for New Grads
totally
gratis
. The lessons inside are short and excerpted from
Effective Immediately: How to Fit In, Stand Out, and Move Up at Your First Real Job.
(Shhhh…Don't tell my publisher.) What can you expect? Well…
Need some ideas for impressing your boss? (Read on.)
Want to know how to earn respect from your colleagues? (Done.)
Confused on how to format a work plan? (Got you covered.)
This e-book is about shrinking the learning curve on your first job so you can achieve more…faster…without wasting any time. If that sounds good to you, just
enter your e-mail address below
and we're in business. Whoops – I forgot – we're actually not in business
because the book is FREE!
It's a quick read, but certainly an important one for career newbies…and perhaps even a few veterans as well.
One request:
If you find the content valuable, please share it with your networks. Seriously, if they suck, it reflects poorly on you. So help them out.
After entering your e-mail address and receiving your FREE copy of this e-book, you will be automatically subscribed to our weekly newsletter.
Already get our newsletter? No worries! You will not receive duplicate copies of our newsletter as long as you use the same e-mail address. Our newsletter software knows what to do!
If you don't find our newsletter useful, you can unsubscribe at any time!