4 Reasons To Teach English Abroad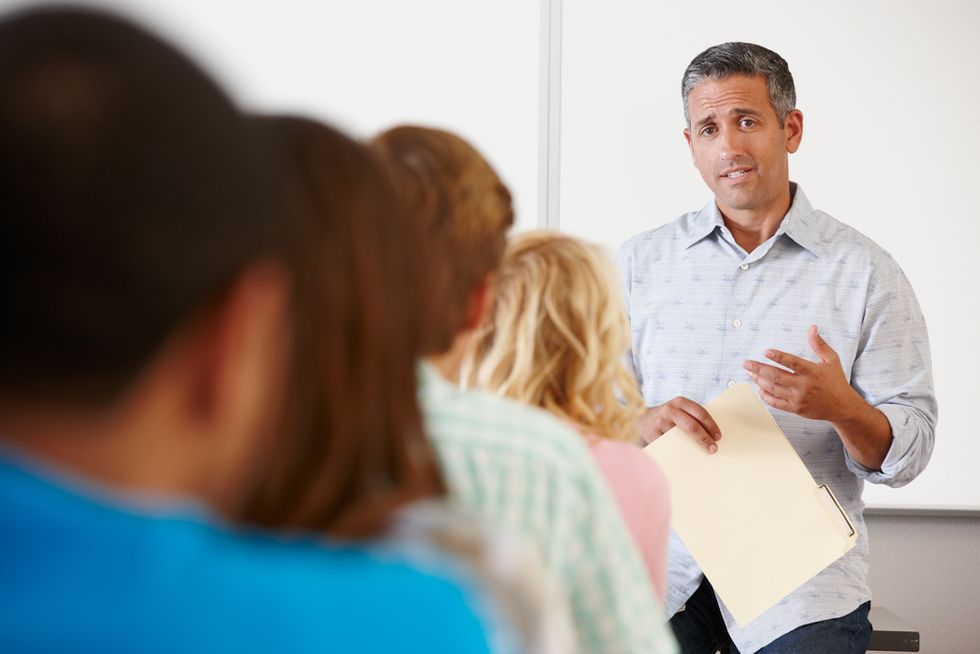 Maybe you've just earned your degree as an English teacher, or maybe you've been teaching for some years and are starting to feel that your career isn't progressing as fast or as well as you'd hoped. You might even have the same misgivings about your present job, even if it is not in an academic field. Related:Working Abroad: 5 Steps To A Stress-Free Relocation Whatever your situation, you will find that teaching English in Europe can not only be a stimulating and enjoyable challenge, and a wonderful cultural experience, but it can also be the sort of "gap moment," allowing you to develop a fresh approach that will further your career at home. Here are just a few of the benefits:
---
1. More personal understanding of the learner's difficulties
Whether or not you're an English teacher, you will quickly find that
teaching English as a Foreign Language
is just not the same as explaining English to native English speakers. Moreover, since you will probably be teaching adults (which is the case for the vast majority of English speakers teaching in a temporary position abroad), you will get much more immediate and direct feedback about their learning difficulties than you would with children. Also, unless you are already very fluent, you will have to gain at least a fair mastery of the local language. This will help you understand the difficulties of learning new languages, which will help you better teach your students. You will see their questions through your own eyes. This sort of sympathy can help you better devise learning strategies for your classroom.
2. Introduction to different methods and learning strategies
Although the basics of language learning are the same all over the world, each country seems to have its own national flavor in developing them. You will be presented with official programs, classroom strategies, the use of different audiovisual and IT media, and teaching or professional philosophies that may be very unusual for you. All of these aspects will add to your own experience as you will be asked to apply them in your own teaching activities.
3. Challenge of your capacities for teamwork, creativity, and adaptability
Working in a foreign culture requires a lot of flexibility. Not only will you have to adapt to new educational systems and approaches, but you will also be expected to work as full member of the teaching staff. There are quite often a lot of meetings, extracurricular activities, and administrative tasks that may be asked of you. Moreover, if you are teaching adults, you will be placed in classroom situations ranging from general language classes in the evening to business or other specialized classes with made-to-measure schedules and programs (which also may mean frequent driving or public transport to get to the companies themselves). And if you are indeed working in-company, you will acquire a lot of experience with the vocabulary and procedures applied in various business and industrial sectors. All of this will require you to bring out your highest organizational and human relations skills, as well as your ability to take initiatives and be creative in developing individualized curricula for classes of from one to up to 25 students or more.
4. More refined personal culture
French author Marcel Proust once said, "The real voyage of discovery consists not in seeking new landscapes, but in having new eyes." That will be one of the most valuable benefits you will get from teaching or working abroad. You will be thrown up against new ideas, new social structures, new laws, even new food. More importantly, your upbringing will quite probably be challenged by the outside view of what people think about your country and your fellow countrymen. You will be asked about where you are from, and have to explain the hows and the whys of your society's structure, function, culture, lifestyle, and beliefs. You may be very surprised, perhaps even shocked, at the reactions to your answers, but you will also come to compare your home country to the ones you visit and work in. All of this will give you those "new eyes." You will take home not only new techniques and ideas to use, but also the habit of discussing and questioning what is being done, and offering solutions for improvement. As you can see, the advantages of teaching abroad are numerous. This sort of experience will greatly further your career because you will have obtained new skills that will help you diversify your work, develop your adaptability, and enhance your leadership qualities. All of this will add extra flavor to your work when you get back home, as well as that very special touch to your resume.
Related Posts
What Students Should Know About Teaching English Abroad
5 Job Search Tips For Landing A Job Abroad
5 Things To Consider When Working Abroad
Photo Credit: Shutterstock