Job Search
RingCentral Is Adding Staff As It Looks Towards The Future

(Photo from Facebook)
Cloud platforms that keep the workforce connected have always served an important role. But in the post-COVID-19 world, where working remotely is more common, these companies will serve an even greater purpose. RingCentral realizes this and is growing its team accordingly.
---
How RingCentral Keeps The World Connected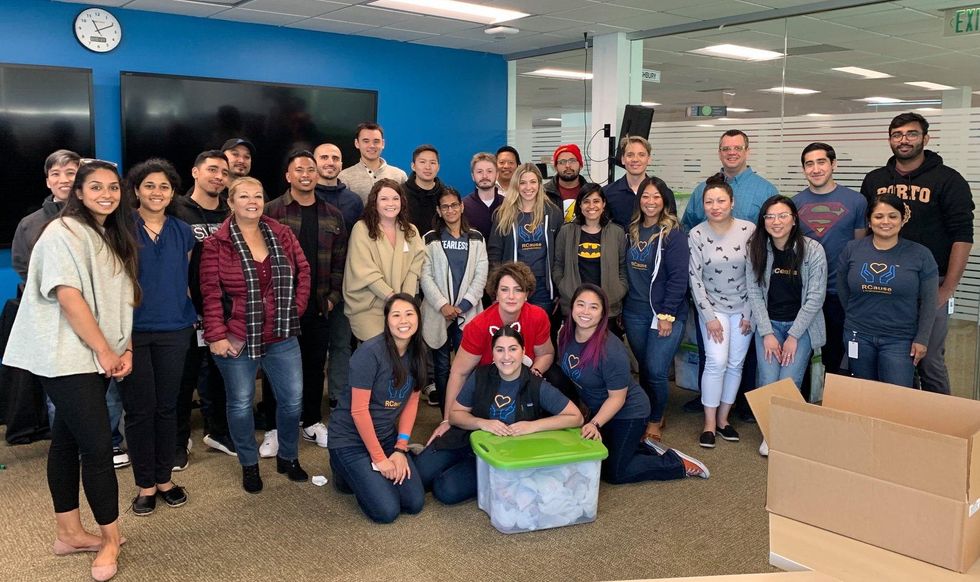 RingCentral employees take part in a community service project.
(Photo from RingCentral)
RingCentral is a global cloud communication and collaboration platform that allows individuals and businesses to communicate through its contact center, which features voice, video conferencing, and team messaging and collaboration.
RingCentral has always been a popular platform for companies that have offices around the world attempting to bring their international teams together with ease. With the COVID-19 pandemic in 2020, RingCentral's platform served a major role in helping workplaces adapt to remote, or hybrid, work arrangements.
RingCentral touts itself as being "built for every industry" and has multiple customers in healthcare, retail, education, high tech, and sports. Some RingCentral customers include Columbia University, Insureon, New Relic, SoFi, Carvana, Oakland Athletics, and Detroit Pistons.
How To Start A Career At RingCentral
@workitdaily

Reply to @desiraejones54 200+ remote jobs #workitdaily #jobtok #jobportalabroad #remote #jobsearch #learnontiktok #springoutfit #careers #hiring #jobs
RingCentral is headquartered in Belmont, California, and has other U.S. offices in Boulder & Denver, Colorado, Ft. Lauderdale, Florida, and New York City. RingCentral also has international offices in Australia, Canada, China, France, Germany, India, Ireland, Israel, Netherlands, Philippines, Singapore, and the United Kingdom.
In addition to all these office locations, RingCentral offers hundreds of remote work positions.
RingCentral is currently hiring in sales, engineering, customer success, product, marketing, IT, human resources, and finance. The company also offers multiple internship programs for students and recent college graduates.
3 Things To Know About Working At RingCentral
RingCentral is poised for continued growth.
RingCentral has grown by an average of 30% every year, according to the company's website, and this growth will likely continue as the company meets the demands of a virtual world.

The company has already made moves to enhance its platform in anticipation of the expansion of remote work. For example, in early 2021 RingCentral acquired the technology and engineering team at Kindite, a developer of leading cryptographic technologies that mitigate and reduce security and privacy risks to information and applications in the cloud.
The move was made to make the RingCentral platform more secure for all of its users.
"Security and reliability are paramount in enabling employees to work from anywhere," RingCentral's Chief Information Security Officer Heather Hinton said at the time of the acquisition. "With this team's leading-edge security technology, we will accelerate our ability to deliver end-to-end encryption and continue to enhance our commitment to deliver the highest level of security capabilities for our global communications platform, benefiting customers everywhere."
This enhanced focus on making the platform safer will undoubtedly open up more job opportunities down the road. In addition, RingCentral is always looking for ways to improve its platform and welcomes people who have big ideas and love innovation.

RingCentral has a global and diverse workforce.
One of the benefits of having offices around the world, and remote work, is that it gives RingCentral access to talent from all kinds of backgrounds. The company believes that its workforce should reflect the diversity of its customers.
"We're creators and problem solvers. We're not all the same, and that's our biggest strength. Together, we're building an inclusive culture that embraces what makes us human," the company states on its website.
The company currently has employee resource groups (ERGs) that help professionals with similar backgrounds connect and plays a role in contributing to professional development. RingCentral's current ERGs are Rainbow Room, U.S. Veterans, Women & Allies, Black Employees at Ring Central, and HUGS.
Some of RingCentral's continued goals for diversity and inclusion include:
U.S. veteran representation
Intentional ethnic diversity at all levels
Disability inclusion
More women at the board level
Empower women in leadership
Inclusion and visibility of non-binary genders
Minority-owned business advocacy
Minority-focused community support
RingCentral's company culture is getting noticed.
RingCentral landed on Glassdoor's "Best Places to Work" list for the first time in 2021, and the company was also recognized by employee review website Comparably for the best global workforce and for having the best company outlook for 2021. RingCentral earned an A+ grade on Comparably for compensation.
Benefits and perks at RingCentral:
Unlimited time off - with advanced approval
Healthcare - medical, dental, and vision plans along with disability and life insurance
Wellness perks - yoga and boot camp fitness classes are offered as part of the company's wellness program
Paid parental leave -16 weeks of paid parental leave for primary and secondary caregivers
Stock purchase plan - employees can purchase RingCentral stock at a 10% discount through payroll contributions
Career Opportunities At RingCentral
To apply or learn more about working at RingCentral, check out the company's careers page.