Instagram
Wayfair may have changed the way consumers shop for home accessories but the company believes that the work is never done and is continuing to add to its team.
---
Wayfair Is Playing A Lead Role In E-Commerce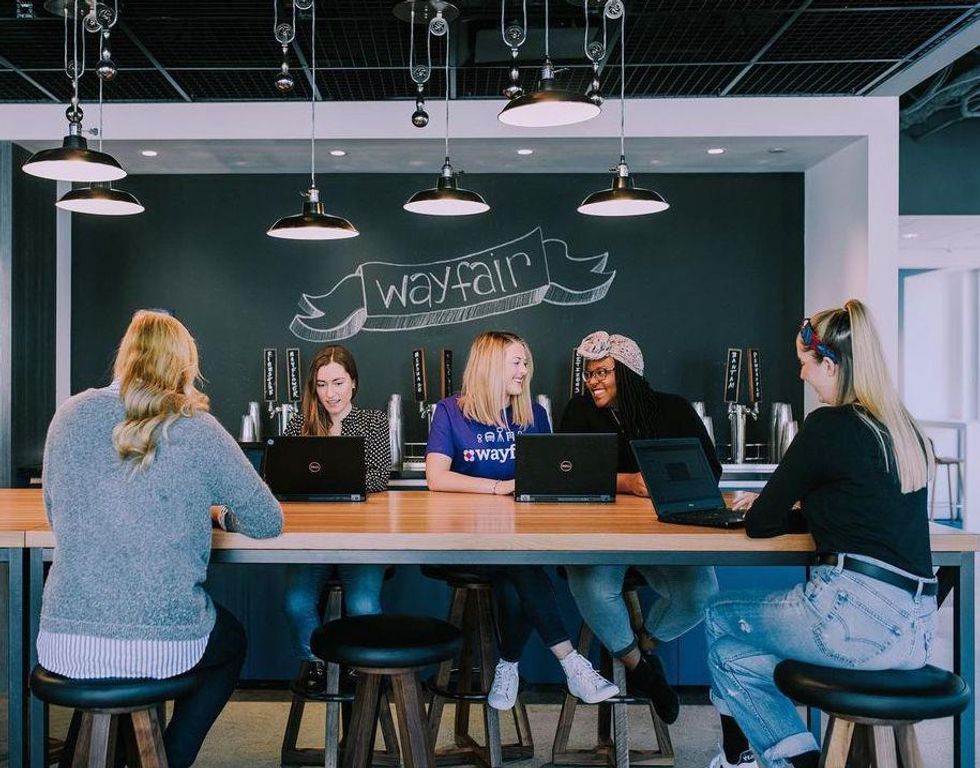 Those who love ordering household accessories from the comfort of their own home know that Wayfair is a leading e-commerce company that sells furniture and home goods.
Wayfair's brands include Joss & Main, Birch Lane, AllModern, and Perigold.
According to the company's mission statement, "Through technology and innovation, Wayfair makes it possible for shoppers to quickly and easily find exactly what they want from a selection of more than 22 million items across home furnishings, decor, home improvement, housewares, and more."
Wayfair was founded in 2002 as CSN Stores and the digital platform has since grown to serve 31.2 million active customers with over 22 million products from more than 16,000 suppliers.
Emerging Job Opportunities At Wayfair
@workitdaily

Reply to @sherimiller93 design jobs #workitdaily #WorthTheWait #jobportalabroad #jobtok #lookbook #hiring #remotework #9to5 #hiringnewemployees #jobs
Wayfair has more than 16,000 employees with operations throughout North America and Europe. The company is headquartered in Boston, Massachusetts, and also has a European headquarters in Berlin, Germany.
Wayfair also offers remote work opportunities. Job seekers are urged to read all openings carefully for location requirements.
Wayfair is currently hiring in the following departments: engineering & technology, business & operations, sales & service, and distribution & warehousing.
3 Reasons Why Employees Love Working At Wayfair
Wayfair is optimistic about its future.
Wayfair has seen steady growth since it was founded but 2020 was an especially good year for the company. The combination of COVID-19 increasing overall e-commerce and more people buying homes all contributed to the company seeing a 55% increase in revenue in 2020.
Company officials believe the overall convenience of e-commerce and a larger customer base will allow Wayfair to continue its growth. The company has put a particular emphasis on hiring engineers in 2021 in hopes of hiring approximately 1,000 technologists for new engineering hubs in Austin, Toronto, and the San Francisco Bay area.
Wayfair takes social responsibility seriously.

Wayfair empowers employees to support the causes and organizations they choose, while also partnering with organizations like Habitat for Humanity and Homes For Our Troops to help create comfortable homes for people in need across the globe.
Wayfair's partnership with Home For Our Troops allows the company to help build and adapt homes for severely injured post-9/11 veterans. The company helps raise awareness for the cause and conducts fundraising on its website. Wayfair supports Habitat for Humanity through fundraising, product donations, disaster response, and other contributions.
Wayfair also puts a strong emphasis on recruiting and hiring veterans and has several Employee Resource Groups (ERGs) to improve diversity and inclusion efforts and bring together different viewpoints. There are ERGs at Wayfair for disabled employees, Latino employees, Jewish employees, Black employees, South Asian employees, the LGBTQIA+ community, and women.
Employees think highly of Wayfair's culture.
Wayfair has won a number of awards for its company culture including being named as a "Great Place to Work" for retail and as a top tech company by tech website Built In. The company has also been recognized by the Boston Globe and Boston Business Journal as a top place to work in Boston.
Wayfair has a culture score of 4.4/5 on employer review website Comparably and has also been recognized by Comparably for professional development and diversity. In terms of salary and compensation, Wayfair earned a grade of B from Comparably, which noted that Wayfair ranked in the top 25% of 1,207 similar size companies in the U.S. and the top 50% of 247 companies in Boston.
Other benefits and perks at Wayfair include:
Remote work flexibility
Employee discount
Professional development opportunities with a range of free classes
Discounted gym membership and fitness perks
Career Opportunities At Wayfair
To apply or learn more about working at Wayfair, check out the company's careers page.