Challenge: Take 10 Minutes To Learn A New Skill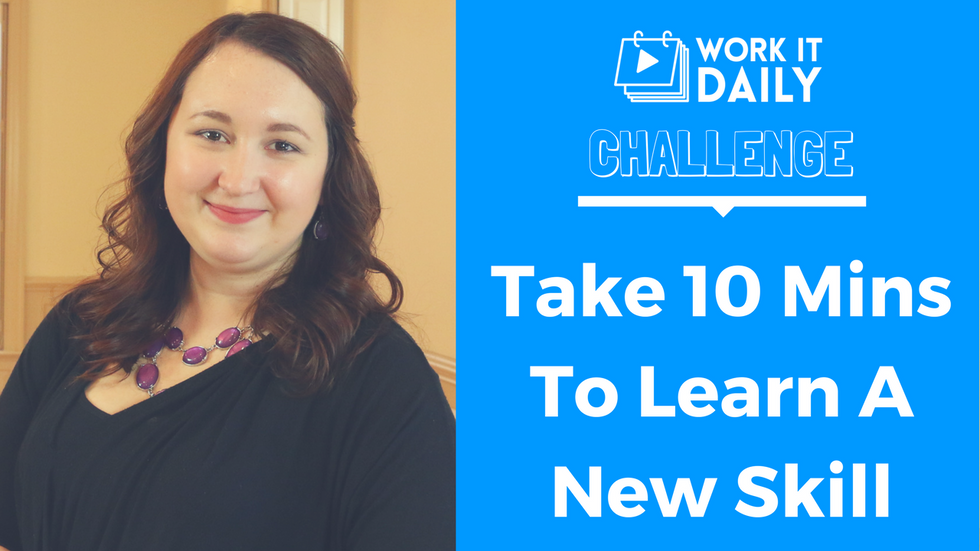 Today's Work It Daily Challenge is to take 10 minutes to learn a new skill. We live in a busy, fast-paced world and sometimes it can be hard to make time to continue educating ourselves. However, it's important that we continually grow and learn new skill sets. That's what's going to keep us relevant, confident, and fresh (all of which are essential to personal and professional success). Learn a new skill today. It doesn't matter what it is, why you want to learn it, or how you choose to learn it. Set aside 10 minutes today and try something new. Not sure what you want to learn? Ask yourself these questions:
---
What have you always wanted to learn?
What skills could you learn that would give you an edge at work?
What skills would be beneficial to your professional development?
What do you need in order to learn those skills?
Whether you want to learn how to speak French, take better photos, or speak more articulately, make it a priority to dedicate at least 10 minutes a day learning that skill. It might not sound like much, but 10 minutes a day can go a long way if you keep up with it. Make time to learn something new today. What do you have to lose? You might not be a natural, but don't get discouraged if you don't catch on right away. It's going to take practice. If you allow yourself a few minutes each day to continue learning this skill, you'll master it before you know it. Don't give up! If you need help staying accountable or just need additional guidance, check out our NEW
Career Coaching Subscription package
. Email a
career coach
as much as you want and get the answers you need on the go.
Learn more here.
Related Posts:
4 Ways To Upskill At Work To Get That Promotion
6 Ways To Build Your Skills And Expertise Outside Of Work
Challenge: Be Coachable