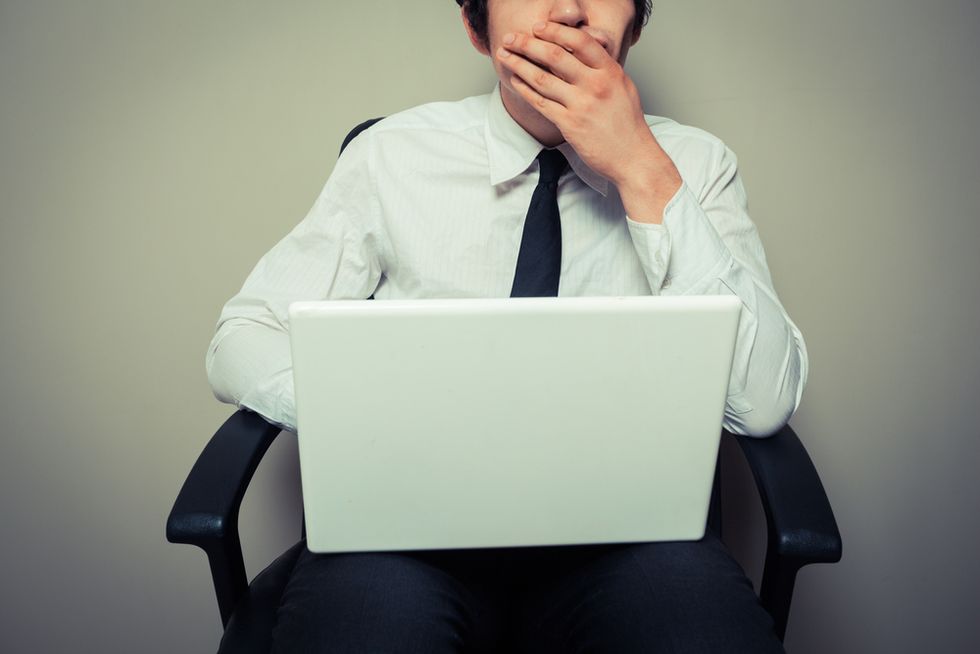 You know how important it is to have a cohesive personal brand these days. But having a personal brand is much more than just having a few words associated with you and your areas of expertise. You can't afford not to maintain a strong online brand. Yes, having a great personal branding statement is essential, but if you don't have a place to flaunt it online, what's the point? Related: 3 Effective Ways To Quickly Brand Yourself Online So, why don't you have a personal website then? What's your excuse? Here are some common excuses for not having a personal website (and some great reasons for getting one!):
---
1. "Making a website is too hard."
The truth is, 77% of people want a website, but less than 7% actually have one, according to
Workfolio
, a personal website platform. Don't know how to make a website? You're not alone. But that's no excuse for not creating one! Building a website is actually much easier than you think. There are plenty of easy-to-use platforms out there (such as Workfolio, Wordpress, and Wix) that make creating a website as easy as a few clicks.
2. "I don't know what I'd add to a website if I had one."
"When we asked why people don't already have a personal website, the number one reason given was that they don't know what content to include," said Charles Pooley, founder of Workfolio. Not sure what to add to your website? Afraid it's going to look like a blank canvas? Don't let that hold you back. What you choose to include on your personal website is what you choose to present to employers. You want to highlight who you are, what you're great at, and where people can find you.
Check out this article on what you should be adding to your website
.
3. "I'm not worthy of having a website."
Don't think you've got what it takes to own a personal website? Oh yes you do! These days, everyone should have a personal website (or at the very least, a blog). Why? Because it's part of your personal branding strategy.
Did you know that 80% of employers Google job candidates before inviting them in for an interview?
Having something for them to look at (other than your social media platforms) definitely gets you bonus points. "Our research has also told us that 56% of people think a personal website is the most impressive tool someone can have," said Pooley. "There's just no better personal brand device around."
4. "I don't want to brag about my accomplishments."
You might think having a website rubs your success in peoples' faces. This is something most people have grown up being taught not to do, so it's a natural feeling. But you know what? You worked hard to accomplish those things! And if you got it, you should flaunt it! Having a website isn't going to make you seem full of yourself. Having a website it going to help you stand out against the competition.
5. "I don't need one."
You're too cool for a website, huh? This is the worst of all of these excuses. "Today's careers are hyper-competitive—almost every opportunity is highly contested," said Pooley. "People need ways differentiate themselves from the competition and get their message across." Having a personal website is a key differentiator for professionals - whether you're looking for a job or new clients, having something to show anyone who's looking for you is crucial. Having a few social media profiles isn't enough. Social networks are important tools for making connections but profiles all look the same. They also contain ads and links to other profiles that distract the visitor and make it more difficult for you to stand out. So, if you still think building a website is a waste of time, you might want to do some reevaluating!
Want to become a savvy job seeker? Here's how...
Need more help? Check out our course selection!
View our course offerings here!
This post was originally published on an earlier date.
Related Posts
10 Ways To Build Your Brand Reputation Online
The Perfect Recipe For A Great Personal Brand
Disclosure: This post is sponsored by
Workfolio
. You can learn more about sponsored posts
here
.
Photo Credit: Shutterstock