This Simple Resume Guide Will Improve Your Chances Of Landing An Interview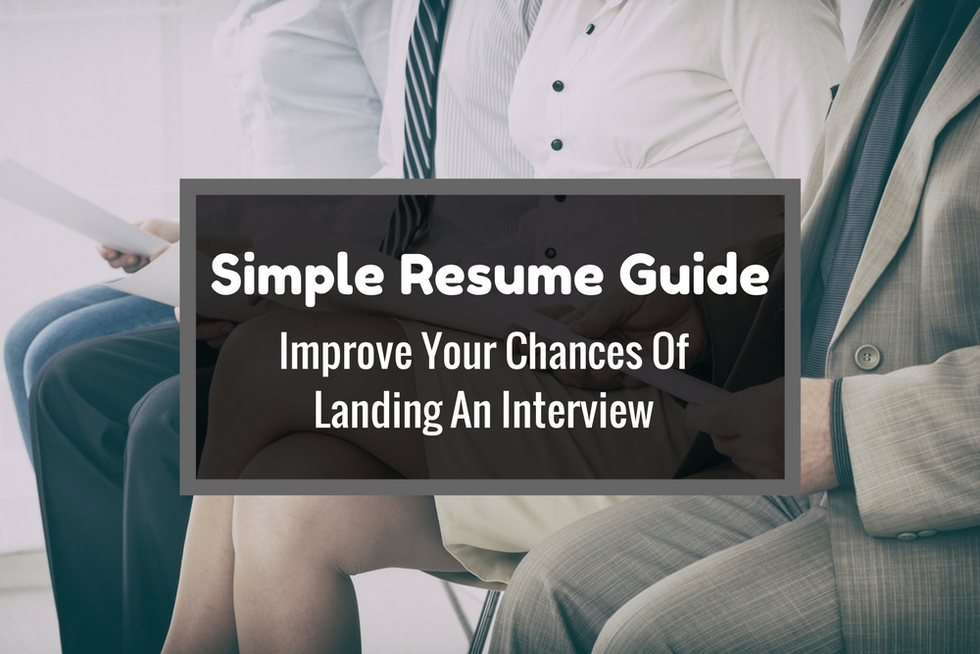 This resume guide is sponsored by The Ladders
The goal of your resume is to get you an interview for the job. Our
friends
at the
Ladders
, the largest professional career resource, have shared their simple resume guide to improve your interview success rate.
Resume Length
For the majority of professionals, a resume should be two pages total. However, if you have less than 10 years of experience, your resume should be about a page long.
Resume Structure
At the top of your resume, you should list your contact information. At the bottom, you should showcase your education.
Professional Summary
A Professional Summary summarizes your professional goals, experience, and strengths. Here are some things you should include in your Professional Summary:
Job titles:
Think about what types of jobs you would consider for your next role, then list 3-5 job titles you would accept. Don't worry if you haven't had this job in the past. The important part is to make sure it's a logical next step for you in your career.
Professional skills:
After you've listed out the types of jobs you would accept, think about the skills you'd need to leverage in those jobs. List 4-6 relevant skills that you possess. However, don't list skills that are obvious or assumed.
Accomplishments:
List 3-6 phrases that outline your past achievements.
Work History
In your Work History, you should provide a chronological list of your professional experience, beginning with your most recent role. After you list the names of each company, dates of employment, and job titles for each role, use bullet points to distribute the following information:
Your most recent/important job (8 bullet points)
Your next job (8 bullet points)
Your next two jobs (4 bullet points each)
Everything else (10 bullet points total)
TIP:
Instead of using static verbs like "managed," "my responsibilities included," and so on in your bullet points, include a "success verb." Here are some examples of success verbs:
Achieved
Contributed
Delivered
Exceeded
Gained
Improved
Introduced
Optimized
Sold
When it comes to listing out your accomplishments, it's critical to showcase a number, dollar, or percentage increase / decrease in each bullet point. Here are some examples:
Increased new customer visits by 17% without increasing ad budget.
Improved revenue per SaaS client by $4,250 through consultative sales training.
Potential
employers
care about the quantifiable outcome of the company. So, think about their goals. Are they looking for more users, more revenue, faster turnaround, higher client satisfaction, all of the above, or something else completely? Understanding their goals will allow you to showcase the right information on your resume.
Your Audience
Think about who will be reading your resume. The hiring
manager
is wants to know what you can do for him and his team. He will be looking for proof that you know how to handle the type of projects and problems that will arise on this job. If you use the tips in this resume guide, you'll increase your chances of success.
Free Resume Review
Hopefully, you found this resume guide helpful! Now that you know what to do, check out Ladders free resume reviewer tool and get your
resume reviewed
in 35 seconds or less. You'll be on your way to having a powerful new resume.
Related Posts
Is Your Resume Summary Boring Employers?
3 Steps To A Killer Resume
4 Rules For Every Resume
Disclosure:
This is a sponsored post. It was submitted and approved by our editorial staff to ensure it meets Work It Daily editorial standards.