3 Rules Of Thumb To Remember On Casual Friday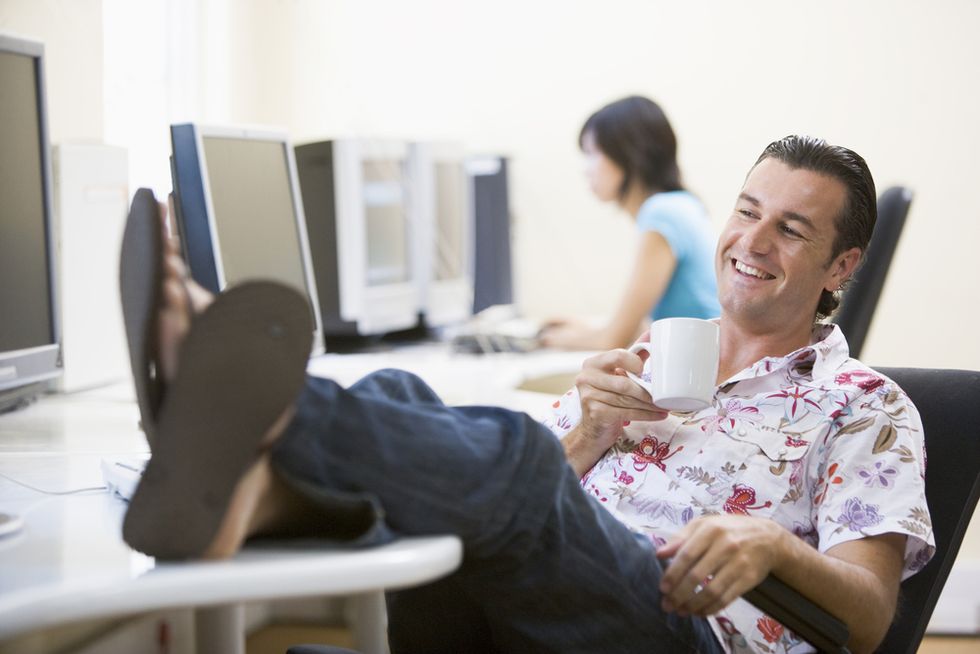 It's Friday, Friday, gotta get down on Friday! But what to wear? Related:5 Tips For A Great Casual Friday Look Casual Fridays can be tricky SOBs for those of us who are more *fashionably challenged* than others. (I mean, yoga pants are causal, so I should be able to wear them to Casual Friday, right?) If you're having a hard time figuring out what's appropriate for Casual Friday (and what's not), check out these rules of thumb:
---
1. If you can wear it to the gym, don't wear it to the office.
My office is pretty casual now, but it wasn't always that way. When I first started, we were required to wear business professional clothing to work every day. I'm all about dressing up, but I was still pretty psyched when we voted to make the dress code more casual. Since then, we have moved from suits to jeans. The only rule? If you can wear it to the gym, don't wear it to the office. No yoga pants, sweats, or anything else that should be used on an elliptical machine. Fair point! And, although it probably goes without saying, I would even go a step further and say that anything you can lounge in at home (PJs, old T-shirts, etc) should also fall under the same rule.
2. Ask about your company policy.
Casual Friday means something different in every office. There are some articles of clothing that might be okay to wear to work for some companies, but completely unacceptable in others. Instead of guessing, get clarification on what's appropriate from your manager or supervisor. It's better to be safe than sorry, right?
3. Know how to wear your denim.
Some offices don't allow denim at all, but some do. If they do allow you to wear jeans at work, you need to be careful what you choose to wear with them. You don't want to wear something that's too revealing, has lots of holes, or is bleached out. When in doubt, wear dark wash denim. That said, you can still have a ton of fun wearing jeans to the office and look professional, too!
Check out this article for different ways to wear jeans to work.
Lee National Denim Day
Friday, October 3rd, 2014 is
Lee National Denim Day
®! Denim Day is a fundraiser created by Lee® Jeans where participants donate $5 or more in exchange for wearing jeans to work. Lee National Denim Day participants have raised more than $91 million for the fight against breast cancer since it started in 1996. You can make a difference.
Join Lee Jeans and the American Cancer Society in the movement to rise above breast cancer by donating $5 or more today!
This post is sponsored by Lee Jeans®